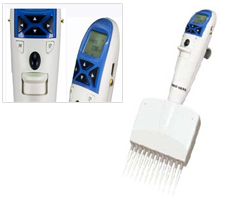 Bio Gene Smart Automatic Electronic Multi Channel Pipette - Multi Channel are most appreciate pipettes True Multifarious function makes it versatile, Pipetting Dispensing Homogenizing, Sequential operation, Aspiration, Pipetting & homogenizing manual or Auto operations can be programmed and hand free Automatic sampling can be carried out. Large LCD display with sequence operation and battery life of are other features also. This True multifunction Automatic electronic Multi Channel pipette becomes an integral part for the Research, centers, hospitals and pathology centers.
Applications
Features
Control
Construction
Specification
Bio Gene smart electronic pipette find comfortable home at Research Institutes, University, Hospital, Diagnostic Centers where sample quantity is large, and precision result are the need.
Large LCD screen, Choice of language, Back Lit screen Fast in House calibration fully Autoclavable.
Programmable

Multi Function

Automatic & manual

PC based Software

Reset Function

Optimally Head Swill

EN ISO 8655

CE, DIN
Bio Gene Smart Automatic Electronic Multi Channel Pipettes are fabricated out of PEEK & FORTAN MATERIAL PTFE & Free Silicon O rings & coating makes the pipettes smooth & trouble free Large LCD display with Lithium batteries makes Automatic Operation a boon to the industry. 2000 + Operations 10 Operation and PC based software enables calibration, sequencing operation absolutely Trouble free.
Model

Micro Tip

Volume
(μL)
Bio gene
Accuracy
(μL)
Bio gene
Random
Accuracy
(μL)

ISO8655
Accuracy
(μL)

ISO8655
Random
Accuracy
(μL)

BAESP 10
0.5~10μL

T10

0.5
5
10
±0.040
±0.060
±0.080
≤0.013
≤0.020
≤0.025
±0.120
±0.120
±0.120
≤0.080
≤0.080
≤0.080
BAESP 100
5~100μL

T200

5
50
100
±0.35
±0.38
±0.40
≤0.10
≤0.12
≤0.15
±0.80
±0.80
±0.80
≤0.30
≤0.30
≤0.30
BAESP 300
20~300μL

T300

20
150
300
±0.80
±0.90
±1.05
≤0.16
≤0.23
≤0.30
±4.00
±4.00
±4.00
≤1.50
≤1.50
≤1.50
BAESP 1200
50~1200μL

T1200

50
600
1200
±1.5
±3.0
±4.5
≤0.4
≤0.8
≤1.2
±16.0
±16.0
±16.0
≤6.0
≤6.0
≤6.0
8×10-12×10
0.5~10μL

T10

0.5
5
10
±0.04
±0.08
±0.10
≤0.02
≤0.04
≤0.06
±0.24
±0.24
±0.24
≤0.16
≤0.16
≤0.16
8×100-12×100
5~100μL

T200

5
50
100
±0.25
±0.50
±0.80
≤0.14
≤0.20
≤0.25
±1.60
±1.60
±1.60
≤0.60
≤0.60
≤0.60
8×300-12×300
20~300μL

T300

20
150
300
±1.0
±1.5
±2.4
≤0.18
≤0.38
≤0.60
±8.0
±8.0
±8.0
≤3.0
≤3.0