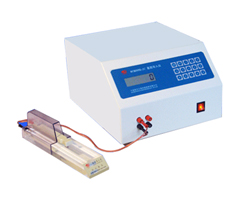 BioGene Gene Electroporator is designed to drive maximum Gene Electroporation among Plants Animal Cells or Micro Organism. Cell Hybridization, Homogenizing and Gene Transfer into Animal Plant Cells efficiently.

BioGene Gene Electroporator is the most demanded equipment in the field of Gene therapy and DNA Vaccines Efficacy etc.
Applications
Features
Control
Construction
Specification
BioGene Gene Electroporator is widely used in Electro-Perforation of Micro Organism cells of animals and plants These are used in Gene Therapy, DNA Vaccine Development, Cell Hybridization etc.
Microprocessor Based Controls Precise Control or Capacitance Resistance

Human Machine Interference

LCD display

Alarms

Homogenizing

Gene Transfer.

Capacitance: High Voltage

Low Voltage

Time

CE, ISO 13485, EN 60601,01
BioGene Gene Elecroporator is designed with menu driven software controlled through Human Machine Interface programmable Control.

The Porator Generates pulse band Electric field at Low voltage which Enhances the Permiability of Cell Membrance. So that Polynucletides can get transferred into the cells.

High voltage Capacitance and Low Voltage capacitance with an output voltage of 50 V-450 V and Continuous voltage from 450 V- 250 V are unique feature of Bio Gene Electroporator.
| | | |
| --- | --- | --- |
| Model | MODEL: BTI-GE-HC | MODEL: BTI-GE-MC |
| High Output Voltage | 400-2500V | 400-2500V |
| Low Output Voltage | 100-450 V | 100-450 V |
| High Voltage Capacitor | 1,5,6,25,30,31,UF | 1,5,6,25,30,31,UF |
| Low voltage Capacitor | 100 UF, 125UF, 150UF-- 1675UF, One grades of 25UF | 100 UF, 125UF, 150UF-- 1675UF, One grades of 25UF |
| Resistance | 50, 100, 150, 1600:-8 total 30 grades | 50, 100, 150, 1600:-8 total 30 grades |
| Operation system | Hand control | Microcomputer Control |
| Output Wave form | With RC Time constant of the Exponential decay of wave | With RC Time constant of the Exponential decay of wave |
| Dimension | 36.8*31.6*22.9 (cm) | 36.8*31.6*22.9 (cm) |
| Net Weight | 10.5 kg | 10.5 kg |
| Packing size | 480*420*280 mm | 480*420*280 mm |