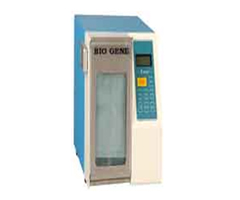 Bio Gene BTI/ LPB/04N Microbiological Blender works on a combination of crushing and stirring, thereby bringing out organisms from tissues, organs, powders, creams, ointments, etc. Bio Gene Micro blender is also used in swabs, tissue biopsies, filters, fecal samples to extract the infested organisms. Silent and robust.
Applications
Features
Control
Construction
Specification
This Lab Blender is paddle blender which used for solid and semisolid samples by applying pressure to samples within sterile, disposable bags.
Soft homogenization, pollution free, nil temperature-rise, no sterilizing treatment is desired.

Fast, accurate and Repeatable.



ISO 9001 V2008, CE, WEEE 2002/96/EC, RoHS

2002/95/EC standards

In compliance with : ISO 7218

Time: 30, 60, 90, 120, 180, 210, 300, 500 or 600s as continuously working possible
Germfree Microbiological Blender, also known as flap homogenizer, is widely used in the homogenization treatment for animal tissue and biological samples, also used for the following testing areas in food, pharmaceutical, cosmetics, clinics molecule, toxin and bacteria, particularly suitable for preparation of Micro Organism testing samples.

The device is made stainless steel and can effectively separate the surface of solid samples from a sample with germs inside.

The samples are packed in germfree disposable homogenization bags, and thus is in no contact with any parts of the instrument.

Bio Gene Microbiological Blender is also suitable for homogenizing tumor tissues such as liver, intestines cancer, breast cancer not only can to obtain large numbers of single cells ( 2 x 105 within 2 minutes ) but also crush tissues cells such as liver cells more gently.

The time for homogenization could be prolonged when necessary, to achieve a soft broken.

Compact and ergonomic.

In compliance with : ISO 7218

Designed and made to suit International Standards.

ISO 9001 V2008, CE, WEEE 2002/96/EC, RoHS

2002/95/EC standards
⇒ Model: Bio Gene LPB-04N
⇒ Power: 300W
⇒ Supply: 220/50Hz
⇒ Time: 30, 60, 90, 120, 180, 210, 300, 500 or 600s as continuously working possible
⇒ Rap speed: 6-9 time/sec
⇒ Capacity: 3-400ml
⇒ Motor Speed: 500-1500 rpm
⇒ Attenuation: 1:6
⇒ Display: LCD
⇒ Setting: Keyboard Setting
⇒ Sterile homogenization bags: 170X300mm
⇒ chamber: stainless steel
⇒ Net Weight: 22.5 kg
⇒ Dimension: 400 x 350 x 300 mm
⇒ Packing Size: 495 x 465 x 360 mm