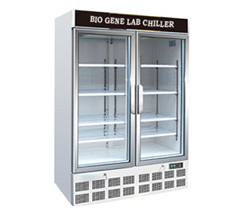 Bio Gene® LAB CHILLER from Bio Gene are designed to meet the stringent Temperature Stability designed in the Storage of fine Chemical, Enzymes, Media food Industries for storage of Canned Beverages, Ready to Eat Food etc.

Bio Gene follow strict quality control measures confirming CE, EN, EMD Directives to meet the WHO Norms.
Applications
Features
Control
Construction
Specification
Bio Gene® LAB CHILLER are widely used in
Electronic Industry for Delicate Parts

Hospitals and Medical Facilities

Dental Office & Laboratories

Industrial Manufacturing

Engineering Industries

Research Centers

Universities

Gravimetric analysis

Sintering

Quantitative analysis
Flexible shelving for easy storage.

Automatic door closing.

Stainless steel inside / outside.

High temperature / door Alarm

Frost fee cold lab chamber.

Automatic door closing.

Reversible door.

Digital temperature display.

Adjustable shelves (Chiller) Freezing shelves.

Digital micro processor controller with display (Optional )

100% Space utilization.

Digital micro processor controller with display.

Flexi shelving for better space utilization.

Precise temperature.

Look for Ensuring security of Medicines /Samples.

Castors for easy Mobility of Equipment.

Internal MATERIAL Cold rolled steel coated with Anti- Bacteria a powder.

External material cold rolled steel coated with Anti- Bacteria powder.

Refrigeration Type: Forced air Refrigeration system

Anybody design and Mono-Assembly foaming.
Bio Gene LAB CHILLER have microprocessor controller for temperature and alarms.
Temperature range :- –2˚C+8˚C

Low Noise Level around 50dBA.

Multiple Dual Layered insulated.
Front panel instruction
Micro processor based

Temperature controller

Single/Dual compressor controller

Range -2 to +8˚C

Sensor PT 100

Audio visual alarm

Door open Detection

SSR Output

Data logger with computer interface

PC software for Data Recorder.
TEST STANDARD
GB/T5170.2, GB/T5170.5,IEC60601-1/IEC60068-3-6
Inner Chamber made of Stainless Steel, 304/316 Grade, and duly Polished.

Polyurethane Foam Insulation (PUF) thickness 75mm.

Double walled units are made of thick stainless steel 304/316 grade.

Outer walled scratch free molded or of mild steel sheet duly powder coated.

Body is mounted on a sturdy angle iron frame and is mounted on castor wheels.

Heavy Duty Castor wheels for easy movement.

Inner liner of door material is of stainless steel.

Coated with antimicrobial coating eliminates 99.9% surface bacteria within 24 hrs.

100% HCFC/CFC free refrigerant.

Magnetic door lock, latch able inner door with magnetic lock. Handle, lock and magnetic gasket for door.

Wheel locks and manual defrost.

Temp. Maintain –2˚C +8˚C

Compressor with Cascade System.

Bio Gene deep freezer has cascade refrigerator for minimizing cool air loss.

Double fan circulation system will be provided.

Single hand operation with an easy to use, padlock compatible, ergonomic door handles with integrated key lock.

Power Supply: Single phase. 220-240 Volts, Frequency 50 Hz.

Power Consumption ≤550 W

Electric Requirement: 25 amp.

Insulation Type: 75mm thick polyurethane foam.
MODEL BTI

LC-350

LC-750

LC-900

LC-1200

LC-1500

CONTROL SYSTEM

Microprocessor control & Large

TEMPERATURE RANGE

2°C -8°C

TEMPERATURE ACCURACY

0.1°C

DIGITAL DISPLAY

YES

LOCK

YES

NO OF SHELVES

3,4,6,8 SHELVES

WHEELS

YES

NO OF DOORS

2 /Solid

Refrigerant

R13 a, CFC Free

Power supply

AC 220 V ±10%, 50/60HZ

Defrost

Auto defrost

Condenser and Evaporator

High Efficiency air cooled condenser, made of copper

CAPACITY Liter

350 Liter

750 Liter

900 Liter

1200 Liter

1500 Liters