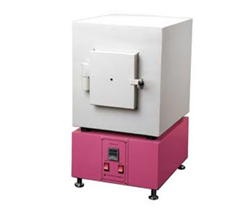 Bio Gene Offers front loading state of Muffle Furnace which is capable for quick Temperature Rise & Uniform Heating art are used in Test of Material Characterization Melting, Annealing, Gravimetric analysis, Sintering, Quantitative analysis, Glass preparation Coal analysis. Bio Gene Muffle Furnace Comes with built in Microprocessor based Temperature controller with options for Printer Online Interface and many application based accessories.
Applications
Features
Control
Construction
Specification
BIO GENE MUFFLE FURNACE are widely used in
Electronic Industry for Delicate Parts

Hospitals and Medical Facilities

Dental Office & Laboratories

Industrial Manufacturing

Jewelry Industry for intricate parts

Auto Industry for Rugged parts

Engineering Industries

Research Centers

Universities

Heat treating

Single door made of brick work and cementing fitted in with single hole at Center
For models of higher temperature the maximum temp. 1200ºC and working temp. 1150ºC.

Units with maximum working range upto 1150ºC are fitted with coil type heaters embedded in grooved refractory for supporting the heating elements on four sides.

Maximum energy efficiency is achieved by surrounding the chamber with thermal-efficient alumina fiber ceramic Insulation.

Built in over temperature alarms for safety.

Heavy duty double layer structure with cooling fan. Lower temperature in outside case.

Bio Gene Muffle furnace provision for the furnace may be operated by PC with a control.

INSULATION: - high quality ceramic fiber blankets.

Non rust textured steel casing

WATER COOLING :- Efficient water cooling provide at the end fittings of the furnace tube to protect the 'O' rings.

PROGRAMMER CONTROLLER :- A digital programmable controller is capable of storing programs each having at least 8 segments. The temperature controller accuracy of ±1ºC.

VACUUM PUMP:- A suitable vacuum pump integrated to the furnace provide.

Additional heating element :- 4nos

Additional thermo couple (R-type_ :- 1nos.
Microprocessor Based Programmable controls

Time :- 0-99/999 Min

Door Lock :- lockable

Alarm : Temperature Timer

Process: Start. End

EN: 60601 : 1

EMD : 93/42/EEC
TEMPERATURE CONTROL
Temperature control unit can be separated from furnace, and make moving at easy.

PID CONTROL
PID Control via current limiting phase angle fired the resistor, E.G. SCR (Silicon Controlled rectifier) Eurothem or equivalent with minimum 8 segment (ramp + dwell).
Bio Gene Muffle furnace is double walled construction Inner chamber is made of Ceramic pot.

Bio Gene Muffle furnace is constructed out of Mild Steel sheet. With cooling fan observation window. Temperature controlled by energy regulator with indicator And Two temperature probes.

INSULATION
The gap between the walls is filled high-grade CERAMIC INSTULATION, which ensures maximum thermal efficiency in our Bio Gene Furnace.

HEATING ELEMENTS
Fitted on both sides for uniform heating.

OBSERVATION WINDOW
0.5" Diameter observation window made of quartz glass allow user to see insider chamber during heating operation.

THERMOCOUPLE
Thermocouple installed for immediate use along with silent solid state power control relays.
Model BTI

MF/1200

MF/900

Standard Maximum Temperature

1200ºC (continuous)

900ºC (continuous)

Maximum Working Temperature

1150ºC (< 3 hrs)

1000ºC (< 3 hrs)

Temperature Control

30 steps programmable and PID automatic control

Heating Rate

0~15ºC/ min (suggestion: <10ºC)

Temperature Accuracy

+/- 1ºC

Heating Element

Sick heating elements

Temperature Stability

±0.5ºC at 1000ºC

Temperature Uniformity

±2ºC at 1000ºC

Working Voltage

AC 220V Single Phase 60/50 Hz

Max. Power

5 KW

Net Weight

140 Kg

Size

125 x 125 x 275 mm, 200 x 200 x 300 mm, 300 x 300 x 600 mm