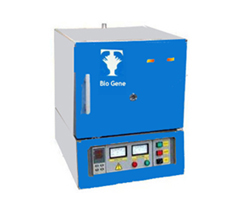 Bio Gene 1700ºC Muffle Furnace have a cutting edge technology with proven process to reach 1700ºC using Molybdenum Disilicude heating Elements with precision Temperature Accuracy & Uniformity which helps in Quantitative analysis, Gravimetric analysis, Glass preparation, sintering etc.
Applications
Features
Control
Construction
Specification
Bio Gene MUFFLE FURNACE 1700ºC are widely used in
Electronic Industry for Delicate Parts

Hospitals and Medical Facilities

Dental Office & Laboratories

Industrial Manufacturing

Jewelry Industry for intricate parts

Auto Industry for Rugged parts

Engineering Industries

Research Centers

Universities

Gravimetric analysis

Sintering

Quantitative analysis

Heat treating

Glass preparation
Operation Temperature: 1600ºC (1700ºC Max for short time).

Maximum energy efficiency is achieved by surrounding the chamber with thermal-efficient alumina fiber ceramic insulation.

Three side's resistance wire coil for fast and uniform heating.

Heavy duty double layer structure with cooling fan. Lower temperature in outside case.

0.5" diameter observation window made of quartz glass allow user to see insider chamber during heating operation.

K type thermocouple installed for immediate use.

Temperature control unit can be separated from furnace, and make moving at easy.

PID automatic control via current limiting phase angle fired the resistor , e.g. SCR ( Silicon Controlled Rectifier)

Power control with 30 segments programmable.

Vent port installed on the top for gas flow. ( gas outlet)
Microprocessor Based Programmable Controller

30 Program Step

RAMP & SOAK

Time: 0-99/999 Min

Door Lock: lockable

Alarm: Temperature Timer

Process : Start, End

EN: 60601: 1

EMD: 93/42/EEC
BTI-1700M is the most cost effective high temperature muffle furnace made by Bio Gene. The furnace consists of high quality alumina fiber brick and SiC heating elements with special design, and can be used up to 1700ºC. It is an ideal tool for materials annealing and sintering in your research laboratory.
Standard Working Temperature:

1600ºC (continuous)


Maximum Working Temperature:

1700ºC (< 3 hrs)


Temperature Control:

30 steps programmable and PID automatic control


Heating Rate:

0~15ºC / min (suggestion: <10ºC )


Temperature Accuracy:

+/- 1ºC


Heating Element:

SiC heating elements


Working Voltage:

AC 220V Single Phase 60/50 Hz (or according to your requirement)


Max. Power:

6 KW


Net Weight:

140 Kg


Size:


150 x 150 x 150 mm
300 x 300 x 300 mm
350 x 350 x 400 mm
500 x 500 x 500 mm