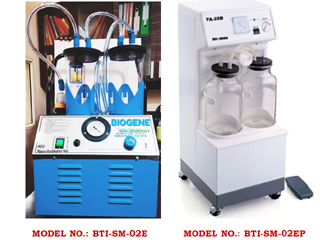 Life is priceless, Bio Gene Medical Suction Machine are manufactured under strict WHO guidelines confirming to FDA, CE, ISO etc.

Today Portable Suction Machine from Bio Gene Command respects due to is repeated performance utility and very effective operations.

Wether Hospitals, ICU, EMERGENCY WARDS etc, where fluid aspiration is the need of the hour.
Applications
Features
Control
Construction
Specification
Bio Gene offers Portable medical suction machine primary intended for use in emergency medical services to aspirate fluids, secretions foreign material from patient air ways.
Vacuum gauge, vacuum control valve, Overflow cut off device.

The pump creates a vacuum in the suction tubing inserted into the body for the removal of material in the collection container.

The system used in a while variety of setting within healthcare facilities.

Bio Gene suction machine consist of pump, collection containers, vacuum gauge control knobs microbial filters tubing trolley etc.

Safe-no plus pressure during using

No flow backwards pressure when the machine stops, so the liquid won't flow backwards.

Select negative pressure at will with no level for pressure adjustment, and overflow protection mechanism, safe and reliable vacuum pump.

Power indicator & patient suction tubing.

Mounted on four castors wheel.

Bio Gene Electrical Suction Machine Evacuate fluid tissue gas or other foreign materials from a body cavity or lumen by means of suction tube.
Easy visible control panel

Vacuum control

Vacuum gauge

Power

Mounted on a stable.

Portable stand with castor wheels and handles

Castor swivel 360 degree.

Projective fuses neutral supply

Power lead to be at least 3000mm long.

Power Voltage: AC 220-240VA AC 50Hz.

3 pin top plug (British Standard).
Salient features and specifications are as follows:

Clean-without pollution of oil and smoke.

Body made of Mild steel cabinet epoxy powder coated with SS Tray.

Electric powdered suction machine Constructed from heavy duly design consisting of metal base plate.

Fitted with ½ H.P Electric motor with oil immersed vacuum pump.

Bottles, fully autoclavable fitted with spillover protection

Bottle capacity 1500 - 2000ml.

Stopper of the bottle fitted with 2 valves and the suction inlet connected to the catheter holder by neoprene tube.

2 x 2000ml graduated glass jars with rubber lids.

Bio Gene Suction machine fitted with rubber lids.

Bio Gene Suction machine made of transparent polycarbonate material, graduated and to be fitted with float valve system, providing automatic shut off avoid overflow and a bacterial filter.
• Vacuum knob & gauge range 760mm/Hg.
• Operating Temperature. 0 to 50°C.
• Operating continuously in ambient temperature 10 to 40°C.
• Humidity .: 15-90%
• Size .: 22 x 13 x 27 inches on castor wheels.
• Pumping rate: 2.0L – 14 L/min
• Reservoir capacity: 1500 - 2000mL
• Noise: 60 dB (A)
• Power: AC 220-240VA 50Hz
• Bottle have Automatic cut off to prevent ingress of fluid to pump
• Filter overflow valve to prevent cross contamination.
• Bacterial filter in airline.
• Tube 0.5mm Long, Non collapsible neoprene type.
• Easy Lubrication.

Standard Scope
• Bottles 1500 - 2000ml
• Gauge with color code
• Tube neoprene, Filter
• Handle with trolley
• Castor wheel for easy operation.

STANDARDS
• Class B (GHTF Rule 11); Class II (USA); Class II (EU, Japan, Canada and Australia).

INTERNATIONAL STANDARDS
• ISO 13485 FDA , CE.
• ISO 13485:2003 Medical devices – Quality management system.
• ISO 14971:2007 Medical devices – Application of risk management to medical devices.
• IEC 60601-1-1:2012 Medical electrical equipment Part 1: general requirement for basic safety and essential performance.
• IEC 60601-1-1:2000 Medical electrical equipment Part 1-1: general requirement for safety collateral standards safety requirements for medical electrical system.
• IEC 60601-1-2:2007 Medical electrical equipment Part 1-2: General requirement for basic safety and essential performance -collateral standards Electromagnetic compatibility requirements and tests.
• ISO 10079-1:1999 Medical suction equipment – Part 1 Electrically powered suction equipments – safety equipments
• ISO 10079-3:1999 Medical suction equipment – Part 3 suction equipments powdered from a vacuum or pressure source.
• ISO 5359 : 2008 Low pressure hose assemblies for use with medical gase.
• JIS T 7111 : 2006 Hose assemblies for use with medical gas system.

REGULATIONS
• 21 CFR part 820
• 21 CFR Section 878.4780 pumps, portable aspiration (Powered).
• MHLW Ordinance no.169
• 34860010 Low pressure suction unit
34860020
34860030