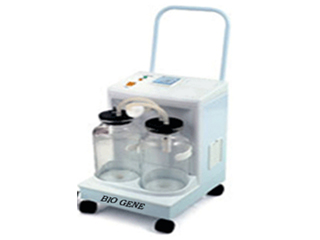 Bio Gene Care's in service of mankind out team has designed and built a true handy medical suction Machine, Capable to operate Manually by hand or foot pump or even with car charging system small foot print of 300 x 300mm with small aspirate bottle and confirming to WHO standards. Bio Gene Your automatic in Partner Medical Emergency.
Applications
Features
Control
Construction
Specification
Bio Gene offers Portable medical suction machine Manual primary intended for use in emergency medical services to aspirate fluids, secretions foreign material from patient air ways.
Bio Gene uses oil-free piston pump (pedal). These medical suction machines have complete plastic panels, hand-switch and foot-switch for easy operations. The salient features and specifications are as follows:
Clean-without pollution of oil and smoke.

Convenient -no need add oil to maintain daily.

Bio Gene suction machine consist of pump, collection containers, vacuum gauge control knobs microbial filters tubing trolley etc.

Jar wide mouthed autoclavable 500 collection jar (Polycarbonate).

Safety jar with mechanical overflow motor shut off system and bacterial filter.

Safe-no plus pressure during using

No flow backwards pressure when the machine stops, so the liquid won't flow backwards.

Select negative pressure at will with no level for pressure adjustment, and overflow protection mechanism, safe and reliable vacuum pump.
Easy visible control panel

Vacuum control

Vacuum gauge

Mounted on a sturdy platform.

Portable stand
• Poly carbonate Bottle

• Autoclavable

• Graduated

• Un Breakable

• Over Flow Device

• Valves

• Bacterial filter in airline.

• Tubing's 1.5 miter or 1500mm Long of dia 8.0mm L non collapsible.

• Vacuum Gauge : 5 cm dia.

• Easy Lubrication.

• Power : Operated on 220V AC (Optional).

• Pedal (Manual).

• Pedal 150ml per stoke volume.

• In built maintenance free 12V DC battery 55 Watts.

• Battery Backup: 90 Minutes on full charge.

• Dimension :- 34 x 34 x 30cms.

• Weight :- 9.5 Kg

• Provide with AC adaptor.

• Cigarette lighter socket cable for use in Ambulance/Car.

• Can be hung in Ambulance or on wall.

Standard Scope

• Gauge with color code

• Tube neoprene, Filter

• Handle with trolley

• Castor wheel for easy operation.

• Platform Size.: 300 x 300 or 12 x 12" Powder coated.
• Max negative pressure: 0.09MPa/ 0.75bar or 575mm-700Maximum /Hg.
• Graduated: Mercury (Hg) KPA.
• Operating Temperature. 0 to 500C.
• Housing : Mild Steel powder coated Cabinet.
• Humidity .: 15-90%
• Pumping rate: 14Ltr/min – Max 40.0Ltrs.
• Reservoir capacity: 500mL/pc, 2pieces
• Bottle have Automatic cut off to prevent ingress of fluid to pump
• Filter overflow valve to prevent cross contamination.

CLASSIFICATION
• Class B (GHTF Rule 11); Class II (USA); Class II (EU, Japan, Canada and Australia).

INTERNATIONAL STANDARDS
• ISO 13485:2003 Medical devices – Quality management system.
• ISO 14971:2007 Medical devices – Application of risk management to medical devices.
• Manufacturing standards EN 10079-1, IEC 60601-1, ISO 9001 internationally recognized standards.

REGULATIONS
• 21 CFR part 820
• 21 CFR Section 878.4780 pump, portable aspiration (manual)

JP REGULATIONS
• MHLW Ordinance No.169
• 36616010 manually-operated transportable suction units.

SPARES
• Filter
• Bottle
• Seal
• Castor wheel
• Foot switch
• Pressure Gauge
• Sterilizable silicon tubing
• Bacteria Filter
• Foot paddle lock
• Cannula with handle for general purpose