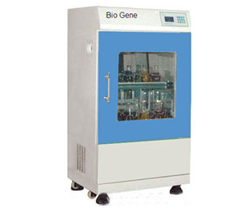 Bio Gene Orbital Incubator Shaker is a perfect machine used in Protein Expression studies at plasmid 4ºC specific cell generation or thermophiles growth at 80ºC Bacteria multiplication in tubes or yeast cultures in flask. Sturdy compact noiseless features of Bio Gene Orbital Incubator shaker has made popular choice of users world wide.
Applications
Features
Control
Construction
Specification
Bio Gene® Orbital Incubator shaker are widely used in
Microbiology, zoology, food, cosmetics or Pharma industry

Hospitals and Medical Facilities

Pharma Industries Manufacturing

Engineering Industries

Research Centers

Universities
Versatile usage

Ergonomic Design

Energy Efficient

CFC free cooling*

Long life

Low Maintenance

Calibration And Protocol

Documentation

Shaking Speed:
The shaking speed of our standard model variable speed incubator shaker is between
50 RPM to 400 RPM.
SPECIAL FEATURES

MACHINE STOPS
Door open

Programmed End

Shaker Time program end

Both
Alarms
Programe End

Heating Cycle

Cooling Cycle

Shaking Cycle
Microprocessor Programmable controls, 21 CFR Part II Complaint.

Temperature: RT +5ºC to 60ºC.

Time: 0-99/999 Min

Alarm: Temperature Timer

Process: Start. End

EN: 60601 : 1

EMD: 93/42/EEC

EN 61000-6-1: 2001

EN 61000-6-3: 2001

Electromagnetic Compatibility Directive (89)/336/EEC)

Microprocessor based Refrigerated Incubator Shaker Controller with Auto tune PID temperature control.

128 x 64 BLUE Graphical display

5 soft touch keys to control the different parameters.

9 programmable profile control programs for automatic operation.

Real Time Clock

Door open detection

Menu settings contain:
RPM Programming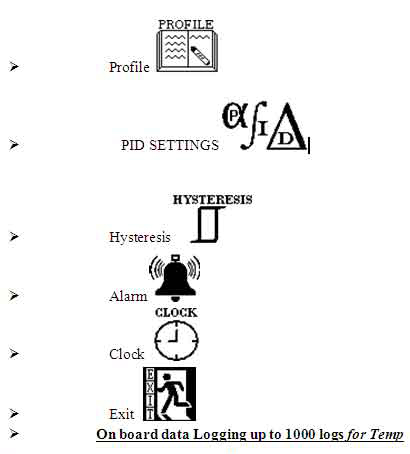 The unit has double wall construction with inner working chamber made of 304 grade stainless steel sheet.

Microprocessor controlled incubator shaker with precise setting of agitation speed, running time & temperature.

Bio gene refrigeration through a hermetically sealed compressor uses CFC free refrigerant.

Interchangeable platforms, flask clamps & test tube racks.

Offered with a platform for flasks and tubes.

Large, clearly visible LCD character display presents a menu of function/status readouts including speed, running time, self-diagnostic Indicators & temperature.

Bio Gene Advance Technology Refrigerated Incubator Shaker driven by unicentric heavy duty counter balanced drive with DC brushless motors and permanently lubricated ball bearings double sealed ZZ quality.

Bio Gene Refrigerated Incubator Shaker Stainless steel chamber, semicircular arcs at corners for cleaning easily and the space between the shelves in the chamber is adjustable.

DOOR :- Double walled construction with PUF insulation & large glass observation window permits easy viewing & monitoring.
Air Circulation:
Vacuum impregnated stator winding with Dr. Back varnish under red baktol
CASTOR WHEEL The unit is mounted on castor wheel for easy mobility with Locks.

Heating:
Inner Chamber Dimension: Wide range 2000,5000 ml

Capacity to accommodate: 50 ml, 100 ml, 250 ml, 500 ml, 1000 ml, 2000 ml, 5000 ml Flasks

Motor: D.C. motor with accurate speed control and low noise level

Platform Size: 300 mm x 300 mm, 450mm x 450 mm, 500mm x 500 mm, 600mm x 600 mm
ILLUMINATION
Our units are provided with door operated illumination system comprising of fluorescent lights. (standard).

SPEED CONTROL:
The Bio Gene Refrigerated Incubator shaking in our Refrigerated Incubator Shakers is controlled by a drive which in turn is controlled through micro processor based digital speed controller cum RPM indicator with great accuracy.

FRONT PANEL:
Front panel of our units comprises of on/off switches heating, cooling and mains indicator lamps, temperature controllers and voltmeters.
Digital Display Temperature Controller
Model

BTI
OIS/350350
BTI
OIS/450450
BTI
OIS/500500
BTI
OIS/600600

Temperature Range

RT +5°C to 60°C

Temperature accuracy

+-1°C in Controller + 0.5°C

Tray

2 No

Inner Chamber

Stainless Steel grade (304)

Outer Chamber

CRCA Steel with Powder Coated

Shaker Speed

50 – 300 RPM

Optional

Double Color Gate Top & Panel on request

Orbital Motion

Eccentric Three pin 32mm

Motor

PWM Motor

Digital Setting

0.1°C

Digital Resolution

0.1°C

Stability

0.1°C

Safety Function

Temp. Overshoot High & Low Temp. Alarm

Interior

Polish S.S. 304 grade Sheet

Insulation

PUF

Front Door

Double wall Stainless Steel with Glass Windows for is easy for observation

Duty Cycle:
Flask Universal holding with either all combination or individual capacity Flasks as mentioned in.
Forced convection
Continuous
250 ml
500 ml
1000 ml
2000 ml, Flask
test tube racks

Platform

UNIVERSAL

Noise

The Incubator shaker produce the noise Much Less than permissible limits of research laboratories >58DBA

Ambient Operating Conditions

10ºC to 48ºC

Cooling Mechanism

Evaporating Temp Range

0-60°C

Refrigerant

R- 134a

Refrigerant Control

CAPILLARY

Compressor Cooling

STATIC

General Applications

REFRIGERATOR/ DEEP FREEZER

RATED PERFORMANCE

Cooling Capacity -Rated

282 – 650 Btu/hr (Model specific)

Power input -Rated

80-110 Watts (Model Specific)

Energy Efficiency Ratio

3.53 Btu/Whr

Current - Rated

0.70 Amps

LRA -Rated

N/A

Evaporating Temperature

-23.3°C

Condensing Temperature

54°C

Liquid Sub Cooling Temp

32°C

Return Gas Temperature

32°C

Ambient Temperature

32°C

Pressure - Suction

0.32 Kg/Cm2

Pressure - Discharge

12.9 Kg/Cm2

MECHANICAL MATRIX Of Compressor

MECHANICAL DATA

Design
Displacement/Revolution
RECIPROCATING
3.14 CC

No. of Cylinders

One

Speed (Nominal)

N/A

Oil Charge

230 CC

Weight

7.3 Kgs

Internal Pressure Relief Valve

PROVIDED

MOTOR DATA

Motor Type

PTCSIR

Frequency

50 Hz

Phase

SINGLE

Voltage -Rated

230 Volts

Voltage -Range

N/A

High Potential Test

N/A

OVER LOAD PROTECTOR

Type

EXTERNAL