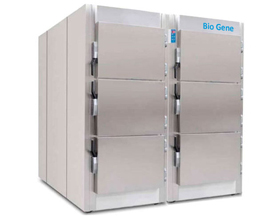 Six Bodies Mortuary chamber and Freezer have true importance due to the high sentimental values. Bio Gene caves such feeling and so we design our Mortuary cooler Fridging chamber with human touch. These chambers generate uniform Temperature, stretcher with easy roll on casters inside lights Inner chamber made of AISI 304/306 grade steel flexible modular design easy to fit Male Female joints to install even where site constants is present. Bio Gene Mortuary Cooler, Freezers prove to be of great importance due to its operational simplicity and the care taken for safety confirming to ISO 13485, CE, EN 60601 protocols.
Applications
Features
Control
Construction
Specification
Bio Gene® Six BODIES MORTUARY CHAMBER STORAGE SYSTEM is Double walled construction with inner chamber made of Stainless Steel and outer body made of mild steel duly powder coated. High density polyurethane (PUF) insulation of desired thickness is filled between the walls and the whole structure is mounted on heavy duty castors for easy movability. Trays to carry bodies with handles at both ends slide on rollers. Front opening, hinged stainless steel insulated doors lined with gasket, handle and lock arrangement with keys in duplicate for individual dead bodies. A double door system including the transparent inner acrylic door helps in viewing without disturbing the thermal conditions.
Bio Gene® SIX BODIES MORTUARY CHAMBER STORAGE SYSTEM is designed for storing cadaverous under cool condition to prevent decomposition. They are quality constructed self contained mortuary refrigerators used in funeral directors and hospitals. These are latest development in Mortuary technology offering vast space saving advantage over the conventional type together with greater hygiene demanded by current legislation.
Six Bodies Mortuary chamber.

Audio visual alarm for high and low temperature

Designed for long storage of cadaverous

PUF insulation on all sides.

Special design ensuring best hygiene with washing & draining facility.

Reliable.

Special loading trolley.

Energy efficient and study construction.

Light weight

Digital temperature indicator.

Low maintenance.

Microprocessor based / PLC temperature control.

Double walled cooling units.
Microprocessor Based Programmable controls

Temperature: Ambient +2ºC to + 8ºC.

Time :- 0-99/999 Min

Door Lock :- lockable

Alarm : Temperature Timer

Illumination : ON/OFF

Castor :- Lockable

EN: 60601 : 1


EMD : 93/42/EEC
Outer body of the six mortuary chamber is constructed out of thick S.S sheets. The inner chamber made of heavy gauge stainless steel sheet of Stainless steel 304 grade. The 100mm gap between the walls filled high grade poly urethane insulation, which ensures maximum thermal efficiency.

The doors connected by very sturdy chrome plate hinges and fitted with hard chrome plated lubricated latches for opening of the door.

The doors made of galvanize steel sheets, lined with stainless steel for extra protection and long life.

All the doors fitted with high quality neoprene rubber gaskets for airtight fittings with very sturdy casters.

CFC free compressors, conforming to latest international standards and guidelines. Twin compressors of which one is standby.

Vapor proof lamp inside.

REFRIGERATION

The Bio Gene® refrigeration unit is kept outside the chamber for easy maintenance. Strong and reliable with powerful quick response refrigeration system helps in achieving the desired temperature within a short period of time even at high ambient conditions. A highly efficient hermetically sealed compressor with air cooled condenser having the evaporator inside the chamber is used. A forced air type circulation is used to maintain uniform temperature inside the chamber. Non CFC eco friendly commercially available refrigerant is used. Corrosion free interior and exterior.
MODEL

BTI-MC-06

MAKE

BIO GENE

Chamber

Six

Body Independent

Control

Microprocessor PID

Time

Real Timer Clock

Temperature Range

-2°C to -20°C, FREEZER +2°C to +8°C, CHILLER

Working Environment

100% humidity

High Resolution

0.1°C

Soft Touch Keypads

soft touch

Compressor Rest Time

Inbuilt

Incoming Voltage Monitoring

Monitoring

Refrigeration unit functions

voltage in range

High Low Voltage

Indicator

Set Vales

Programmable

Alarm

Audio, Visual

Defrost

Automatic

Easy Readability and Operation

easy readability and operation

Inner

Stainless steel 304

Outer

Mild steel powder coated

Standards

ISO-13485, EN 60601