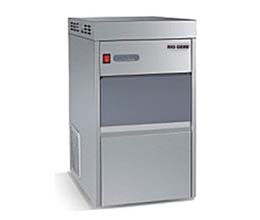 BioGene Ice Flaking machines 150 KG capacity are designed to ensure quality ice Lakes, which are used by our scientists and research labs, the application is large from micro biology, Molecular biology, chemical analysis, Pharma application, genetic research etc.

Biogene Ice flaking machines are Single command machines which have automatic start and stop programs.

Zerconium quoted ice Bin, complete stainless steel body, crusher, Cryogenerator from reputed manufacturers are some of the key features. Hence Ice Flaking machines command respect.
Applications
Features
Control
Construction
Specification
Bio Gene Flaking Machine are widely used in Universities, Hospitals, Laboratories, Physiotherapy, Microbiology, Genetic, Defense, Restaurant, Bakeries, Catering, Chemical, Pharmaceutical Process, Concrete Cooling, Fish, Poultry Processing, Fruit & Vegetable Cooling, Supermarkets, Canned food Industries, frozen meat processing.
Microprocessor based System with
LED Indicator

On-off

Run

Fault

Ice full

Water low
POSITIVE CHARGE NON RETURN DEVICE
Contamination Free positive charge non return Device of 0.45um used for Feed Water inlet in our ice making Machine.

It is a compact, self contained unit, covering less floor area easily installable Ice Flakers machine.

Automatic Water cut off in case of no water supply /Low pressure supply of water through proximity sensors.

Quality compressor & Air Cooled condensation.

CFC/HCFC Free. (R134A) is Used in Ice flaking machine.

Corrosion frees Interior.(Stainless steel)

Electric shock protection- I Class, Overload protector MCB fir motor & Refrigeration Unit.
Microprocessor Based

Automatic Ice Flake

Automatic water cut off

Class I Protection

Power Breaker

Ice level Controller
HOUSING
Ice flakers machine is housed

In Stainless Steel body Inner and the outer Shell Staleness Steel which can have a Hardness Average of 70 -75 %.

The Bin is Made of Stainless Steel with no Chances of corrosion duly lined.

Stainless steel internal & external body.
PRODUCTION CAPACITY
Bio Gene Ice Flaking machine

Ice Flaking Model is designed to produce on an average a production in depending upon the Electrical & water Condition Inputs hours.

Bin sensor stop ice production for better sanitation.
ICE FLAKE BIN
Bin capacity range from 10 -150 kgs depending on models

This bin also has a drain at the bottom to remove the condensed water.

The storage bin has a sliding door.
Ice Making Cum Flaking
The unique design ensures through its powerful compressor to convert the running water to form Ice which is crushed to form FLAKES or 3-5 mm thickness continuously.
INSULATION
Thick PUF Insulation of ensures no thermal loss.
ICE CRUSHER
Ice crusher used is GERMAN CRUSHER made of Stainless Steel to Give lifelong performance for continued Water introduction into Crusher.
PRECISION FLOAT VALVE
Assembly through a Precision float Valve. The inflow of water is smoothly controlled by this float valve for maintaining a required level of water irrespective of variation in pressure at the Water input line.
ICE FLAKES
Produced are of 3-5mm thickness Crashed by the Ice Crusher

Ice flakes are collected into a well insulated/ (PUF)

Stainless steel Container. So It stays for longer time.

Thermostat controls for ice Flakes size and storage bin ice level sensor.

The removal of flakes is Easily carried out by the means of Spade. Possible through the stainless steel Top door which can be pushed while Removing the ice.
ICE LEVEL CONTROLLER
The equipment fitted with an ICE LEVEL CONTROLLER which will put off the system in case ice gets accumulated in the container more Than The required level. Hence, there is no need of an operator being on the Machine all the time.
COMPRESSOR
Bio Gene Ice Flakers has an efficient design to house the compressor Hermetically sealed at the bottom of the Machine; the compressors are Imported in origin from Europe.

Refrigerant: R134A CFC FREE

Condenser unit: AIR COOLED

ALL BODY STAINLESS STEEL
Freezing Unit

Bio Gene understands the need of Clean Atmosphere hence the entire unit is made of Stainless Steel.
NOISE LEVEL

: > 65 dbk

Bin made by

: Stainless Steel.
| | |
| --- | --- |
| MODEL BTI | ICF-150 KG |
| Production capacity | 150 KG |
| Bin made by | 50kg /24 hrs. |
| Ice Flakes | Irregular 1,2 -3 mm |
| OPERATING TEMPERATURE | 10 – 45˚C |
| Cabinet made by | STAINLESS STEEL SHEET WITH LINING |
| Compressor | CFC FREE |
| Refrigerant | R134A |
| Condenser unit | AIR COOLED |
| Power Requirement | 220 volts – 240 volts Single Phase 50/60 Hz |
| ELECTRICAL POWER | 1 KW |