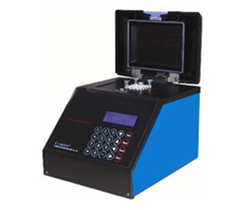 Applications
Features
Control
Construction
Specification
Polymerase Chain Reaction is widely used in molecular biology. As PCR progresses the DNA thus generated is self used as template for replication. with PCR it is possible to amplify a single or few copies of a specific DNA fragment across several order of magnitude, generating millins copies of the DNA fragments.
BIO GENE PCR optimizes polymerase reactions with steep accuracy with gradient and column uniformity less than 0.3 deg C and temperature from 30 to 99.9 deg C.

BIO GENE Laboratory PCR are capable to increase and decrease temperature from 0.1 deg C to 10 deg C coupled with time cycle of 1 to 60sec.
Microprocessor Programmable controls

Temperature: 0 to 99.9 C.

Door Lock :- lockable

Blower speed : Uniform enable disable

Alarm : High, low

Process : Start . End

Auto : Temperature & time cycle

EN: 60601 : 1

EMD : 93/42/EEC

EN 61000-6-1 : 2001

EN 61000-6-3 : 2001

Electromagnetic Compatibility Directive (89)/336/EEC)
Bio Gene Gradient Pcr Machine has touch screen display with Auto ramping and and heated lid to facilitated the polymerase change reaction with in the temperature rage for 45 to 110C. the dedicated software for PCr applications enables easy use of Bio Gene Pcr.

Large Blue LCD Screen with slim tube and Pcr block of two different capacities also helps in Pcr function.

Bio Gene Usage pal tire based temperature control for fast ramping the lid is lockable vile in process non skid legs and the bottom helps in long duration the actions.
| | |
| --- | --- |
| Block Capacity | 0.2mlx25wells + 48mlx16wells |
| Block Temperature Range | 0°C ~ 99.9°C |
| Block Heating Rate | 3°C/s |
| Block Cooling Rate | 2°C/s |
| Block Uniformity | ≤ ± 0.3°C |
| Block Accuracy | ≤ ± 0.3°C |
| Mode of Temperature Control | Sim-Tube & Block Mode |
| Ramping Rate Adjustable | 0.1°C ~ 3°C |
| LCD | Large-size Blue LCD |
| Max. No. of storable programs | 125 Typical Programs |
| Max. No. Of Cycle | 99 |
| File Named | Yes |
| Temp. Increment/Decrement | 0.1 ~ 10°C |
| Time Increment/Decrement | 1 ~ 60s |
| Auto Restart | Yes |
| Hold at 4°C Forever | |
| Auto Pause | Yes |
| Running Time Display | Yes |
| Hot Cover Temperature | 105°C |
| Height of Cover Seamless | Adjustable |
| Hot Cover Auto Shut-Off | Yes |
| Dimension (LxWxH) | 267x220x253mm |
| Net Weight | 6.8kg |
| Wide Power Supply Range | 110V±10%, 220V±25%, 50/60Hz |