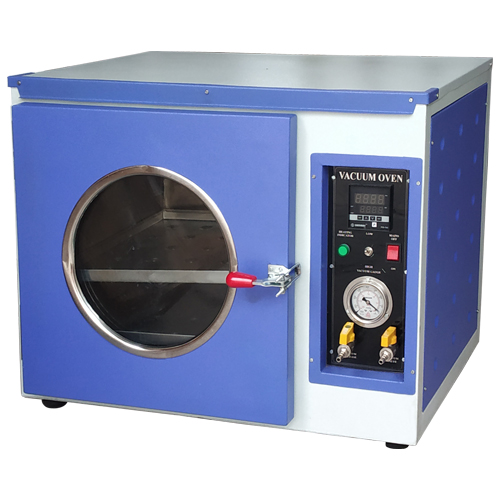 Vacuum oven, unlike general purpose oven, dries samples without oxidation and residue. Vacuum oven is an ideal choice; where, samples are dried in absence of atmosphere (vacuum condition) or presence of inert atmosphere (Argon, Nitrogen, Clean Dry Air). A vacuum oven has two ports; Vacuum Port with needle valve to connect vacuum pump and another is Inert Gas Port with needle valve to connect with gas cylinder. A microprocessor PID controller is fitted in vacuum oven to control the temperature inside the chamber. Analog vacuum gauge displays vacuum level. Temperature thermostat keeps the unit safe if temperature exceeds beyond set degree of vacuum oven.
Applications
Features
Control
Construction
Specification
Electronic Industry for Delicate Parts

Hospitals and Medical Facilities

Dental Office & Laboratories

Industrial Manufacturing

Jewelry Industry for intricate parts

Auto Industry for Rugged parts

Engineering Industries

Research Centers

The purpose of using vacuum oven is to eliminate surface reactions (condensation or oxidation) on the parts inside the oven. While determining the drying process, it is mandatory to define the chamber size, vacuum pump capacity and level of desired vacuum, and time to achieve this vacuum level.
1. Our digital PID control vacuum oven provides precision Vacuum, temperature, alarm, timer, auto-tuning and automatic on/off function.
2. Built in gauge to display vacuum level.
3. Vacuum and air lines are made of corrosion resistant stainless steel tubing.
4. Three way valve for evacuation, venting and purging of inert gases.
5. Over shoot Temp alarm
6. Over temperature safety protection and MCB.
7. Aero dynamic internal design for achieving horizontal air Circulation.
8. Ensures a high level of control.
9. Bio Gene vacuum oven Accuracy and uniformity.
10. In colony sheathed tubular with fins.
11. Non contact type door switch.
12. Mineral wool insulation.
13. Lock Mounted on door.
14. Bio Gene Vacuum oven has inlet Valve for passing dry Nitrogen into the chamber or other gases.
15. Storage heating, testing and drying are all in an environment without oxygen or filled with inert gases, which ensures no oxidation removable of microorganisms.
Lapro is a leading vacuum oven manufacturing company in India. It has been highly acclaimed by experts from food, pharmaceutical and metal manufacturing units and other research organizations for its innovate range of vacuum ovens and customized solutions to meet specific research application. Our vacuum ovens are suitable for delicate drying processes, for example drying tiny parts or removing flammable solvents.
Our vacuum ovens accommodate nitrogen or inert gas purging / venting and supplied completely with vacuum pump and connection kits with over temperature protection device fitted. Temperature chart recorders and printers are optional. These vacuum ovens are often operated at temperature up to 130°C. The standard models of vacuum oven come with 20 liters to 520 liters of volume. Each vacuum oven delivers excellent heat transfer, fast heat up and safe operation.
Bio Gene vacuum oven is Double walled construction and stainless steel AISI 304 grade steel With seamless round corners.
INNER CHAMBER
Bio-Gene Vacuum oven Inner Chamber is fabricated from Thick Stainless steel grade SS-304 with mirror finish High insulation.
OUTER BODY
Outer body of our Bio Gene oven constructed out of Mild Steel (CRCA) sheet duly rust proofing and painted with long lasting stove or elegantly powder coated.
TEMPERATURE RANGE
Temperature range is from ambient +50 to 220 â—¦C.
Safety Over Temperature Pressure safety for specimen.
DISPLAY
Bio Gene Vacuum Oven dual display of set value & process value for precise control of temperature.
GASKET
Vacuum Oven is provided with Single door provided with Silicon door closer. Bio Gene VPC Closed-cell silicon gasket ensures a high vacuum degree in oven.
Swing type gasket heat resistant door.
Silicone door gasket and positive latch door to maintain seal at latch door to maintain seal at all vacuum levels.
Closed-cell silicon gasket ensures a high vacuum degree in Vacuum oven.
Seamless silicone packing is designed and developed with technical structure by large mold ensuring excellent vacuum condition
SHELVE
Swing type gasket heat resistant door.
Three removable staking aluminium / stainless steel shelves.
Round corners Easy to clean type 304 stainless steel interior chamber.
Supplied with 2-3 removable shelves.
Supplied with stainless steel wire mesh shelves.
Inner fabricated with ribs for adjusting shelves to convenient height.
INSULATION
The gap between the walls is filled high-grade Mineral Glass wool thickness, which ensures maximum thermal efficiency in our Bio Gene vacuum oven.
Tubular Heaters With Fins Long lasting Stainless steel tabular heaters with fins
Temp range ambient +50°C to 220°C with LED display with over Temperature safety protection and over current protection and air ventilation.
The outer door is insulated and is fitted with heavy hinges.
OBSERVATION WINDOW
The stainless steel chamber door is mounted with tempered safety glass window of 7" is offered to view the samples and heat resistant silicone Gasket.
Toughened glass door ensures absolutely clear observation on object in the chamber.
Model

BTI-VO-20

BTI-VO-30

BTI-VO-40

BTI-VO-50

Capacity (Liters)

20 Liters

30 Liters

40 Liters

50 Liters

Maximum Temperature

120°C

Temperature Fluctuation

+ / - 1°C

Temperature controller

PID Controller

Sensor type

PT100

Doors

Solid Door

Heater

Kanthal plate & Wire Strip heater

Chamber Design

Rectangular or Cylindrical (Round)

Inner chamber

SS 304

Exterior

Powder coated galvanized steel

Insulation

Glass wool

Shelves

1

Ports

Vacuum port, Inert gas port and Vent port