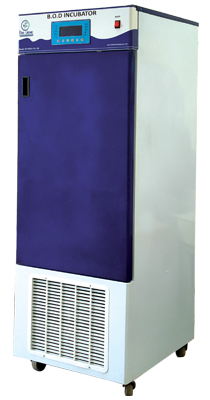 Bio Gene Biological Oxygen on demand incubators allows precise accuracy and stability of Temperature where the growth of Micro organisms is desired at 20 – 25ºC to Break down the organic matter using dissolved oxygen as a measural, value, cultivation of Manalian cells or budding yeast Saccharomyces Cerevisiae is the demand Bio Gene BOD Incubator are the solutions.
Applications
Features
Control
Construction
Specification
BOD Incubator is not only an advanced instrument for cultivation of cells, tissues and bacteria, but also key equipment for immunology, genetics and bioengineering. It is widely applicable for research and production of microorganisms, agricultural science and pharmacology as well as.
Hospitals and Medical Facilities

Dental Office & Laboratories

Pharma Manufacturing

Engineering Industries

Research Centers

Universities
Microprocessor based controls Large

Large LCD/LED Display

Programmable Temperature and time

Alarms

Double Door

Energy Efficient

CFC free cooling*

Low Maintenance

Calibration And Protocol
Bio Gene offers low temperature BOD incubator which is globally accepted for its high performance and easy operation.

Microprocessor PID Controller with temperature range from 0°C to 60°C.

Double Door
Reliable and Accurate Temperature Control.

Back Light displays current value and set value simultaneously

Inner Transparent Glass Door with double packing.

Easy sample view without door opening.
Microprocessor Programmable controls

Temperature: Ambient to 60ºC.

Time :- 0-99/999 Min

Door Lock :- lockable

Blower speed : Uniform enable disable

Alarm : High, low

Process : Start . End

Auto : Temperature & time cycle

EN: 60601 : 1

EMD : 93/42/EEC

EN 61000-6-1 : 2001

EN 61000-6-3 : 2001

Electromagnetic Compatibility Directive (89)/336/EEC)
Bio Gene double walled BOD INCUBATOR with digital display.

MICROPROCESSOR BASED DIGITIAL TEMPERATURE INDICATOR-cum-controller.
Controls the temperature from 0°C to 60°C

Inner and Outer Chamber Construction
Bio Gene the inner chamber is properly insulated with special PUF to prevent thermal losser.
The unit has double wall construction with inner working chamber made of 304 grade stainless steel sheet and outer body made of heavy gauge Steel Sheet.
HEATING
Tubular Finned heating elements are placed in ribs, at bottom and sides, for uniform heat distribution.

CONSTRUCTIONS
DOOR: - Double walled construction with PUF WOOL insulation & Door permits easy viewing & monitoring this door is also built of S.S 304.
Heavy duty door gasket to Maintain a leak free seal and temperature uniformity.
Model

BTI-BOD-65

BTI-BOD-112

BTI-BOD-171

BTI-BOD-225

BTI-BOD-250

BTI-BOD-280

BTI-BOD-340

BTI-BOD-420

Make

BIO GENE

Technical Matrix For

Lab

Temperature Sensitivity

± 0.5 °C

Temperature range

0 to 60 °C

Temperature accuracy

+/-0.5°C

Spatial Deviation

± 0.5 °C

Readability

0.5 °C

Selves

3Nos - 05 Nos

Temperature Sensor

PT 100

Uniformity

±1.0°C

Temperature Controller

Digital Controller

Temperature Variation

+/1 deg C

Display

LED/LCD

Nominal power

1050 watt

Heat Load

2.25 KW

Nominal voltage

220-230 Volts, 50Hz Single Phase

Capacity - Ltrs

65 Ltrs

112 Ltrs

171 Ltrs

225 Ltrs

250 Ltrs

280 Ltrs

340 Ltrs

420 Ltrs