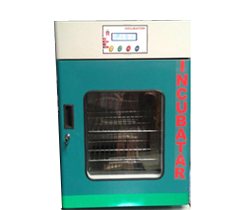 Bio Gene Convection Incubator find use where living organisms multiplication, growth rate or generation of microbiological cultures are concerned Bio Gene is the right choice due its precise temperature Positioning. Thus reproducing test results. For food industries critical of germ count or determination of Biochemical oxygen on Demand Bacteria, fungi, yeast, virus Bio Gene Natural conversation incubator gives optimal results as it regulates the Drying process.
Applications
Features
Control
Construction
Specification
Bio Gene Conversation Incubator are widely used in
Protein Crystals Production.

Breeding insects

Food Term count.

Reproduction of Micro organism

Germ Colonies reproduction

Cell cultures growth

Pharma and chemical Industries

Universities and research institutes.

Industrial Manufacturing

Jewelry Industry for intricate parts

Auto Industry for Rugged parts
Bio Gene Conversation

Incubator

controller provides automatic operation of variable temperature.

Technical Design and Construction Silent fan motor to maintain uniform temperature.

Safety and Convenience over temperature and current protection capability ensure user safety, adjustable sliding rack, Door

Timer & Alarm

PUF insulation

Versatile usage

Ergonomic Design

Energy Efficient

CFC Free

Long life / Low Maintenance

Calibration And Protocol Documentation
Microprocessor Programmable controls

Temperature: Ambient to 60ºC.

Time :- 0-99/999 Min

Door Lock :- lockable

Blower speed : Uniform enable disable

Alarm : High, low

Process : Start . End

Auto : Temperature & time cycle

EN: 60601 : 1

EMD : 93/42/EEC

ASTM E 1333-16

21 CFR compliant
THE INNER CHAMBER Bio Gene Conversation Incubator is made of heavy gauge stainless steel sheet of SS-304 grade.

Bio Gene Conversation Incubator is Double walled construction and stainless steel AISI 304 grade steel.
Internal chamber: Stain less steel (1mm thick) with CNC press punched back panel for internal efficient circulation. Outer Body of constructed out of Mild steel sheet with Powder Coat of Double Color. Glass window in-built into the door( double tempered) The unit is provided with Double door provided with magnetic door closer.

The outer door is made of Mild steel with Magnetic door closer
Aero dynamic internal design for achieving horizontal air Circulation.

Forced convection design ensures a high level of control.

Automatic cut off of heater and blower when door opened.

Digital PID temperature controller with timer alarms and auto tuning.

In colony sheathed heater.

Non contact type door switch.

Over temperature safety protection and MCB.

Supplied with stainless steel wire mesh shelves. Shelf height

Silicon gasket in door.

CASTER WHEEL
Bio Gene Incubator The unit is mounted on a sturdy steel frame and provided with castor wheels for easy movement inside the laboratory.

INSULATION: PUF 50 - 85mm thick.

FORCED CONVECTION

Rapid air circulation produces quick temperature equilibration and recovery, when moisture is the need of the hour through circulating fan.

Tubelor Heaters With Fins generate uniform temperature.

Temperature safety protection and over current protection and air ventilation.
Model BTI

GI-65

GI-112

GI-171

GI-280

GI-340

GI-420

GI-560

Make

BIO GENE

Technical Matrix For

Lab

Temperature Sensitivity

± 0.5 °C

Temperature range.

Ambient to 60 °C

Temperature accuracy

0.5°C

Spatial Deviation

± 0.5 °C

Readability

0.5 °C

Selves

3Nos - 05 Nos

Temperature Sensor

PT 100

Uniformity

±2.0°C at 100°C or better.

Temperature Controller

Digital Controller

Temperature Variation

+/1 deg C.

Display

LED/LCD

Nominal power

1050 watt

Heat Load

2.25 KW

Nominal voltage

220-230 Volts, 50Hz Single Phase

Capacity - Ltrs

65 Ltrs

112 Ltrs

171 Ltrs

280 Ltrs

340 Ltrs

420 Ltrs

560 Ltrs