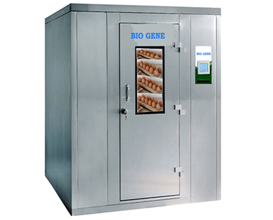 Bio Gene Egg Inoculation Incubator find their places not only for Incubation of EGGS. But have proved to be of great help in developing of vaccines. Allantoic cavity is the most popular method for viral Inoculation employed for the confirmation on replication of the Influenza Virus for vaccine production.

Yellow fever and Rabies vaccines are developed using the Duck Eggs which Provides better yield.

Similarly the MUMPS VIRUS can be detected in the Egg Embros due to the Precise Temperature & Humidity controls using the dedicated Microprocessor in Bio Gene Egg Incubators.
Applications
Features
Control
Construction
Specification
Application & Advantages Of Bio Gene Egg Incubator (Inoculation)
Widely used in method for the isolation of virus and growth.

Ideal solution for the viral growth and replication.

Isolation and cultivation of many avian and few mammalian viruses.

Cost effective and maintenance is much easier.

Less labor is needed.

The embryonated eggs are readily available.

Sterile and wide range of tissues and fluids can be obtained.

Environment free from contaminating bacteria and many latent viruses.

Specific and non specific factors of defense are not involved in embryonated eggs.

Widely used method to grow virus for some vaccine production.
SILENT FEATURES
Bio Gene Egg Incubator Controlled Chambers are widely used in
Removable shelf for putting and turning egg.

Automatic Digital frequency control and display.

Auto-temperature and auto-humidity control

auto-alarming facility

Electronic egg turning control with electric actuator and programmer for auto-turning of eggs

Microprocessor based temperature control.

Efficient heater, controlled by electronic system with probe & display

Accuracy of control temperature: ≤±0.1°C

Hatchability above 95%

Suitable for hatching all types of hens' eggs

FEATURES
Relative Egg Incubator from 30 to 95%

Low Water Level Indicator System

Self-Diagnostic Function automatically checks any malfunction and make warning signal

Egg Incubator Control by electronic Humidity sensor provide accurate control from 30 to 95%.

High Quality Fiber Glass insulation Puff Insulation keeps the surface Temperature comfortable & Avoid Heat & Humidity Loss.

Fiber Glass insulation
FEATURES: MICROPROCESSOR BASED PROGRAMMABLE
Digital displaying of temperature, Egg and turning frequency

Temperature controlling programmable

Full automatically Humidity controlling

Automatic turning

Alarming

Full automatically cooling and ventilator

Back emergency system

Microprocessor based ,automatic incubator

Using coal ,electricity two heating method

Hatching rate more than 98%.
Standards : ISO,EN, CE, Electro magnetic
MDD :- 93/42/EEC

EN 61000-6-1 : 2001

EN 61000-6-3 : 2001

Electromagnetic Compatibility Directive (89)/336/EEC)

EN: 60101, ISO, CE

EN 50581 ROHS, IEC 60068-2-1
ALARM
Bio Gene Egg Incubator Alarm in case of non Confirming atmospheric condition inside the incubators.

CONTROL PANEL
The temperature is efficiently controlled by Microprocessor based digital programmable controller with Dual LED indicators for set value & process value display.
Overload cut off
High temperature safety cut off & alarms for high/low set parameters.

HUMIDITY RANGE :- 30 % to + 95%.
TEMPERATURE RANGE :- 33-37°C
COOLING
• Bio Gene Egg Incubator is Double walled construction made of Powder coated Galvanized Iron/ Stainless Steel 304 grade.

• Silent fan motor to maintain uniform temperature and Humidity.

LOCK AND ARRANGEMENT This door is provided with lock arrangement.

DOOR : The Single door is provided with a quick locking facility and heat resistant Five layer gasket.

STEEL SHELVES : Bio Gene Egg Incubator is supplied shelves adjustable perforated shelves fabricated Galvanized Steel.

INSULATION Fiber glass sandwich panels and also bottom insulation.

BLOWER: Bio Gene Egg Incubator Fan Motor Blower is mounted at the Rear wall for uniform Temperature. Which is a self cooled air circulation fan is fitted to maintain uniform temperature and Egg conditions throughout the chamber from EBM Plast Germany.

• Safety and Convenience over temperature and current protection Capability ensures user safety, adjustable sliding rack, water level sensor to work 220/230V A.C.

VENTILATION
Through well balanced multi bladed motorized power impeller fans, to such a precise that embryo development is in perfect stage.

COOLING SYSTEM
Achieved through strategically positioned copper pipe cooling coils.

EXHAUST VENTILATION
Automatic exhaust provided for cooling system. Automatic turning of eggs automatically and also provided with electrically Rotation Recorder. Operatable by precise reduction gear box driven by ½ H.P Motor.

SETTING TRAY
Bio Gene Egg Incubator of high quality specially designed setting trays of plastic to avoid damage to eggs and produce extra hatchability.

HATCHING TRAYS
Bio Gene Egg Incubator Plastic moulded durable and stackable. Designed for proper ventilation, handling and easy to clean with a capacity of 42 Eggs.

Door Open: Visual indication with door open conditions

HUMIDITY SENSITIVITY:
Egg is controlled by mean of an electronic Egg controller cum indicator with an accuracy of +5%.

HUMIDITY CONTROL
The Humidity control we use a highly accurate Egg sensor. This is linked to a microprocessor which controls the switching of the Humidifier. Microprocessor Based Digital Egg Indicator – cum – Controller to control Humidity from 30 to 95% at cool temperatures. Light intensity can be adjusted manually according to requirements.

HEATING
Indirect heating system is provided in our units, comprising of air heaters made of high grade Kanthal A-1 wires of suitable wattage. The warm air is evenly distributed throughout the chamber through efficient motor fans ensuring very good temperature sensitivity.

EGG TRAY
Bio Gene offer choice of different Capacity Egg trays.

MICROPROCESSOR BASED DIGITAL MICROCONTROLLER HAVING 4 PROGRAMMES.

Humidity Controller with Dew Point controller heater

UV Light :- For Sterilization

TEMPERATURE RANGE
Temperature ranges of our standard models are RT+5 to 50°C. However we have the capacity to modify the same to suit the individual specialized requirements of our customers.

FRONT PANEL
Front panel of our units comprises of on/off switches heating, cooling and mains indicator lamps, temperature controllers.

ELECTRICAL POWER
Fan motor - 1/3 H.P
Turning Motor - ½ H.P
Heaters - 4 Nos x 500 Watts each compartments
Initial Load - 3 Kw per compartment of setter.
Working load - 1-2 Kw per compartment of setter.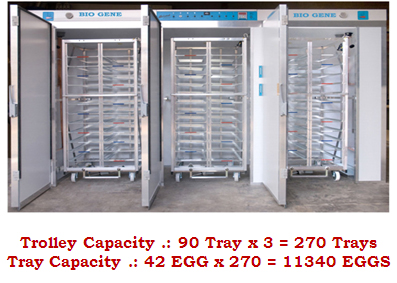 Brand Name

Bio Gene

Bio Gene

Bio Gene

Bio Gene

Model Number

BTI/EI/11340

BTI/EI/20000

BTI/EI/30000

BTI/EI/50000

Poultry Name

Egg Capacity (pcs)

Chicken(Pigeon) egg

11000 (11340)

20680

30900

51200

Door

Single Entry Door

Duck(Turkey) egg

9800

18600

28300

48250

Temperature in holding room

33-37°C, 60-75% RH

Temperature Range

RT+5 to 50°C

Ambient Temperature

-10 to -40°C

Egg Turning

Automatic programmable

Geese egg

5250

9790

18900

26750

Egg /Tray

42

quail egg

73680

146780

Temperature Measurement Accuracy

±0.1

Temperature Display range

5-50

º

C

Temperature control accuracy

≤±0.1

Display resolution of moisture

±5%RH

Delivery time

Within 4 – 6 weeks

Display

Major parameter Display like Temperature Humidity time etc.

Usage

Chicken, Bird, Ostrich, Duck, Turkey, Quail, Goose

Panel

Fiberglass sandwich Five Sides & Door

Color

White, Doors Blue

Relative Humidity

Less than 85%

Material

Fiber Glass Paneled with Cam Locks

Ventilation cycle

5-999 (incubator cover all eggs)

Ventilation Time

0-999 Seconds

Humidity Display Range

0-99% RH

Humidity Precision Control

±5% RH

Relative Humidity

Less than 85%

Function

Automatic Poultry Egg Incubator

Measurement of the line is long

1.5 Minutes

Operating voltage

AC 180V – 240V, 50Hz

Inner Dimension

2050 L X 1150 D X 1800 H

External Dimension

2400 L X 1400 D X 2100 H

Life Time

10 – Years

Warranty

1 years, except Controllers, Electronics

Data Logger Transfer

USB RS 232, 485

Hatching rate

high more than 98%

Heating

Electricity 220 volts single phase

Quality

CE 13485 ISO 9001:2008, EN 60601:01