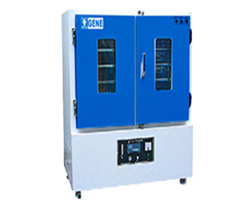 Bio Gene Dual Chamber Incubator have versatile usage where temperature stability and homogeneity is of prime importance, electronic component endurance test on board components for space and Aeronautics or extremely temperature sensitive growth of Micro organism colony including the Nutritional value growth and yield is the demand. Bio Gene dual chamber Incubator are the solution.
Applications
Features
Control
Construction
Specification
Bio-Gene: Dual chamber incubator is widely used in Electronic, Electrical, on board, Space Research Centers, Major Universities, Pharma, Biotech, Medical research, Hospital, Diagnostics, Agriculture science, Pharmacology, Immunology, genetics, Bioengineering, Biotechnology, Microbiology, Botany, Zoology etc.
Microprocessor Controller

Ergonomic Design

Energy Efficient

LED/LCD Display

Ramping

Calibration And Protocol
Bio Gene offers low temperature Dual Multi chamber incubator which is globally accepted for its high performance and easy operation.
It is widely used in industrial, bio-tech, pharmaceutical and medical research.
Bio Gene Dual chamber incubator are equipped with silent fan motor.
Bio Gene Dual chamber incubator has Microprocessor/PID/Digital Control details at the bottom
Precise temperature control ranging from Ambient + 5°C to 70°C and auto on/off function.
Precise Digital Display
Features of Bio Gene low temperature Dual Chamber Incubator

Microprocessor PID Controller with temperature range from Ambient +5°C to 70°C.

Single Door

Reliable and Accurate Temperature Control.

Back Light displays current value and set value simultaneously

Inner Transparent Glass Door with double packing.

Easy sample view without door opening.
Microprocessor Programmable controls

Temperature: 5ºC to 60ºC.

Time :- 0-99/999 Min

Door Lock :- lockable

Blower speed : Uniform enable disable

Alarm : co2 , Temperature Timer

Process: Start. End

Castor :- Lockable

Air : Class 100

EN: 60601 : 1

EMD : 93/42/EEC

EN 61000-6-1 : 2001

EN 61000-6-3 : 2001

Electromagnetic Compatibility Directive (89)/336/EEC)
The temperature is efficiently controlled by Microprocessor based digital programmable controller with Dual LED indicators for set value & process value display.
Bio Gene double walled Dual Chamber Incubator with digital display.

MICROPROCESSOR BASED DIGITIAL TEMPERATURE INDICATOR-cum-controller.
Controls the temperature from Ambient +5°C to 70°C

Inner and Outer Chamber Construction
Bio Gene the inner chamber is properly insulated with special PUF to prevent thermal losser.
The unit has double wall construction with inner working chamber made of 304 grade stainless steel sheet and outer body made of heavy gauge Steel Sheet
HEATING Stainless Steel heating elements are placed in ribs, at bottom and sides, for uniform heat distribution. Stainless Steel Tubular heaters.

TEMPERATURE RANGE:
Temperature range of our standard laboratory oven models are Ambient +5°C to 70°C

However we have the capacity to modify the same to suit the individual specialized requirements of our customers
CONSTRUCTIONS

DOOR: - Double walled construction with MINERAL WOOL insulation & Door permits easy viewing & monitoring this door is also built of S.S 304.

Heavy duty door gasket to maintain a leak free seal and temperature uniformity.

ILLUMINATION

Our units are provided with door operated illumination system comprising of fluorescent lights.

FRONT PANEL:

Front panel of our units comprises of on/off switches heating, and mains indicator lamps, Cooling Indicator temperature controllers.
Digital Display Temperature Controller
MODEL NO
DCI-30
DCI-45
DCI-65
DCI-112
DCI-171
DCI-280
DCI-340
DCI-450

Make

Bio Gene

Temperature range

Ambient +5°C to 70°C

Temperature Sensitivity

± 0.5 °C

Spatial Deviation

± 0.5 °C

Readability

± 0.5 °C

Temperature Sensor

PT-100

Temperature Controller

Digital Controller

Display

LED

Tray

02 Nos

Nominal power

500 - 1050 watt

Nominal voltage

220-230 Volts, 50Hz Single Phase

CAPACITY-LTRS

30 x 4

45 x 4

65 X 4

112 x 4

171 x 4

280 x 2

340 x 2

450 x 2