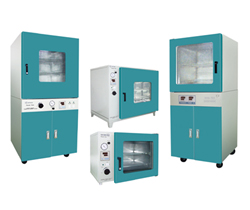 Applications
Features
Control
Construction
Specification
Bio Gene Vacuum Drying Oven are widely used in
Hospitals and Medical

Electronic Industry for Delicate Parts

Facilities

Dental Office & Laboratories

Industrial Manufacturing

Jewelry Industry for intricate parts

Auto Industry for Rugged parts

Engineering Industries

Research Centers

Universities
Bio Gene VACUUM DRYING OVEN controller provides automatic operation of variable temperature.

Technical Design and Construction Silent fan motor to maintain uniform temperature.

Safety and Convenience over temperature and current protection capability ensure user safety, adjustable sliding rack.

Timer & Alarm

Glass wool insulation

Versatile usage

Ergonomic Design

Energy Efficient

Long life / Low Maintenance

Calibration And Protocol Documentation
Microprocessor Programmable controls

Temperature: RT +5 to 250 °C

Door Lock :- lockable

Blower speed : Uniform enable disable

Alarm : Temperature Timer

Sterilization : Cycle

Process: Start. End

Castor :- Lockable

Air : Class 100

EN: 60601 : 1

EMD : 93/42/EEC

EN 61000-6-1 : 2001

EN 61000-6-3 : 2001

Electromagnetic Compatibility Directive (89)/336/EEC)
Bio Gene Vacuum Drying Oven is Double walled construction and stainless steel AISI 304 grade steel.

THE INNER CHAMBER Bio Gene Vacuum Drying Oven is made of heavy gauge stainless steel sheet of SS-304 grade.

OUTER BODY of our Bio Gene Vacuum Drying Oven constructed out of Mild Steel sheet duly rust proofing long lasting powder coated Paint.

Bio Gene Vacuum Drying Oven The unit is provided with door provided with silicon gasket.

Internal chamber: Stain less steel (1mm thick) with CNC press punched back panel for internal efficient circulation. Glass window in-built into the door( double tempered)

The outer door is made of mild steel from outside the inner wall is of stainless Steel.

Aero dynamic internal design for achieving horizontal uniform vacuum.

convection Heating design ensures a high level of control.

Automatic cut off of heater at desired temperature.

Digital PID temperature controller with, Timer alarms, Real Time clock and auto tuning.

In colony sheathed heater.

Non contact type door switch.

Over temperature safety protection through MCB.

Supplied with stainless steel wire mesh shelves. Shelf height Mineral wool insulation.

Silicon gasket in door.

This door is provided with lock arrangement.
CABINET: Bio Gene Vacuum Drying Oven cabinet (chamber) is provided with a quick locking facility and heat resistant.

SKID FREE
Bio Gene Vacuum Drying Oven The unit is mounted on a sturdy steel frame and provided with skid free legs for inside the laboratory.

STEEL SHELVES: Bio Gene Vacuum Drying Oven is supplied with 02 nos adjustable perforated shelves fabricated from 304 grade SS sheets minimum 1.2 mm thick.

INSULATION
The gap between the walls is filled high-grade Glass wool, which ensures maximum thermal efficiency in our Bio Gene drying oven.

Double wall with special grade wool insulation.

SENSOR: - Bio Gene Vacuum Drying Oven K-thermocouple sensor (Double sensor).

TABULAR HEATERS WITH FINS Long lasting Stainless steel tabular heaters with fins

Temp range: RT +5 to 200°C with LED display with over Temperature safety protection direct heating for Decompressed chamber and over current protection and air ventilation. Heater 3KWor higher.

HANDLE: - stainless steel/Plastic of 35mm.

SAFETY FEATURE
Over temperature digital alarm built in the controller

Make BTI

VDO-45

VDO-95

VDO-125

VDO-224

VDO-336

Technical Matrix For

Lab

Temperature Sensitivity

± 0.5°C

Temperature range.

RT +5 to 250 °C

Temperature accuracy

± 1 °C

Spatial Deviation

± 0.5 °C

Readability

0.5°C

Selves

2Nos

Temperature Sensor

Double sensor PT 100

Uniformity

±1.0°C at 200°C or better.

Temperature Controller

Digital Controller

Temperature Variation

+/1 deg C.

Display

LED/LCD

Heat Load

3 KW

Nominal voltage

220-230 Volts, 50Hz Single Phase

Safety Device

Over temperature limiter switch prevents overheating

Type

Adjustable memmert type.

Blower

Fan Motor Blower is mounted at the Rear wall for uniform Temperature

Inner chamber size

355 x 355 x 355 mm

455 x 455 x 455 mm

455 x 455 x 605 mm

605 x 605 x 605 mm

605 x 605 x 910 mm