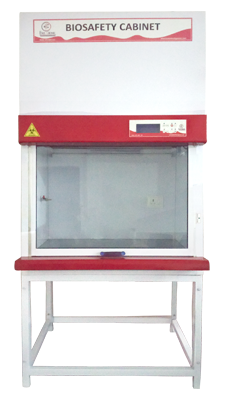 Bio Gene Bio safety cabinet ensure that No Pathogens are contaminating the work space as HEPA filtered air particles are exhausted out which results in no interference of viruses & bacteria due to strict sterile Environment conditions generated and BioGene Bio Safety Cabinet due to quality design and Microprocessor based controls.
Applications
Features
Control
Construction
Specification
Bio Gene Bio Safety Cabinet is widely used in Research Centers, Major Universities, Pharmacy, Biotechnology, Medical research, Hospital, Diagnostics, Agriculture science, Pharmacology, Immunology, Genetics, Bioengineering Biotechnology, Microbiology, Botany, Zoology etc.
Vertical design

Class II Type B2, Often Referred to as Total Exhaust, Biosafety Cabinets Recirculate 0% of the Air Passing Through the Work Zonevertical airflow

Raised armrest for elevates the operators arms to prevent grille blockage for safety work.

Outer cabinet surface antimicrobial coating.The cabinet built-in warm, white, electronically ballasted zero flicker and instant start 5000K lightening excellent illumination of the work zone. Gas ,water, vacuum , 2 nosnozzles .

UV protected sliding front sash fully opened to insert and remove large instruments.

Exhaust filter -Mini pleat HEPA filter with particle retention 99.99% for 0.3-micron particles.

HEPA/ULPA H14 filters according to EN 1822: efficiency of 99.995% MPPS and 99.999 % DOP at 0.3 micro m particles.

2 Nos-15/5A electrical outlets inside the work space.

Front 10°slanted to offer operator comfort while working for long time.
MICROPROCESSOR CONTROLLER:- LCD Display, programmable controls
16 x 2 LCD Alphanumeric display showing the controlling of the different parameters with soft touch keys to control the different parameters.

The Menu Driven system allows the user to set multiple parameters easily.

U.V light Age calculation.

Simple to use and operate keys for U.V light On/Off ,F.L Light On/Off, Blower on/Off ,Alarm key.

Timers for U.V light operation up to 99mins

Timer for Blower operation up to 99:99 hrs

Alarm indication on timer completion process.

Password protection

LED indication for all outputs.

U.V light and Blower Output will automatically get switched off after their respective set time is over.
1. LCD Display
Large digital display is easy to monitor all the safety parameters at a glance and ergonomically sized control panel improves user interface.




2. Work Zone
Work zone, made of 304 stainless steel is surrounded by negative pressure.




3. Remote Control
All functions command makes the operation much easier and more convenient.



4. UV lamp
Emission of 253.7 nanometers for most efficient decontamination.




5. Front Window
Two-layer laminated toughened glass>5mm, anti UV




6. Foot master Caster
Universal caster with brake and leveling feet


7. Foot Switch
Adjust front window height by foot during experiment, to avoid airflow turbulence caused by arm movement.




8. Waterproof Socket
Two waterproof sockets are located in the side wall, for optimum convenience of using small devices inside the cabinet.




9. Blower Assembly: Outer rotor type blower system which consist of dynamically& statically balanced aluminum centrifugal impeller driven by an single phase 1330 RPM motor, enclosed in an PU coated GL casing suitable connected to the filter chamber through direct mounted type.

10. Exhaust Blower
Centrifugal fan, speed adjustable.

Material of construction:Inner chamber made of stainless steel 304 grade.

Outer body made of Side and rear panel Electro galvanized steel or mild steel oven baked epoxy powder coated mat finish.

Single piece removable stainless steel 304 perforated working surfaces.

Detachable stainless steel 304 grade armrest .

DUAL DC motorEnergy efficient electronically controlled DC blower motor with night set back mode facility system.

Time Reserve Function.

HEPA Filter life and UV Life indicator.

Automatic air speed adjustable with filter block.

Work area surrounded by negative pressure, it can ensure maximum safety in work area.

Audio and visual alarm (Filter replacement, Window over height, abnormal Air flow velocity etc).

Most accessories are standard. No need to pay more, save your money.

Remote Control.

All functions can be realized with it, making the operation much easier and more convenient.

Adjust front window height by foot during experiment, to avoid airflow turbulence caused by arm movement.

Interlock Function: UV lamp and front window; UV lamp and blower, fluorescent lamp; Blower and front window.

Ergonomically angled supply filter to match cabinet profile for down flow uniformity.
Model BTI II-A2-X

BTI-BSC-222
BTI-BSC-322
BTI-BSC-422
BTI-BSC-622
Cabinet Internal Size (W*D*H)

2x2x2 ft

3x2x2 ft

4x2x2 ft

6x2x2 ft

External Cabinet MOC

Galvanized powder coated with special coating

Tested Opening

Safety Height ≤200 mm (8" X 25.4") +50mm (2

")

Light intensity

800/1200 lux

Temperature

0-50

º

C

Humidity

15-90%

Operating temperature

10-40

º

C

Relative humidity

15-90%

Max Opening

500mm (20")

Inflow Velocity

0.53±0.025 m/s

Down flow Velocity

0.33±0.025 m/s

HEPA FILTER size

4 x 2 x 6"

Pre-Filter

Washable

HEPA filter efficiency

99.97% at 0.3 micron the protection of class 100 or exceeding Class 100 standard 209 E or equivalent ISO within work area.

HEPA Filter

99.999% efficient at 0.3 Micron. Filter life indicator. Grde:13 rating type: mini –pleat HEPA filter separator less

Front door shas panel

Motorized. Two- layer laminated toughened transparent glass scratch resistant sheet glass ≥5mm. Anti UV

Noise

NSF49≤70dB / EN12469≤58 Db

UV Lamp

4 Feet, 15 watt, UV timer, UV life indicator, emission of 253.7 nanometers for most efficient decontamination.

Fluorescent Lamp

40W× 2

Illumination

Fluorescent tubes with diffusers/LED fitting

Consumption

1200W

Waterproof Sockets

Two, total load of two sockets: 500W

Display

LCD display: exhaust filter and downflow filter pressure, filterand UV lamp working time, inflow and downflow velocity, filter life, humidity and temperature, system working time etc

Control System

Microprocessor

Airflow System

0% air re-circulation, 100% air exhaust

Visual and Audio Alarm

Filter replacement, window over height, abnormal air flow velocity.

Exhaust Duct

4 meters PVC duct, Diameter:300mm

Main body

Side and rear panel Electro galvanized steel or mild steel oven baked epoxy powder coated mat finish.

Material

Work Zone: 304 stainless steel

Work Surface table & Height

Worktable stainless steel 316 grade and 750mm height

Caster

Foot master caster

Power Supply

230V±10%, 50Hz

Standard Accessory

Fluorescent lamp, UV lamp*2 ,base stand, exhaust blower, exhaust duct, drain valve, water proof sockets*2, pipe strap*2.
Optional : Remote control, foot switch.

Optional Accessory

Water and gas tap

Pre filter

Media: synthetic, non-woven polyester fibers
Casing : GL with PU coated frame
Retention: 8 micron & above
Efficiency: 98%

Power Input

220-240V and 50Hz