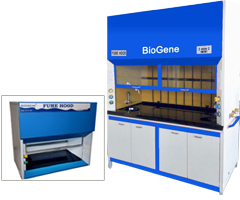 Bio Gene Fume Hoods are designed to ensure good working condition by protecting from toxic fumes. Vapours, dust, chemical spillage, Over run of reaction, Flames. Bio Gene uses very powerful exhaust fan blower to suck the contamination and dispose along with water curtain.
Applications
Features
Control
Construction
Specification
Bio Gene Fume Hood is widely used in Research Centers, Major Universities, Pharmacy, Biotechnology, Medical research, Hospital, Diagnostics, Agriculture science, Pharmacology, Immunology, Genetics, Bioengineering Biotechnology, Microbiology, Botany, Zoology etc.
Ergonomic Design

Energy Efficient Mechanism

Low Noise Levels

18 Gauge electro galvanized sheet with epoxy polyester power coating.

A Stable non –Adjustable baffle with a single slot on the back baffle to aid in distributing the flow of air into and through the hood. The baffle spaced out from the back liner and removal for cleaning.

6mm thick FRP Bisphenol '1' Fumerate

BIO GENE Fume Hood are designed for Durable, Hazardous Chemical Gas Removal / vapour

Wide variety of Material for User Selection

Slide Type Door with acrylic /Tempered Safety Glass

Powerful exhaust Fan Blower

Toxic particps odors to improve

Built-In Utility cabinet

Application based work platform, Stainless steel as per your requirement.
ASHRAE 110 and EN 14175 tested at face

Blower speed control.

ISO , CE, EN 60601:01
Bio Gene fume hood the sash of glass with vertical rising frame. The bottom of the sash frame has a full length handle. The sash is counterbalanced with a weights 5mm toughened glass sash.

18±1 mm thick Dished Black Granite top with skirting.

Data Cable design general purpose twin cabinets fabricated out of GI sheet, consisting of-twin doors in double walls const.

flushed type recessed handle.
-90º special design doors hingers in AI alloy const. Chemical resistant FRP Linning inside the cabinets wall.
-recessed base frame in heavy duty GI const.
-twin constors for easy removal of the cabinets.

Fabricated out of Mild Steel covered with FRP.

These are designed so as to throw-out all toxic/harmful vapors, thus protecting costly instruments and the person working in the lab.

Fume hood hood working area, of gases, vapour, toxic particles, odour

Inner Working Table made of stainless steel

Working table top is made of stainless steel and a small wash basin with connections provided for inlet and outlast of water.

Bio gene fume hood standard design.

The front door moves vertically up and down with concealed counter balanced weight.

The unit is fitted with Dual fluorescent light and a gas cock for gas/air supply. Metal dad fluorescent light metal clad socket 02 Nos and gas cock etc.

The front facing panel is fitted with 15/5 Amp socket with switches for exhaust system and fluorescent light.

To work on 220/230 volts A.C. Supply. 50 Hz AC

Control panel design on/off toggle switches for mains, motor – blower and tube light and main indicator.

Designed to minimize static pressure loss with adequate slot area and bell shaped exhaust collar configuration. Maximum average static pressure loss readings taken three diameters above the hood outlet from four points, 90 degrees, shall not exceed the following maximums with sash in full open position.

Steel: High quality,

cold rolled, mild steel meeting requirements of

ASTM A1008; gauges U.S. Standard and galvanized.

Bio gene fume hood working table is heavy gauge stainless steel, sink, 02Nos

Ceiling closure panels.

Xeric or Safety glass: 7/32" thick laminated safety glass or 3/8" thick

laminated safety glass viewing panel

Sash pull: Full width corrosion resistant steel with chemical resistant powder coating. Maximum 3mm" thick.

Gaskets: White 70 durometer PVC for interior access panels.

Gasket interior access panels to eliminate air leakage and to retain liquids inside hood.

Fume hood liner: Poly resin Reinforced polyester panel; smooth finish and IVORY/BLUE in final appearance.

Apparatus storage has base cabinet with MS Power coated self and double skinned door.

The blower is made PP-FRP dulvin type for effective exhaust of harmful gases and vapors.

3 Phase 1HP 2800 TEFC branded moter suction Capacity 800-1000 cfm (At different sash position)

The Impeller of PP-FRP construction. As per IS 325

Electrical services: Three wire grounding type receptacles rated at

120 V.A.C. at 20 amperes. Provide. Flush plates:

Black acid resistant thermoplastic
⇒ Granite work surface
⇒ Standard Base Cabinet
⇒ Exhaust blower
⇒ Airflow monitor
⇒ Nitrogen valve
⇒ nstallation of
⇒ Fume Hood/blower mounting etc
Model BTI

FH1000

FH1200

FH1500

FH1800

FH2400

External Size (W*D*H)

1000*750*2320mm

1200*800*2345mm

1500*800*2345mm

1800*800*2345mm

2650*800*2345mm

Internal Size (W*D*H)

820*620*750mm

1020*670*750mm

1320*670*750mm

1620*670*750mm

2420*670*750mm

Work Surface Height

850mm

Max Opening

520mm

570mm

570mm

570mm

570mm

Air Velocity

0.3~0.8m/s

Protection Class

Class I

Protection Type

IP 20

Noise

≤60 dB

Exhaust Duct

PVC, Standard length: 4 meters.
Φ300mm

Pipe Strap

1 pc

Fluorescent Lamp

14W*1

21W*1

28W*1

36W*1

36W*1

UV Lamp

Emission of 253.7 nanometers for most efficient decontamination

Blower

Built-in centrifugal blower; Speed adjustable.

Front Window

5mm toughened glass; Motorized; Height adjustable.

Power Supply

220V/ 50Hz; 220V/ 60Hz; 110V/60Hz

Consumption

400W

400W

500W

500W

500W

Material

Exterior

Cold-rolled steel with anti-bacteria powder coating.

Interior

High grade melamine board with good acid and alkali resistance function

Work table

Solid chemical resistant phenolic resin

Standard Accessory

UV lamp*2, Fluorescent lamp, Water tap, Gas tap, Water sink, Base cabinet, Pipe strap.
Total load of 2 waterproof sockets: 500W
4 meters PVC exhaust duct

Optional Accessory

Active carbon filter

Gross Weight

272kg

302kg

331kg

366kg

366kg

Package

Main Body

1150*900*1870 mm

1350*950*1920 mm

1650*950*1890 mm;

1950*950*1900 mm

1950*950*1900 mm

Base Cabinet

1150*900*960 mm

1350*950*900 mm

1650*960*910 mm

1950*960*910 mm

1950*960*910 mm