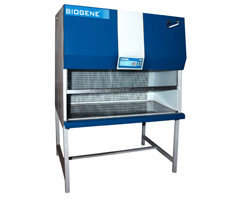 Biotechnologies Inc offers Laminar Air Flow Horizontal stands tall where air steams cross over is literally not seen. The laminar generated uniform speed moving in one direction all over the laminar airflow cabinet. Thus creating a sterile working environment helps us to carry out specialized particle-free work in Bio-Gene Laminar Air Flow Horizontal.
Applications
Features
Control
Construction
Specification
Bio Gene- Laminar air flow is designed for Industrial, Pharma, Biotech and Medical research applications
99.99% Particle Removal Class 100 HEPA Filter

Air Velocity Control.

UV, FL Lamp.

Filter Replacement Warning Lamp.

Slide Type Door with acrylic/tempered safety glass, durable powder coated body and stainless steel work table

Built-In Lamps and Utilities UV and Fluorescent Lamp, air and gas cock, power consent

Worktable Stainless steel.

Air/Gas Regulator.

Pressure monitor from 0-25 mm
MICROPROCESSOR CONTROLLER

1. Large Display of laminar air flow features a Power-on-switch, 16 x 2 LCD Alphanumeric display showing the controlling of the different parameters with touch keys to control the different parameters.
2. The Menu Driven system allows the user to set multiple parameters easily.
3. U.V light Age calculation.
4. Simple to use and operate keys for U.V light On/Off ,F.L Light On/Off, Blower on/Off ,Alarm key.
5. Timers for U.V light operation up to 99mins
6. Timer for Blower operation up to 99:99 hrs
7. Alarm indication on timer completion process.
8. Password protection
9. LED indication for all outputs.
10. U.V light and Blower Output will automatically get switched off after their respective set time is over.
Designed so as to meet the requirements of US Federal Standards 209 B providing particle free air to meet class 100 (Class Conditions).

Cabinets is fabricated out of thick board duly sun mica clad.

Interior surfaces are complete Stainless steel.

Working table is Stainless Steel 304 grade.

Side panels are made out of thick transparent plexi glass.

Unit is fitted with Pre-filter and HEPA Filter.

Air is drawn through pre filter and is made to pass through highly effective HEPA filters having efficiency rating as high as 99.99% with hot DOP, thus retaining all air borne particles of size 0.2 micron and larger.

Using a dynamic machine the blower and motor assembly is statically & dynamically balanced.

Motor of 1/5 H.P. Capacity operates with minimum noise level.

Low sound level (~65 decibel)

Working area is illuminated by fluorescent lighting fitted to the unity.

Laminar air flowing Back to Front towards the work table.

Supplied complete with static Finish S.S., Table top, Built in U.V. Germicidal light and cock for gas, air or vacuum line, HEPA filters and pre filter.

Bio Gene laminar air flow having Pre filter: synthetic, non woven, polyester fiber, retention +5 µ with high efficiency.

Castors.

Power point and cord.

counter balanced

To work on 220/230 volts A.C. Supply.
| | | | | | |
| --- | --- | --- | --- | --- | --- |
| MODEL | LAF-H-22 | LAF- H-32 | LAF-H-42 | LAF-H-62 | LAF-H-82 |
| Working Size | 2' x 2' x 2' | 3' x 2' x 2' | 4' x 2' x 2' | 6' x 2' x 2' | 8' x 2' x 2' |
| Size of HEPA Filter | 2' x 2' x 6' | 3' x 2' x 6' | 4' x 2' x 6' | 3' x 2' x 6' | 4' x 2' x 6' |
| No. of HEPA Filter | 1 | 1 | 1 | 2 | 2 |
| Illumination | 1 x 20w | 1 x 20w | 2 x 40w | 2 x 40w | 4 x 40w |