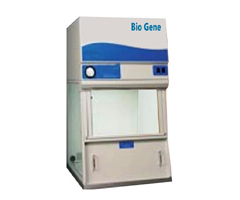 When PCR amplification or manipulation of DNA or RNA is to be carried out with Minimum cross contamination. Bio Gene PCR work station are the labs trusted equipments. There PCR units are designed to carry out all necessary protocols with UV sterilizer controlled air particles of less than 0.3µm with the Air flow speed also programmable.
Applications
Features
Control
Construction
Specification
Bio Gene PCR WORK STATION is widely used in Research Centers, Major Universities, Pharmacy, Biotechnology, Medical research, Hospital, Diagnostics, Agriculture science, Pharmacology, Immunology, Genetics, Bioengineering Biotechnology, Microbiology, Botany, Zoology etc.

PCR Work Station is specially designed to use service in laboratory applications. PCR Work Station are provide with space & fitting to run controls. The product is powerful with its advanced technology. convenient work place to run Bio Gene PCR workstation are available in two sizes Maxi & Mini station.
Three protections: operator, sample and environment.

Airflow system: 0 % air recirculation, 100% air exhaust

B2 Bio Safety Cabinet has higher class of safety protection compared with type A2; it may be used for work with volatile toxic chemicals and radio nuclides as required as adjuncts to micro Bio studies.


LED Display

LED display: UV, timer.

Front Opening with three adjustable positions for ease of access.


UV sterilization system.

HEPA filter efficiency 99.999% at 0.3um.

Audio alarm: filter replacement alarm.

Interlock function: UV lamp only can be switched on when the front window is closed, ensuring operator safety.

UV timer (1-99 minutes): When the set time expires, the UV lamp automatically switches off in preparation for the next experiment

Power supply 220/240 volts (50/60Hz).
WATERPROOF SOCKET
2 waterproof sockets are located in the back wall, for optimum convenience of using small devices inside the cabinet.




UV LAMP
Emission of 253.7 nanometers for most efficient decontamination.



SIDE GLASS WINDOW
Side glass windows maximize light and visibility inside the cabinet, providing a bright and open working environment.



SHELF WITH IV BAR




Air Pattern

Automatic switch off of irradiated UV light when door opened,

Built UV cleaner- recirculation 25m3/h air flow exchange.

Stainless steel construct of 1.2m x 0.5m working space.

Panel glass with UV protective films.

Digital timer 0 to 24 hrs.

UV surface irradiation – dual 30W 254nm UV lamp.

White lamp for workplace illumination 15 W, 30W.
Model
BTI-PCR-01
BTI-PCR-322

External Size (W*D*H)

1000*695*1720mm

(L x W x H) in mm:800 X 710 X 10

Internal Size (W*D*H)

996*685*630mm

(L x W x H) in mm: 730 x 617 x 1850 mm

Work Surface Height

750mm

Material

Main Body: Cold-rolled steel with anti-bacteria powder coating
Work Table: 304 stainless steel

Front & Side Windows

5mm toughened glass
Manual front window, anti-UV

Max Opening

400mm

Pre-filter

Polyester fiber, Washable

HEPA Filter

99.999% efficiency at 0.3um.

Airflow Velocity

0.3-0.5m/s, speed adjustable

Noise

≤60dB

UV Lamp

Emission of 253.7 nanometers, with UV timer 0-60 minutes

Fluorescent Lamp

40W*1

Illumination

>1000Lux

Shelf with IV bar

Stainless steel, 495*140*55mm (W*D*H)

Caster

Universal caster with leveling feet

Consumption

380W

Waterproof Socket

Two, total load≤500W

Power Supply

110/220V±10%, 60/50Hz

Standard Accessory

UV lamp*2, Fluorescent lamp, Base stand, Waterproof socket*2, Shelf with IV bar