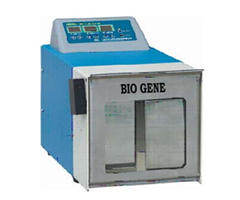 Bio Gene Asepsis Homogenizer Organ is Paddle Blender which used for solid and semisolid samples by applying pressure to samples within sterile, disposable bags.
Applications
Features
Control
Construction
Specification
Bio Gene Asepsis Homogenizer Organ Homogenization is produced through a combination of Crushing and Stirring, bringing out seated Organisms from Tissues, Organs, Powders, Creams, Ointments, etc. and removing Organisms from Swabs, Tissue Biopsies, Filters, Fecal samples and more.
Automatice Stroke Controls

Rap Space Adjustment

Multistage Programming

Sterlized Homogenization

Program Storage
Automatic Strikes against the Speed

Rap Seed control: 3-12 times/sec

Capacity: 3 -400 ml

Multistage programming: Establish any Parameter combination

Sterilized Homogenize Bag: 17X30 cm
Bio Gene Asepsis Homogenizer Organ is Paddle Blander where in the samples are subjected to High Pressure there by Crushing and Stirring of sample takes place which is carried out in the Inner Chamber made of Stainless Steel.

The Asepsis Homogenizer Organ as Automatic Microprocessor Control to Regulate the Number of Strikes at Desired Force.

Multiple Storage Programming can be carried out to set various sample side which is kept in sterilize back inbuilt timer 0.1- 99 min programmable is also available as standard feature in machine.

The Machine Rugged table top which makes it convenient for the Experiment to be conduct.
Time: 0.1-99min (as 0.1min) as 6-5940s Actual strikes against the number of times to demonstrate that the system automatic control strikes against the speed,

Rap space between: 0-5mm (can adjust)

Rap speed: 3-12 times/sec

Capacity: 3-400ml

Rap trunk: stainless steel

Wattage: 300W

The parameter memory:10 group of multistage programming parameter preservation

Power: 220V/50HZ

N/W: 22.5KG G/W:25KGS

Dimension: 420*245*.340mm