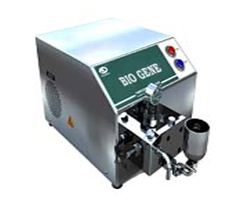 Laboratory homogenizer can smash particles and oil drops in suspension into very small sizes under high pressure. While suspension flows through an adjustable flow restriction narrow gap, those particles and oil drops can be shattered into the desired emulsion or dispersion under the combined effects of explosion, shearing force, high-speed impact, and the expansion caused by the loss of pressure.

During this process, the particle size can be reduced. This process integrates the working principles of ultrasonic homogenizer, colloid mill and globe mill together
Applications
Features
Control
Construction
Specification
Bio Gene Laboratory Homogenizer is Designed specially to reprocess coordinate fermentation sample.

Mainly used in the Bio-Engineering laboratory, Scale processing samples and so Pharmaceutical factory, widely uses in the backwoods the saccjaromycetes also used in Emulsifying, Isotropic.

The import key component assembly, has the pressure to be high, even if the volume is small, the ease of operation is observed.
Liquid and Solid

Homogenizing

High Pressure

Low Sample Volume

Noise < 70 db

Programmable Ultrashonification
Pressure: 1500BAR

Noise: 70 db

Temperature: 140ºC

Programmable : Ultrasonic Frequency.
Bio Gene Laboratory High Pressure Homogenizer are manufactured out of thick Stainless Steel with high Frequency, Dispersion Due to explosion at 1.2 kw and 1500 BAR Homogenizing Power. Noise Proof Chamber and Temperature Upto 140ºC are same of the key features of the Bio Gene Machine.
Voltage: 380V 50Hz AC

Capacity: 15L/H

The power of engine: 1.2KW

The most homogenize power: 1500bar

Noise grade :< =70db

The most sterilize temperature: 140ºC

The most viscosimeter: 2000 cP

Figure: 555×600×1200mm

Net weight: 85KG