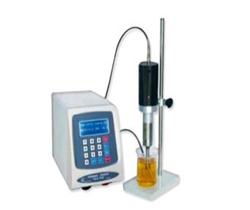 Applications
Features
Control
Construction
Specification
Disperse Solids

De-gas Liquids

Deaglomerate Powders

Dissolve Powders

Dissolve Tablets

DNA / RNA Extraction

Emulsify Cosmetics

Extract Proteins

Emulsify Liposomes

Emulsions Prepare

Increase Enzymatic Reactions

Increase Chemical Reactions

Immiscible Liquids

Prepare Tissue

Stimulate Bacterial Activity
Microprocessor Controlled and completely programmable.

Digital LCD display with time setting

Temperature indicator and controller

Auto-tuning for convenience and optional processing efficiency.

DIN EN 60529 IP 30

Variable power output control.

Auto frequency chasing.

Output amplitude 0-100% adjustment.

10 operation programs.

Boss head clamp, stand and all necessary accessories

Speed display scale with step less speed control

Noise level 65 db

Can be used to smash animal and plant cells.
The Bio Gene® ULTRA SOUND PROBE SONICATOR offer precision engineering with all the features necessary to create a total system for ultrasonic disruption. The Bio Gene ® ULTRA SOUND PROBE.

SONICATOR can disintegrate most cells, bacteria, spores or tissue. "immiscible" liquids, accelerate enzymatic and chemical reactions, stimulate bacterial activity, disperse solids in liquids and degas liquids

The Probe Sonicator is an ideal instrument to accelerate the chemical, biochemical and physic-chemical reactions as well as to accelerate the liquid degassing. this has various application such as Homogenization extraction, smash, emulsification, fluid suspension, precipitation acceleration, crystallization and compounding of various biological specimens.
Microprocessor Programmable controls

Temperature: -0 to 990C.

Speed range : 2800- 30000RPM (digital display)

Alarm : High, low

Process : Start . End

Auto : Temperature & time cycle

EN: 60601 : 1

EMD : 93/42/EEC

EN 61000-6-1 : 2001

EN 61000-6-3 : 2001

Electromagnetic Compatibility Directive (89)/336/EEC)
Ultra Sound Probe Sonicator Bio Gene has a double wall constructions the inner chamber is made up of Stainless body and the outer is made up of Mild steel duly powder coated. Stainless steel/plastic depending on the application.
| | |
| --- | --- |
| MODEL | BTI-PRO-250 |
| Make | Bio Gene |
| Power | 250W |
| Frequency | 20 KHz |
| Probe Dia (Titanium) | 8mm (1/4") |
| Extension arm length | 100mm |
| Max. Processing Volume | 0.5 – 100ml |
| Display | LCD |
| Tem range | 0-990 C |
| Dimensions (mm) | 490 x 370 x 280 mm |
| Power Supply | 220v/50Hz |
| Weight | 0.5 kg |
| Speed Range | 2800 – 30000rpm |
| Viscosity | 4500 to 5000 |