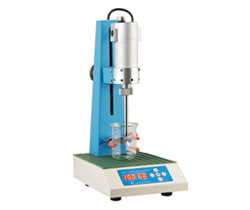 TISSUE HOMOGENIZER is not only an advanced Instrument for Cultivation of cells, tissues and Bacteria, but also key Equipment for immunology, genetics and Bioengineering. It has wide Application in Research and production of Microorganisms, Agricultural Science and Pharmacology as well as.

BioGene Tissue Homogenizer Generates Working principle Circularly loop of samples into a narrow space between the high speed, the Relative motion shares and break the sample due to its shear due to the centrifugation at very high force Relative Circulator motion.
Applications
Features
Control
Construction
Specification
Gene Research in Medical facilities

Laboratories

Microbiology Application

Pharma bio Engineering

Tissue Culture

Research Centers

Universities
The Bio Gene homogenizer is smart instrument for fast homogeneous, separation and emulsification.

Choice of different dispersing heads.

Suitable for 0.5 - l000 ml liquid sample.

Maximum speed is 2800 to 30000rpm.

Its working principle is making the sample circularly loop into a narrow space between the high speed and Relative motion stator to shear and break the sample.

E.g. tissue such as muscle, liver, breast, etc. can be completely homogenization in 10~30 seconds.
Designed smart and light. Can operate in one hand.

Speed adjustable, digital display speed. Speed precisely controlled to avoid splashing.

Suitable for homogeneous dispersion of a small amount of sample in small container.

High quality stainless steel dispersing head, anti-corrosion, high temperature resistance for disinfecting.

Easy to take off the dispersing head for cleaning.

High speed and high efficiency motor, long life.

Optional H-type stand, height and angle can be adjusted, convenient to take and store.
On principle of grinding, the system is designed to make even tissues of both animals and plants in a soft manner, so as to obtain plasma and mitochondria needed in lab work.
Microprocessor Programmable controls

Temperature: -10 to 40ºC.

Time :- 1-99 min adjustable

Speed range : 2800- 30000RPM (digital display)

Alarm : High, low

Process : Start . End

Auto : Temperature & time cycle

EN: 60601 : 1

EMD : 93/42/EEC

EN 61000-6-1 : 2001

EN 61000-6-3 : 2001

Electromagnetic Compatibility Directive (89)/336/EEC)
Bio Gene High speed Tissue Homogenizer is a result of decades of research in the filled of high speed homogenizing microprocessor controlled digital programmable controls helps in better results.

The homogenizer is constructed of CRCA sheet duly powder coated with Vibration free Colum with holding device for the dispersions high speed miniature motor is capable to adjust speeds for 2800 to 30000 RPM by electronic controller this helps in emulsifying, cursing , mixing of various tissues by tool cutter probes dia 10, 14, 18mm Bio Gene High speed homogenizer is a skid free table top model with latest and effective design to gernate high speed dispersions.
Type
Tissue Homogenizer
Power Supply

500 W

Speed Control Range

2800- 30000RPM (digital display)

Timing range

1-99 min adjustable

Temperature

-10

º

C – 40

º

C

Total weight

6.9 kg

Dimension

320 x 220 x 430mm

Tool size

10, 14, 18mm

Dispensator volume

0.5 – 10000ml

Net weight

8 Kg

Voltage

220 V 50Hz