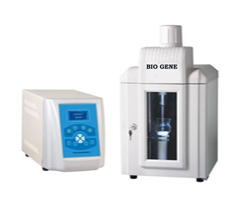 Applications
Features
Control
Construction
Specification
Disperse Solids

De-gas Liquids

Deaglomerate Powders

Dissolve Powders

Dissolve Tablets

DNA / RNA Extraction

Emulsify Cosmetics

Extract Proteins

Emulsify Liposomes

Emulsions Prepare

Increase Enzymatic Reactions

Increase Chemical Reactions

Immiscible Liquids

Prepare Tissue

Stimulate Bacterial Activity
LCD big display new type.

Centralized controlled by microprocessor.

Steeples regulation of the ultrasonic power.

Set the ultrasonic time and pause time, temperature accord to requirement.

Real-time temperature, frequency monitoring.

10 programmer can be saved

Have Sound chamber

Temperature controlled to prevent overheating of the specimen.

Adjustable on & off time 1.0 sec - 999.hr

Programmable timer

Amplitude Adjustable from 20 to 100% , pulse adjustable for 0 to 100%
Microprocessor Programmable controls

Alarm : High, low

Process : Start . End

Auto : Temperature & time cycle

EN: 60601 : 1

EMD : 93/42/EEC

EN 61000-6-1 : 2001

EN 61000-6-3 : 2001

Electromagnetic Compatibility Directive (89)/336/EEC)
Bio Gene sonicator is made up of Stainless body and the outer is made up of Mild steel duly powder coated.

With the Glass View for easy viewing of the SAMPLES.

Automatic frequency tuning system

Dry running protected With 9 pin DSUB interface in portable case, for use with stand BTI-16 or sound protection box BTI-16 with mounting tools, IP40 Grade titanium horn with female thread M10 x 1.

Door is constructed by the thick steel with heavy hinges.

The Chamber has non skip rubber pads for comfortable use.

Homogenization, deagglomeration, lysis and cell disintergration, protein extraction and the emulsification of liquids are done with ease.

Sonotrodes of a diameter range from 3 to 40 mm the device has provided for the sonication of sample volume from 5 to 4000ml. In flow approx.

Suied for the development of ultrasonic application in the laboratory but also in the bench top optimization as well as for the production of small quanities.

PC- control to improve the reproducitbilty when following specific sonication protocols.

Made of titianium, tip diameter 3 mm, aprox. Length 100mm, Male thread M10 x 1 , for samples from 5ml up to 200m

Probe made of titanium, tip diameter 7 mm, approx. length 100mm, male thread m10x1, for samples from 20 ml up to 500ml

Probe made of titanium, tip diameter 14 mm, approx. length 100mm, male thread m10x1, for samples from 50 ml up to 1000ml

Stand BTI-16 diameter 16 mm

BTI-clamp for holding diam 0 to 63mm, made of aluminum for use with stand stains of up to 16.5mm, adjustable height: 50 to 125mm.

Cooling hose connectors, for fluids, autoclavable , for operation with volume approx. 15ml, with stand adapter for stand BTI-16

Flask adapter NSA3 for standard flask neck, vertically adjustable, suitable for sonotrode.

Protection Box with ertically adjustable table and diameter 16mm stand bar, for use with devices sonication beaker fo the indirect soication of samples, with stand adapter for stand BTI-16

Power meter is verstile, for display of current power, cumulated energy and cumulated operation time,

Laptop : I5 processor 1 TB HDD with windows

Sonicator is a new product developed by the Bio Gene. It has the advantages of complete function, novel cosmetic, new interface, and reliable performance.

It is fitted with large screen crystal display.

The control adopts central microcomputer centralized control.

Ultrasonicator, time, power, duty cycle, and temperature are available for your setting.

Sample temperature is displayed and frequency is automatically inspected.

It will alarms automatically in case of failure.
COMPOSITIONS AND FUNCTIONS
Bio Gene Ultrasonicator works efficiently through their unique cavitations of Ultrasonicator.

The Ultrasonicator power supply generates high frequency electrical signals, and the signals are transferred to the cleaning liquids, which consist of alternate compressions and rarefactions.

These pressure fluctuations create macroscopic bubbles, which expand during the negative pressure excursions, and implode violently during the positive excursions.

As the bubbles collapse, millions of shock waves, extreme in pressures and temperature is generated at the implosion sites.

These of the high pressure and temperature can be effectively used to obtain smash and re-fabricate results. With excellent efficiency, Ultrasonicator cell crusher is widely used in cell dividing, resolving, quality-equaling, and other chemical reactions. It is widely applied in biochemical, microbiology, pharmaceutical chemistry, surface chemistry, physical chemistry, and zoology.

Ultrasonic oscillating system(transducer) 1 pcs
Cross clamp 1 pcs
Tube clamp 1 pcs
Plug wire 1 pcs
Wrench 1 set Fuse 4 pcs
| | | | | | | |
| --- | --- | --- | --- | --- | --- | --- |
| MODEL | BTI/SO/150 | BTI/SO/250 | BTI/SO/650 | BTI/SO/900 | BTI/SO/1200 | BTI/SO/1200 |
| Make | Bio Gene | Bio Gene | Bio Gene | Bio Gene | Bio Gene | Bio Gene |
| Ultrasonic Frequency | 20 -25 KHZ | 20 -25 KHZ | 20 -25 KHZ | 20 -25 KHZ | 20 -25 KHZ | 19.5 -20.5 KHZ |
| Ultrasonic power | 150W | 250w | 650 W | 900 W | 1200 W | 1800 W |
| Duty ratio | 0.1-99.9% | 0.1-99.9% | 1-99% | 0.1-99.9% | 1-99.9% | 0.1-99.9% |
| Titanium Tip | Φ6 | Φ6 | Φ6 | Φ6 | Φ20 | Φ25 |
| Optional Tip | Φ3 | Φ3 | Φ2, 3,10,12,15 | Φ2, 3,10,12,15 | Φ15, 25 | Φ20, 28 |
| Processing Volume | 10-100mm | 10-200mm | 0.5-500mm | 0.5-500mm | 50-1000mm | 50-1000mm |
| Display | LCD | LCD | LCD | LCD | LCD | LCD |
| Power Supply | 220v/110V AC 50Hz/60Hz | 220v/110V AC 50Hz/60Hz | 220v/110V AC 50Hz/60Hz | 220v/110V AC 50Hz/60Hz | 220v/110V AC 50Hz/60Hz | 220v/110V AC 50Hz/60Hz |
| The Dimension of the sonicator | 400*280*220mm | 400*280*220mm | 400*280*220cm | 400*280*220cm | 400*280*220cm | 400*280*220cm |
| Weight of sonicator | 7.0 KG | 7.0 KG | 12.1 KG | 12.1 KG | 12.1 KG | 12.1 KG |
| Mainframe weight | 9.3 Kg | 9.3 Kg | 14.0 Kg | 14.2 Kg | 14.5 Kg | 15.0 Kg |
| Dimension | 534 x 295 x 435mm | 534 x 295 x 435mm | 534 x 295 x 435mm | 534 x 295 x 435mm | 534 x 295 x 435mm | 534 x 295 x 435mm |