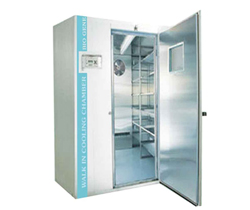 BioGene Walk in Cold Room, Cold Storage, Freezer, Blast Freezer, Deep Freezer's are the most demanded product from Bio Gene range they are manufactured per users demand. pharma, medicine, fine chemical, food, the use and application is ever growing.

BioGene walk in have quick Freeze, Bio Freeze with Blast Freeze function which are in understood from the fine nuances of each application and usage. Cost effective price, full featured machine is makes the difference between good and great value product Bio Gene walk in Take cares of your stores products.
Applications
Features
Control
Construction
Specification
Cold room: -2ºC - + 8ºC

Freezers : -8ºC - - 20ºC

Deep freezing: -25ºC - + 40ºC

Industry, Military, Food, Florist, farming, Medicine, logistics, Hospitality, and Food processing.
Temperature range: -2

º

C ~ + 8

º

C

Size: Customized

Functions: Cold Storage, freezing, quick-freezing, Deep freezing.

Good performance, low noise high reliability

World renowned Refrigeration System.

High precision Digital Controller.

Adjustable indoor temperature

Saves electricity up to 30%
Cold storage temperature: -2

º

C ~ + 8

º

C
Freezer storage temperature: -5

º

C ~ - 18

º

C
Quick-frozen storage temperature: -40

º

C ~ - 35

º

C

Constant Temperature: On customers Demand

Condensing unit: Bitzer, Copeland, Maneurop, Fusheng

Evaporator: air cooler.

Insulation Panel: PU, EPS

Other accessories: Danfoss, Castle, Every Control, Siemens, LG
Prefabricated Panel with CAM locks

Large 7"/9" LCD Display

Touch Screen Controls

Inner Stainless Steel or Polypropylene

Forced Air Circulation

French cooling unit

Large Door

Flexible Storage system

Safety Alarm

Certification: UL,CE,ISO,BV for cold room

After-sales Service Provided: Overseas service center available

Business Type: Manufacturer for walk in freezer / cold room manufacturer

Management Certification:ISO9001:2008,SGS,BV

Application: Cold room's ,Freezer, Chiller Room, Cold storage


Panel type: cold room PU sandwich panel or EPS sandwich panel
Walk in freezer / cold room manufacturer
Chiller room, cold room, cooler room, Cold storage, Walk in freezer room, Cold room, cold chiller room, cooling room:

Polyurethane insulation Sandwich Panel design for cold room, easy to operate.

Water defrosting evaporator defrost faster, save operating costs.
Cold storage door with anti-shock protection, an increase of reliability.

Turnkey projects.
(1) Temperature range: -40ºC~+20ºC (-60ºF~+68ºF)
(2) Size: Customize.
(3) Functions: fresh-keeping, freezing, quick-freezing, fire-proof, explosion-proof, air-conditioning are all available.
(4) Fully automatic control system.
(5)Easy to install and dismantle
(6) Temperature Alarm
(7) Data Logger
(8)PLC electric control ( LG,SIMENS, OMRON..famous parts)
(9) Refrigerant:R22,R404
1 .Fabricated cold room;
2.Energy saving design;
3.R404a environment friendly refrigerant;
4.Bitzer or Copeland ,Fusheng,Frashcold, Refcomp compressor

Cooling
(1) Condensing unit: Bitzer, Copeland, Maneurop, Fusheng,Frashcold
(2) Evaporator: KELTESS air-cooler.
(3) Insulation Panel: PU, EPS.
(4) Other accessories: world-famous brands, like Danfoss, Castle, Every Control, Siemens, LG,Schneider

Doors
1).Swing door sliding door.
2).Swing door: manual opened, automatic etc.
3).Door board made with special PU material.
4).Door Powder coated or stainless steel.
5).Surface material: color steel or stainless steel with protecting film.

Insulation
Cold room insulation panel: use 100%polyurethane insulation panel, density about 38~46kg/m3,with gasket, with flame retardant, panel thickness:100mm~200mm, standard width of panel.