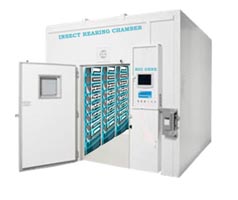 Bio Gene Walk in Insect Growth Chamber or rearing chamber are true solution to your Entomology Research. Bio Gene walk in Optimize your inimitable experience into self sustaining product which enables your untiring efforts come alive.

BioGene Insect growth Chamber have dedicated human Machine Interface with advanced programmable controls which stimulates photo tactic response thereby triggering the process of controlled growth chamber Drosophila wolf spiders Moths, Bees, Mosquito's, Lepidoptera, Diptera, Weerils etc.

Bio Gene insects Growth Chamber can enhance the growth as fast as one week from egg to adult .The same fruit flies can take increase time of 11 days when temperature is further increased This propagation is drastically increased to 50 days when the temperature is lowered.

Bio Gene insect rearing chamber has advanced program controls which stimulates positive photo tactic response thereby effectively triggering the process of control growth in Drosophila Melanogaster, Mantis but also helps us to study the behavioral Pattern due you to Gut Microbes modification.

Thus Bio Gene walks In Insect Growth Chamber are recognized for better technology, Effective Price and flexible utility Growth chamber world over.

Bio Gene adds wings to your research.
Applications
Features
Control
Construction
Specification
Bio Gene ISO 9001:2008 certified company engaged in manufacturing & exporting of Bio Gene brand of wide range of Walk Insect Growth Chamber for laboratories, Industries, universities & research institutes.

The equipment range offered by us are in conformance with CE,GMP and EU standards.

Bio Gene equipment finds wide application for conducting various, Production, researches and developmental experiments worldwide in the field of Entomology, Berating Rearing

Bio Gene Walk Insect growth chamber helps the researchers with a programmable, controlled environment chambers suitable for breeding , rearing incubation of insect.
Many standard features are incorporated in the design to specifically support insect rearing in controlled environmental chamber. Because most insect growth studies, such as the rearing of the fruit fly, create acidic secretions, Bio Gene Insect Growth chambers comes standard with coated coils, protecting interior components and contributing to a long operating life.
4-6" Polyurethane Insulations
Added Ultrasonic Humidification
Alarms – High, Low, Cycle End etc High/Low Alarms
Flexible Configurations
Misting
Diurnal Ramping & Soaking Cycling of temperature & Time.
Corrosive Resistant Equipment

Optional features:
Ethernet/Remote Monitoring/Alarming

Touch screen control Interface

Multi-point Digital Recording

Water cooled Or Air Cooled Condensers

Custom Lighting System

High Density Shelving

Calibration/ Validation/Maintenance Services

Vestibules, screens, vinyl/air entry curtains and various these hold barriers available.

Chart Recorder

Cyclic Lux Timer

CO2 Data logger

Bench Top Model also Available

Stackable small Chamber
Lights: Reproducing of near accurate sunlight in the chamber U VA320 - 400NM and UVB 290–320MM through Bio Gene full spectrum fluorescent bulb (not plant light) provided above every shelf with photo periodic cyclic timer to produce daylight cycle of 12 hours as desired in the Tropic of Cancer for the wide range of Entomology Application.
Colored light LED are also available from blue Red and Far Red controls.
Dawn and dusk stimulators through light bank off-set timer.

Illumination:
Our Insect Growth chambers are provided with Shelves Mounted illumination system comprising of fluorescent lights.
or two panels of diffused fluorescent light panel/LED Panels located at the sides of the chamber to enable the user to conduct the photo periodic tests and experiments.

Lighting control systems:
Bio Gene lighting control system is an intelligent network based lighting control solution that incorporates communication between various system inputs and outputs related to lighting control with the use of one or more us are lengths with lux intensity of (0/25/50/75/100)%

Bio Gene Insect Growth Chamber can be used:
Advance selves Mounted :- Coloured Blue, Red, Far Red or White LED with wavelengths from 455-750mm are available with Waterproof LED Grow light..

Illumination Cyclic:
The illumination is controlled through solid state cyclic timer to control the photoperiodic cycle of the chamber from 0 to 24 hours.

TEMPERATURE CONTROL:
The temperature inside our Insect Growth chambers is controlled through programmable micro-processor based temperature controller cum indicator. Both the chambers have their individual control modules.

Heating
Indirect heating system is provided in our units, comprising of air heaters made of high grade tubular rod of suitable wattage. The warm air is evenly distributed throughout the chamber through efficient motor fans ensuring very good temperature sensitivity.

Temperature Range:
Temperature range of our standard Insect Growth Chamber models are 5° c to 60° c.
However we have the capacity to modify the same to suit the individual specialized requirements of our customers.

Temperature Sensitivity:
Temperature inside our Insect Growth chambers are controlled with a sensitivity of + 0.5° c or better

Cooling:
An energy efficient cooling unit is installed in our Insect Growth chambers r to enable bio chemical demand, cyclic and growth studies at lower room temperatures. We use CE marked high end CFC free compressors of Danfoss /Tecumseh make, conforming to latest international standards and guidelines.

Cooling Mechanism Bio Gene use high end High Capacity ultra-low temperature Semi – Hermetic. The compressors are mounted on anti vibration pads for better physical stability and Eco friendly Non-CFC refrigerant R-404a is used. An air-cooled condenser specially designed for tropical climates is driven by a co-axial fan. The heat exchanger coils are Inner grooved copper tubes and are finned for maximum heat transfer. For special purposes hot gas bypass systems are used for protection against No-Load condition.

Humidity Generator
Humidity by electronic humidity sensor provide accurate control from 20% to 95% RH

Humidity generation provision is incorporated in our temperature and humidity control cabinets.

The humidity is generated by means of aerosol humidity generator with efficient humidity controller cum indicator.

Humidity circulation.

Improved Temperature Humidity distribution.

Humidity can be controlled by Digital Temp. & Humidity.

Precise Hot Air & Humidity.

Stainless Steel Tubular heater J shape is fitted in the steam Bath for long life & better result.

Full feature with Temp. Controller i.e. Bi-Metallic Capillary type for both dry & wet.
Humidity Sensitivity:
Humidity is controlled by mean of an electronic humidity controller cum indicator with an accuracy of + 5%.

HUMIDITY CONTROLS
The Humidity inside our inner chamber cabinets is controlled through programmable micro-processor based humidity controller cum indicator.
Bio Gene® insect growth chamber humidity system delivers controlled humidity without wasting energy or generating heat and supports lower production costs.
Unique standard features of Humidity Generation through precise controller incorporated in the design to specifically support insect rearing.
DEHUMIDIFICATION
Refrigeration based de-humidification system is used. The desired level of lower humidity will be achieved by maintaining the precise dew point temperature. The output will automatically be activated based on the set point as well as in ramp up mode after a low temperature cycle.

Misting : Bio Gene understands the important need of water in rearing of insects specially mantis since the males and small nymphs need water to grow Bio Gene provides mist formation system to help real quality growth in our chambers at frequent intervals through controlled humidity 30% charge – 70% RH okay.
Bio Gene Insect Growth chambers is double walled convection heated and cooled units (Single chamber Units).

INNER CHAMBER
The inner chamber is made of heavy gauge stainless steel sheet of SS-304 grade or anodized Pre Fabricated PUF Panel.

CABINET: Bio Gene Insect growth chamber is provided with adjustable ribs to place the Trays for desired height and space management.

TRAY
The stainless steel shelves are adjustable and perforated, making them easy to clean and highly Resistant to corrosion.

These shelves also slide making it is easy to Place all product inside.

The trays are made of stainless steel 304 Grade .
CHAMBER LIGHT
Door operated illumination lamp is fitted inside the chamber for easy visibility.
FAN MOTOR
Fitted with Fan for cooling & heating.

Technical Design and Construction Silent fan motor to maintain uniform temperature and humidity.

Circulation motor for water injection in routine model inside the control unit & Chamber.

Air Circulating Fans For Uniformity generates evenly distributed airflow across all shelf locations and temperature uniformity.

Bio Gene Insect Growth Chamber Horizontal airflow system Generates airflow across all shelf locations.

Silent Hot Air Blower.

Unique design of Air Circulation.
VENTILATION
Unique design of Air Ventilation which helps maintains accurate humidity & temperature.

OUTER BODY
Outer body of our Insect Growth chambers are constructed out of thick PCRC sheet duly pre-treated with primers and rust proofing and painted with long lasting stove enamel or elegantly powder coated.
Mild steel sheet or G.I.

INSULATION
The gap between the walls is filled high grade PUF.

Polyurethane foam insulation with a thickness of 75mm.

Puff Insulation keep the surface Temperature comfortable

Polyurethane Foam of high density is used as insulation between the Inner & Outer chamber and the door as well.
DOOR
The outer door is made of mild steel sheet lined with stainless steel from inside.

Double walled construction with Poly Eutharene insulation & Door permits easy viewing & monitoring this door is also built of S.S 304 in the inner side wall.

Outer door is provided with magnetic door closer.
LOCK & KEY ARRANGMENT
This door is provided with lock and key arrangement.

STURDY STEEL FRAME
The unit is mounted on a sturdy steel frame for better stability, durability & long life.

CASTER WHEEL
Bio gene provided with castor wheels for easy movement inside the laboratory.
Castor wheel for easy movement (for Refrigerated model.

Bio Gene Insect Growth Chamber comes complete with factory installed, Heavy-duty casters wheels with lock.
Maintain a leak free seal and temperature uniformity.
DOOR HANDLE
The ergonomically designed door handle allows easy access into the chamber and contributes to workplace efficiency.

DOOR HINGE
Heavy duty stainless steel/brass hinges are provided for easy opening and closing of the door increases system efficiency.

DOOR GASKET:
BIO GENE Insect Growth chambers are supplied with SPECIAL five layers Silicon Magnetic Gasket for positive sealing.

RESERVOIR DRAIN
Recessed Reservoir drain, with convenient drain hose, is easily accessible and a screened based prevents rodent infestation.
Bio Gene Advance Technology Insect Growth Chamber Controller.
Microprocessor based Insect Growth Chamber Controller with Auto tune PID temperature control.
Soft Power-on-switch

128 x 64 BLUE Graphical display shows company name and LOGO.

5 soft touch keys to control the different parameters.

programmable profile control programs for automatic operation.

Real Time Clock

Temperature range 0-100 degree C

Resolution 0.1⁰C

Humidity range 0-95%

PID parameters Settable in menu.

Auto tuning facility

Water level low/ok detection

SSR based output controls for Heater, Cooler ,Humidifier, Dehumdifier.

Door open detection,Water Low indication

Lighting control systems:
lighting control system is an intelligent network based lighting control solution that incorporates communication between various system inputs and outputs related to lighting control with the use of one or more central computing devices

Illumination Percentage (0/25/50/75/100)%

The Menu Driven system allows the user to set multiple parameters easily.
DESCRIPTION

BTI-WIGC-35

BTI-WIGC-60

BTI-WIGC-150

BTI-WIGC-220

Temperature Range

5°C to 60°C.

Temperature Control

+0.5 deg.

Temperature uniformity

+1 deg.

Temperature sensor

3 wire RTD

Humidity range

5 % RH to 95% RH

Humidity Control

+ 2% RH

Humidity Sensor

Capacitive

Interior construction

SS 304

Exterior Construction

CRCA Powder coated.

Self construction

SS 304 perforated.

Electrical

220 to 240 volts

Alarm

Audio and visual

Temperature Accuracy

+2° c

RH Range

5% To 95 % RH

RH Accuracy

+2° c or Better

Size

1500 x 1500 x 1500 mm

1500 x 2000 x 2000 mm

2500 x 2500 x 2500 mm

3500 x 2500 x 2500 mm

Capacity

3500 ltrs

6000 ltrs

15600 ltrs

22000 ltrs