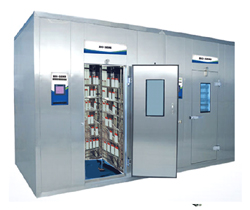 BioGene defines the walk in stability chamber as creating the test conditions where the samples, product, are subjected to endurance test for Heat, Cold, Dryness, Humidity, and its effects by stimulating the conditions artificially and thus getting the results to make the Quality Assurance observation.

Photostability test under 25˚C ±2˚C @ 60rh±5% and accelerated test at 40˚C ±2Y@75%rh in BioGene walk in stability chamber assure a rapid change effect, gradient in electrical electronic, semi conducts automobile ports using the ESS Environmental Stress Screening test method. Fanthom, better endurance results thereby compling to the story regulations of International Standards.
Applications
Features
Control
Construction
Specification
Walk in chamber's allows the user to have an advantage in stability Environment test due to persuit of reliability in speedy test results in given time from work with reliable repeat performance of products for durability performance before the product market launch.
Walk in Stability

Large Touch Screen Control's Display

21 CFR port 11 software

Prefabricated PUF Panels

CAM Hinge Locking Device

French Compressor

Data Transfer RS 485 or WiFi


Temperature: -5˚C- 60˚C
Standards : ICH-Q1AR2

ISO – 13485 Standards,

EN 61000-6-3 : 2001

EN: 60101

IEC – 60068-2-1 COLD

IEC – 60068-2-2 Dry Heat

IEC – 60068-2-14 Temperature change

IEC – 60068-2-38
Prefabricated Panel with CAM locks

Large 7"/9" LCD Display

Touch Screen Controls

Inner Stainless Steel or Polypropylene

Forced Air Circulation

French cooling unit

Large Door

Flexible Storage system

Safety Alarm
DESCRIPTION

BTI-WSC-35

BTI- WSC-60

BTI- WSC-150

BTI- WSC-220

Temperature Range on

-5°C to 60°C

Temperature Range Lights On

5°C to 55°C.

display

Digital

Temp. Deviation

Between +1°C @ =+25°C @ 80% RH ( lights off )

Temperature Uniformity

+2°C @ +25° c @ 80% RH ( lights off )

Temperature Control

+/- 0.1° c deg.

Temperature uniformity

+2°C @ 25°C @ 80% RH (Lights off)

Temperature sensor

PT-100 Ω RTD

Humidity range

5 % RH to 90% RH

Humidity deviation

3% RH

Humidity uniformity

+ 5% RH

Humidity control accuracy

± 1%

Interior construction

SS 304

Exterior Construction

CRCA Powder coated.

Construction

Panel Type PUFF Insulation for better thermal insulation.

Electrical

220 to 240 volts/ 50 Hz.

Alarm

High and low

Light Intensities

@ 25 °C

Size

1500 x 1500 x 1500 mm

1500 x 2000 x 2000 mm

2500 x 2500 x 2500 mm

3500 x 2500 x 2500 mm

Capacity

3500 ltrs

6000 ltrs

15600 ltrs

22000 ltrs