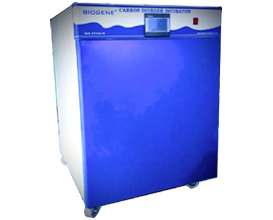 Bio Gene CO2 Incubator is not only an advanced instrument for cultivation of cells, tissues and bacteria, but also key equipment for immunology, genetics and bio engineering. It is widely applicable for research and production of microorganisms, agricultural science and pharmacology.
Applications
Features
Control
Construction
Specification
Bio Engineering

Cell couture

Hospitals and Medical Facilities.

Growth of Organism.

Research Centers.

Universities.
The latest Bio Gene model is a high performance air-adjusting type CO2 incubator developed offer many years of dedicated efforts and research to fulfill the need of cell growth. These CO2 Incubator provides faster heating and Precise temperature control.

System has high temperature disinfection cycle copper chamber interior protects against microbial contamination due to its bimetal control construction.

stainless steel (construction) argon-arc-welding techniques, and semicircular arcs at corners ensure easy cleaning.

System has deep drawn, easy to clean stainless steel chamber which eliminates seams or welds, removing potential sources of contamination.

Microprocessor temperature controller ensures temperature, stability, humidity to desired parameters.

Humidity generated in chamber helps in better controls.

Independent alarm system for temperature-limiting ensures safe cycles.

CO2 incubators safety device include over temperature, protector, Gas monitor alarm, water level monitor, Power breaker.

Door temperature controller prevents dewfall on glass door of incubator effectively.

Bio gene for IR sensor (Infra Red) For CO2 Microprocessor control digital display for CO2 & temperature.
Ability for automatic decontamination with dry air without any part removal (Inclusive of CO2 Sensor) and the decontamination cycle complete in less than 10 hrs.

Split inner door to easy operation of system is available as optional.

System has Dual-beam non dispersive Infra red sensor

Dual directed air flow to provide quicker temperature recovery and better uniformity.

Units has stackable with stacking brackets included to maximize lab space.

Bio Gene co2 has option of humidity monitoring automatic gas tank switchers, data output ports.

Incubator is UL listed, CSA certified and CE Marked.
Microprocessor Programmable controls

Co2 : 0-20%

Temperature: 3ºC to 60ºC.

Humidity : 5 – 97%

Time :- 0-99/999 Min

Door Lock :- lockable

Blower speed : Uniform enable disable

Alarm : co2 , Temperature Timer

Sterilization : Cycle

Process: Start. End

Castor :- Lockable

Air : Class 100

EN: 60601 : 1

EMD : 93/42/EEC

EN 61000-6-1 : 2001

EN 61000-6-3 : 2001

Electromagnetic Compatibility Directive (89)/336/EEC)
BIOGENE CO2 Incubator is double walled direct heat air jacketed. Outer body of our Bio Gene CO2 incubators are constructed out of Mild Steel sheet duly rust proofing and painted with long lasting stove enamel or elegantly powder coated.

The inner chamber is made of heavy gauge Seamless stainless steel of SS-304 grade.

The gap between the walls is filled high-grade PUF.

To view the specimens without disturbing the temperature of the chamber.

This door is provided with Silicon Packing Magnet Door.

This door is provided with lock and key arrangement.

The unit is mounted on a sturdy steel frame and provided with castor wheels for easy movement inside the laboratory.

CO2 controls Internal HEPA Filter, Inner UVL for sterilization, Gas and temperature monitoring system.

The unit is provided with stainless steel shelves.

Heat sterilization cycle of 120 and above for 12 hours to safely kills all organisms within the chamber, including mold, yeast, mycoplasma, bacteria, and even difficult to eliminate spores.

The microprocessor control system has in built dedicated cycles for CO2 applicataion.

class 100 HEPA filtered chamber airflow, snap fit.

Microbiological filters on all gas inlets and outlet and sample ports potential contamination sources are reduced.

CO2 Gassing : Auto calibrated O2 and N2 controls through Gas Mixing units with rotameters. Permitting : gas supplies controlled which switches automatically to the second supply when first supply when first supply is empty and sounds an alarm.

CO2 Range : 0 to 21% RH

Castor Rollers for Free Movement.


RS 232 communication port.
MODEL NO.
CO2 -80
CO2 -170

MAKE

BIO GENE

Heating method

Air-Jacket direct heating

Temperature Alarm

For shut up temperature

Temperature Range

Ambient +3ºC to 60ºC

Temperature Uniformity

< +0.2ºC

Temperature Control

< +0.1

ºc at 37

º

C

Sensor IR

CO2 Sensor

Temperature Stability

+0.1

º

C at 37

º

C

Readability

0.1%

Accuracy

+ 0.1%

Humidity range

RH up to 97%

Humidity Recovery

±5%

Co2 Range

0~20% (air adjusting type) +/- 0.1% at 5%

Co2 control

+/-0.1%

Co2 Recovery

≤Calibration X 1.2min

Humidifying Method

Natural evaporation

Cubage

80/170 L

Recovery Time

After 1 min door opening 5

Shelves

4(pcs.)

Display

Digital LED Dual

Electrical Requirements

230V 50Hz 50/60Hz

Input Power

720W

SIZE

80 Ltrs

170 Ltrs