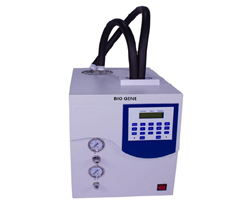 MODEL BIO GENE BTI-GCN-5890 Headspace injection technique is a convenient sample pretreatment processing for gas chromatography. It's adapted for volatile component analysis. The principle is putting the sample which is under test to a pressure-tight container, and separate the volatile components from sample through heating-up, reaching balance in gas liquid (or gas solid) phase, and then extract the top gas to analyze the volatile components and content in sample.

It can avoid complicated sample pretreatment processing, also can avoid the interference to analysis from organic solvents. Reducing the injection inlet pollutant for the gas chramography. It and can be compatible with all kinds of gas chromatography both here and aboard.
Applications
Features
Control
Construction
Specification
1) New design, adapt for new GB. Four heating position, each position can lay a 150ml headspace bottle, to meet the requirements of new standard.

2) Good compatibility. It can be compatible with all kinds of gas chromatography both here and aboard.

3) Precision quantitative, high sensitivity. Sampling pump cooperate with sampling valve, negative pressure sampling, precision quantitative, high sensibility.

4) Sampling valve and sample transfer line can set temperature, to avoid sample condensation.

5) Anti-blow function for the sampling pipeline and sampling valve, to avoid cross contamination.

6) Micro-computer control, easy to operate. Membrane keyboard, has the function of data processing starting synchronously.
| | | |
| --- | --- | --- |
| | BTI-DK-3001 | BTI-DK-4001 |
| Temperature Range for Constant Oven | 10℃ ~ 200℃ above to room temperature, (1℃ and 1℃ to increase) | 10℃ ~ 200℃ above to room temperature, (1℃ and 1℃ to increase) |
| Valve Box Temperature Range | 10℃ ~ 200℃ above to room temperature, (1℃ and 1℃ to increase) | 10℃ ~ 200℃ above to room temperature, (1℃ and 1℃ to increase) |
| Temperature Range For Sample Transfer Pipeline | 10℃ ~ 200℃ above to room temperature, (1℃ and 1℃ to increase)< | 10℃ ~ 200℃ above to room temperature, (1℃ and 1℃ to increase)< |
| Quantitative Tube Volume | 1ml | 3mL |
| Sample Bottle Units | 9 Unites | 4 Unites |
| Sample Bottle Value | 20ml | 150mL |
| Repeatability | RSD≤5% | RSD≤5% |
| Power | 800W | 800W |
| Weight | 20Kg | 20Kg |