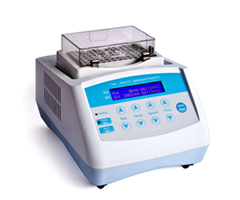 Bio Gene Dry Bath Incubator Shaker with fast mixing speed, Vortexing, Shaking and Incubation is demanded. Bio Gene Dry Bath Incubator Shaker is Correct Solution built in Microprocessor Controls with LCD Display and dedicated Software for all application are unique features.
Applications
Features
Control
Construction
Specification
Bio Gene Dry Bath Incubator Shaker is a Compact Designed machine that integrates three functions, Mixing, Shaking, and thermal heating function.
Microprocessor controlled incubator. Good linearity of temperature control. Precise control of the shaking speed.

Restore from power off; recover to the Pre status automatically.

Programmable Efficient shaking and temperature control

Builtin temperature calibration function and short mixing function.

DC brushless motor drive, long life and free of maintenance

Multiple safety protection function.

Timing function. Time range is from 0 to 100hours various blocks to exchange, convenient for replacement.

Conform to CE safety standards. Safe and reliable

Perfect radius and excellent Dimensional technology blend with adjustable mixing speed.
Vortex

Mixing

Homogenging

Incubation

CE EN ISO 13485
Microprocessor based controls and HMI makes the operation trouble free. It not only can mix various micro volume tube from 0.2, 0.5, 1.5. Eppendorf tubes. But also accommodates PCR plates, Deep hole plate and micro plate by choosing the desired Thermal Block.

Bio Gene Thermal Block Incubator Shaker smoothly works in laminar air flow bio safety cabinet culture hoods due to its small size for other common laboratory Functions.

Our Dry Bath Incubator shaker is also equipped to carry out the function of vortex while parallel carry out heating all kinds of tubes.

So in short Bio Gene is a versatile compact machine which can meet the needs of different Application as per the users demand.
Model
BTI-DBIS-100
DRY BATH INCUBATOR SHAKER

Temperature Control Range

Ambient - 100°C

Block Temperature Uniformity

≤ ±0.3°C

Temperature Control Accuracy

±0.2°C

Display Accuracy

0.1°C

Heating Platform Temperature Accuracy

<0.5°C (detect @37°C)

Temperature uniformity

± 0.5°C

Heating Rate

60°C/ min

Shaking Speed

300 - 1800 rpm

Shaking Orbit

3mm (horizontal)

Timing Range

1 min to 99h59min

Control

Digital

Cooling Time

≤25min from R.T. to R.T.-20°C
Nominal < / - 8.0 mins
(detected below 30°C)

Heating/Cooling

Peltier

Automation

Fully programmable

Cooling Speed

≥7°C/min (from 100°C to 20°C)
≥1.2°C/min (from R.T. to R.T.-20°C)

Maximum Power

200W

Dimension ( LxWxH)

270x196x170 mm

Net Weight

8.3 KG

Block Selection

Refer to "Exchangeable blocks for BTI-HTM-100 series"
3-in-1 model:
Plate
(shaking and mixing)
Tube Holers
(shaking and mixing)
Blocks
(shaking ,mixing ,incubator)

PCR plates (skirted, semi-skirted, unskirted)

0.2 ml PCR tubes and PCR strips

Refer to " Exchangeable blocks for HTM-100/CTM-100 series"

384 well PCR plate

0.2 ml Micro-test tubes

96- and 384- deepwell plates

1.5 ml/2.0ml Micro-test tubes

MTPs,enzyme labeled plate
Exchangeable blocks for HDB-100