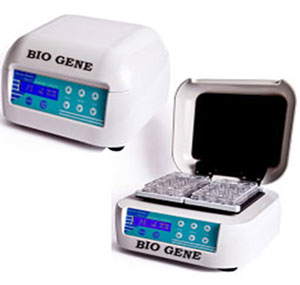 Bio Gene High Speed Orbital Microplate Shaker Incubator Peltier based presion temperature controlled are used in regeneration of cells, detection of Viruses, amplification of the calories is needed Bio Gene is the Answer.
Applications
Features
Control
Construction
Specification
Bio Gene Orbital Incubator Shaker ISMP-2/4
Is a micro incubator based High speed plate shaker incubator.

Suitable for liter o volume shaking with dedicated program cycles through Microprocessor based PID control.

Rugged design elegant appearance, operator friendly.

Tissue & fermentation through micro plates cell culture, colony growths.

Where precise incubation and shaking is needed to cultivate cell etc.
Microprocessor based dedicated controls.

Operation Large friendly Membrane LCD Display of Vital parameters touch operation.

Two-bottom uniform heating micro plates to achieve set and actual temperature.

The microprocessor controls the time and temperature, good linearity, temperature oscillation speed accuracy, small fluctuation.

Capacity 2/4 standard micro Plate of 48/96 /384 wells.

Alarm :- Process over short time over shoot.

Memory start from power failure.

Quick soft start to avoid spillage.

Dc motor for better life and maintenance free operation.

Power restore function, equipment can restore to operate as the original set automatically.
Microprocessor Programmable controls

Time :- 0-99/999 Min

Door Lock :- lockable

Blower speed : Uniform enable disable

Alarm : High, low

Process : Start, End

EN: 60601 : 1

EMD : 93/42/EEC

EN 61000-6-1 : 2001

EN 61000-6-3 : 2001

Electromagnetic Compatibility Directive (89)/336/EEC)

Confirms Electromagnetic Directives Low voltage EN61010- 1 : 2010

EMC Electromagnetic Directives EN61326 – 1 : 2006 CLASS B

ISO 9001-2008, 13485

Micro-processor controls temperature and shaking speed. Timing function built in.

Unique speed control circuit to ensure shaker smooth starting and avoid liquid spilling.

Speed of the circulation fan is adjustable to avoid high-speed of the circulation fan making the sample volatilizing.

Independent time alarm system. Speed is cut off when time over the limited value.

Alarm when program completes.

Self diagnosis of temperature controller and sensor abnormality.
Compact design with human machine interface built in switch built in control for temperature time, and rpm.

The interior chamber is made of rugged steel with flexible holding platform with can hold micro plates of different capacity.

Non skid base external body made of thick galvanized sheet duly powder coated and lid made of Transparent ABS plastic.

DC motor for better life and accurate RPM controls Uniform Temperature rise.
Technical Parameters
Model

ISMP-96/384-2
Micro plate Shaker Incubator
ISMP-96/384-4
Micro plate Shaker Incubator

Capacity

2 pieces of plates

4 pieces of plated

Shaking Speed

300-1200 rpm

Shaking Orbit

3mm (horizontal)

2mm (horizontal)

Power

150W

250W

Dimension ( LxWxH)

284x264x157mm

345x310x178mm