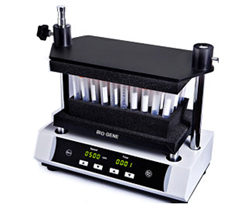 BTI-VMT-2500 Multi-Tube Vortex Mixer Shaker can process 50 samples in one go. A variety of accessories can be selected for your choice to meet the mixing needs of different specifications of test tube. Operator friendly program, built-in two operation modes: short mix and fixed timing, which make the experiment more convenient and efficient.
Applications
Features
Control
Construction
Specification
Bio-Gene Multi Tube Vortex Shaker is widely used in Research Centers, Major Universities, Pharma, Biotech, Medical research, Hospital, Diagnostics, Agriculture Science, Pharmacology, Immunology, Genetics, Bioengineering Biotechnology, Microbiology, Botany, Zoology etc.
Multi Tube Vortex Mixer process & 50 samples simultaneously thereby Lab work becomes efficient and operator friendly.

Microprocessor control, commands are menu driven easy & convenient LED display the speed and time.

LED display of time, speed.

Programs
(a) Built in for short vortex.
(b) Fixed cycle time based.
Heavy Duty vortex for prolonged duration.
Noise less performance.

Flexibility to choose wide range of pass for tubes.
Microprocessor Programmable controls

Time :- 0-9999 Min

Alarm : High, low

Process : Start . End

Auto : Speed & time cycle

EN: 60601 : 1

EMD : 93/42/EEC

EN 61000-6-1 : 2001

EN 61000-6-3 : 2001

Electromagnetic Compatibility Directive (89)/336/EEC)

Confirms Electromagnetic Directives Low voltage EN61010- 1 : 2010

EMC Electromagnetic Directives EN61326 – 1 : 2006 CLASS B

ISO 9001-2008, 13485

Micro-processor controls temperature and shaking speed. Timing function built in.

Unique speed control circuit to ensure shaker smooth starting and avoid liquid spilling.

Independent time alarm system. Speed is cut off when time over the limited value.

Alarm when program completes.

Self diagnosis of temperature controller and sensor abnormality.
Compact design with human machine interface built in switch built in control for temperature time, and rpm.

The interior chamber is made of rugged steel with flexible holding platform with can hold micro plates of different capacity.

Non skid base external body made of thick galvanized sheet duly powder coated and lid made of Transparent ABS plastic.

DC motor for better life and accurate RPM controls Uniform Temperature rise.
| | |
| --- | --- |
| Make | BIO GENE |
| Model | VMT-2500 Multi-Tube Vortex Mixer |
| Speed range | 500-2500rpm |
| Speed accuracy | ±50rpm at 2500rpm |
| Timing range | 1.0 Min - 9999min |
| Working diameter | 4mm |
| Maximum load | 5kg |
| Panel | 311x184 mm |
| Weight | 21.5kg |
| Power | 100-230V 50/60Hz 60W |
OPTIONAL ACCESSORIES
| | | | |
| --- | --- | --- | --- |
| Type | Detail | Holes | Dimension (mm) |
| VMT-A | Φ10mm tube block | 50 | 245×132×45 mm |
| VMT-B | Φ12mm tube block | 50 | 245×132×45 mm |
| VMT-C | Φ13mm tube block | 50 | 245×132×45 mm |
| VMT-D | Φ16mm tube block (15ml tube) | 50 | 245×132×45 mm |
| VMT-E | Φ25mm tube block | 15 | 245×132×45 mm |
| VMT-F | Φ29mm tube block (50ml tube) | 15 | 245×132×45 mm |
| VMT-H | Tray Pad Set (Upper & Lower)- | | 305×178.5×25 mm |