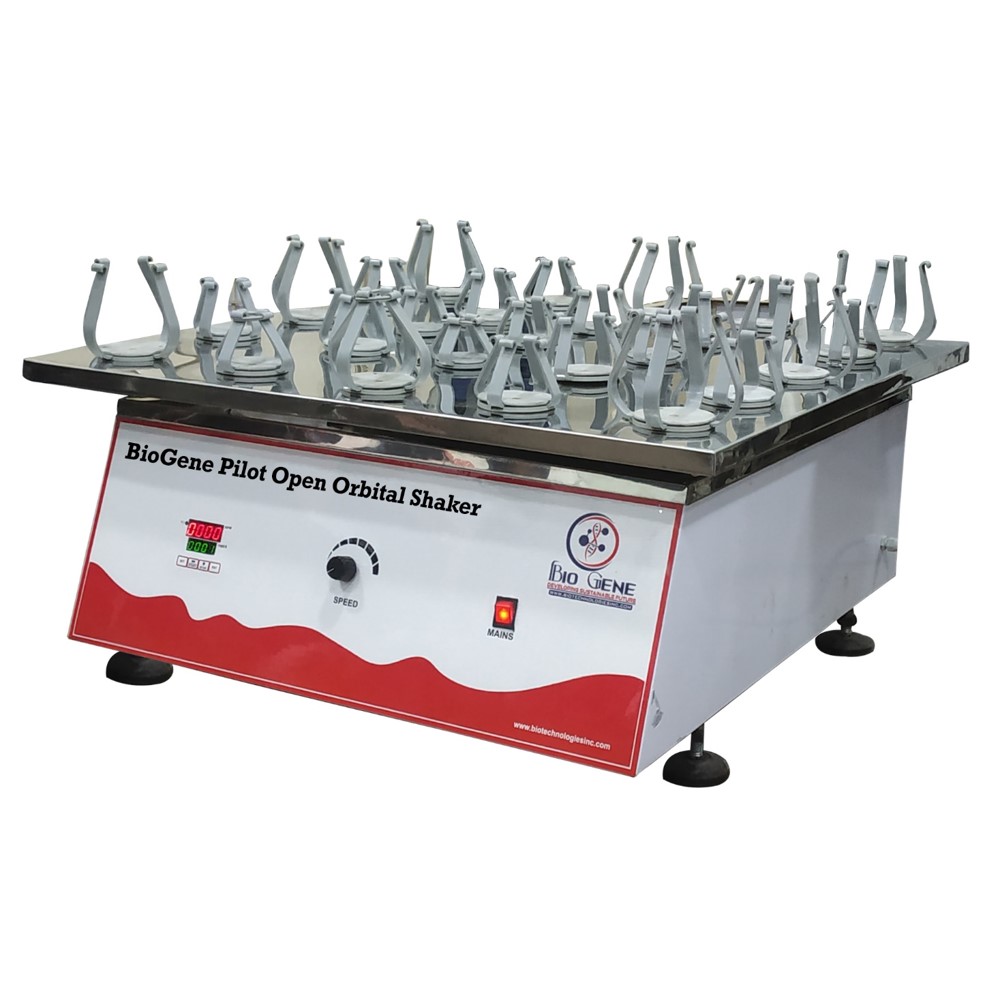 Bio Gene equipment finds wide application for conducting various quality Control, Production, researches and experiments worldwide.
Bio Gene follow stringent quality management system in all our business activities, through qualified team of proficient quality analysts.
They make sure to follow quality measures at every production stage right from procurement of raw material to final dispatch of the range. Further, the product assortment is quality inspected at all stages of production under the able guidance of our quality team.
Presently, apart from the domestic markets, Bio Gene serves the demands of clients based in USA.
Bio Gene Orbital Shaker is a perfect machine used in Protein Expression studies at plasmid 4ºC specific cell generation or thermopiles growth at 80ºC Bacteria multiplication in tubes or yeast cultures in flask. Sturdy compact design of Bio Gene Orbital Shaker has made popular choice of users world wide.
Bio Gene® Orbital Shaker are widely used in
Microbiology, zoology, food, cosmetics or Pharma industry
Hospitals and Medical Facilities
Pharma Industries Manufacturing
Engineering Industries
Research Centers
Universities
Applications
Features
Control
Construction
Specification
Bio Gene will provide for the 20 litre of shaking borosilicate glass bottles to mix pertussis antigen vaccine present inside. This shaker will be installed inside cGMP compliant facility.

The shaking platform will have interchangeable clamps to hold a minimum of a 4 x 20 L borosilicate glass bottles at a time.

Shaking platform is able to bear the weight (100 Kg) and shake bottles (4 x 25 Kg).

Bio Gene Orbital Shaker Bottle holding clamps is insulated with rubber/silicon gasket to hold the bottle firmly and to avoid any breakage.

Bio Gene Orbital Shaker Microprocessor based digital controlled with backlit LCD/LED display showing parameters i.e., orbital shaking speed (RPM) and time. Switch ON/OFF power button.

Bio Gene Orbital Shaker Outer is made of Powder coated SS and Inner Stainless steel 304.

Bio Gene Orbital Shaker incorporate penta eccentric counter balanced drive or better systems and mounted with flywheel to ensure uniformity in motion.

Microprocessor controlled orbital shaking Speed 50 — 150 RPM (Adjustable. Automatic restart of pre-set speed after power failure. Shaking amplitude 5- 150 mm.is provided.

Bio Gene Orbital Shaker provides Time adjustment 1 min - 99 h .

Motor Type Brushless Motor/PMDC.

Bio Gene Orbital shaker is ISO certified

Bio Gene Orbital shaker During operation is noise free and vibration less.

Bio Gene Orbital shaker has Safety Over-current cut off; restart of pre-set speed after power failure.

Bio Gene Orbital shaker is equipped with heavy duty lockable wheels for easy movement and anti-vibration rubber pads for immobilization.

Bio Gene Orbital shaker Power supply: 230±10 V; 50 — 60 Hz single phase.
Heating:
External Dimension: 1100 x 1100 x 580 mm

Capacity to accommodate:20L - Ǿ 310 mm

Platform Size: 750mm x 750mm
ILLUMINATION
Our units are provided with door operated illumination system comprising of fluorescent lights. (optional for floor model shaker )

SPEED CONTROL:
The Bio Gene Rotary shaking in our Shakers is controlled by a drive which in turn is controlled through thermostat controller/Mechnical Timer .
FRONT PANEL:

Front panel of our units comprises of on/off switches heating, mains indicator lamps, temperature controllers and voltmeters.

Model

BTI-OS-350350

BTI-RS-450450

BTI-OS-500500

BTI-OS-7575

External Dimension

1100 x 1100 x 580 mm

MOC Outer

Inner

Powder coated SS and inner stainless steel 304

Shaker Speed

50 to 150 RPM

Shaking amplitude in mm

≤ 50

Motor

≤ 50

Motor

Brushless motor

Stepless frequency speed control

Yes

Digital Setting

0.1°C

Flask

20 L x 4 nos