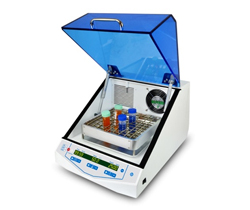 Bio Gene Incubator Shaker is the most versatile machine to enhance the capability of Research, Production to Stimulation the GAP signals from the thermo dynamics of kinetic and dynamic energy of fusion between the Intracellular kinematics is desired.

Detection of cellular signals to gain more culture production by the dedicated precision thermal conductivity using Peltier based system for thermo generation of desired operation cycles Bio gene Shaker Incubators are the solution.
Applications
Features
Control
Construction
Specification
High speed table top incubator shaker is a microprocessor based dual function incubator for Incubator and shaking function. Bio Gene Incubator shakers used in cell culture, fermentation protein generation Biochemistry & research of enzyme cell tissue application when precision temperature control and shaking is of prime importance.

Stains cell culture through dynamic rotation force or even static cultivation is of importance.
Dual function incubator and shaker.

Low noise.

Micro-processor controls temperature and shaking speed with fixed & programmable cycles.

Dedicated microprocessor with (HMI) Human Machine Interface for easy operations.

Easy full view cover enables fast results.

Pneumatic control gives Flexibility to open hood at desired angles for easy reach.

Automatic to stop function in case of hood open, Heater, Shaker & Air.

Temperature overshoots protection Alarm.

Stop start shaking function enables no spillage.

Air circulation controls for effective heating of volatile liquids.

DC Brushless motor for Trouble free Better Life.
Microprocessor Programmable controls

Temperature: Rt +5 ˚C to 70 ˚C

Time :- 0-99/999 Min

Door Lock :- lockable

Blower speed : Uniform enable disable

Alarm : High, low

Process : Start . End

Auto : Temperature & time cycle

EN: 60601 : 1

EMD : 93/42/EEC

EN 61000-6-1 : 2001

EN 61000-6-3 : 2001

Electromagnetic Compatibility Directive (89)/336/EEC)

Confirms Electromagnetic Directives Low voltage EN61010- 1 : 2010

EMC Electromagnetic Directives EN61326 – 1 : 2006 CLASS B

ISO 9001-2008, 13485
Compact design with human machine interface built in switch built in control for temperature time, and RPM.

The interior chamber is made of rugged steel with flexible holding platform with can hold Flask, tubes, Petri Dish , Culture Bottles, test Tubes of different capacity.

Non skid base external body made of thick galvanized sheet duly powder coated and lid made of Transparent ABS plastic.

DC motor for better life and accurate RPM controls Uniform Temperature rise.
Type
BTI-IS-50 Flask Incubator Shaker
BTI-IS-70 Flask Incubator Shaker

Temperature Control Range

R.T.+5 ~70℃

Temperature Display Accuracy

0.1℃

Temperature Control Accuracy@37°C

≤±0.3℃

Timing Range

0 ~99h 59min

Shaking Speed

50 ~300 rpm

Orbit

20mm (horizontal)

Power Supply

AC110V/220V
500W

AC110V/220V
700W

Dimension

420x360x320mm

660x610x440mm

Optional Platform

Refer to "Platform Option"

Standard pallet PW-420(410x420x65mm)