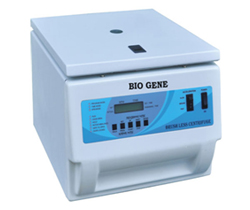 BioGene High Speed Centrifuge helps research and scientist when bind wash and elute is the necessity. The Principle of sedimentation using centrifugal Force and introduction of temperature to the samples helps easy operation of nano particles different mass molecules menu driven programs add easy operation in BioGene High Speed Centrifuge.
Applications
Features
Control
Construction
Specification
Microprocessor based A high speed centrifuge for medium capacity it needs to allows for molecular applications in well as deepwell plate capacity for increased versatility

Microprocessor based programmable centrifuge with heavy duty brushless induction motor and frequency drive.

Very Stable

Low in noise

No vibrations

CE available.
Bench top digital speed meter

Digital timer of range 0-99 minutes

Heavy duty ABS Plastic molded with high gloss exterior body.

Microprocessor based (LCD display)

Fitted with well balanced universal motor

General purpose laboratory centrifuge machine.

Variable speed regulator

Max. Speed 15000 r.p.m

Digital Speed Indicator

Programmable speed

Imbalance detection

Lid lock for safe drive.
BioGene High Speed Centrifuge is microprocessor based controller with programmable Pre set RPM and Pre defined time.

DISPLAY
Bio Gene Centrifuge LCD -2 line display Back light it display, Actual RPM.

FREQUENCY DRIVE
Brushless Induction Motor with Frequency drive. Maintenance free operation no carbon, particle emissions.
CENTRIFUGE BOWL :
The Centrifuge Bowl is made of thick Stainless Steel with joint less construction of Deep drawn Technology.

LID
BioGene Research Team has carefully designed the lid with a paramount feature of Users Safety by providing the Lid with 300% extra Impact load test .

LID LOCK
The centrifuge will not run if door is open.

The lid will lock immediately if rotor start spinning

The lid remain locked till rotor become standstill

If power supply fail then lid unlock immediately but do not open lid for few minutes.

The lid is providing with Lock for ensured operator security as well.
IMBALANCE
The rotation stops if rotor is imbalance and LED - "ON" for imbalance
indicator LED - "ON" till restart of device.

Rotor : BioGene rotors are fabricated of Pressure Die casted Aluminium which can be recycled and reprocessed.

DIGITAL TIMER
Lab application demands to have the centrifugation for determined time at the Relative Centrifugation force on the samples.
Bio Gene Centrifuge has Digital Timer to enable the User Scientist to Preset the Time from 0 to 99 minutes.

Preset & Process time Remaining Indication.

DIGITAL SPEED INDICATOR
LCD Display with Preset & Actual RPM Display.
Bio Gene designs enables to have the Operator friendly Feature of Microprocessor based Digital Speed Indication with Pre Set Values programmable up to a MAX of RPM 15000. Of 35 program stage.

BRAKE
Automatic Brake by drive control.
Digital Relative Centrifugal Force Indicator
Our Centrifuge is capable to have the RCF displayed on the operation of the desired Speed automatically.

OUTER BODY
Bio Gene Centrifuge has outer body made of Thick ABS Plastic for a long lasting life and better exterior.

NOISE LEVEL :
Bio Gene machine have a very low noise level of 65 decibels

COMPACT DESIGN LESS WEIGHT
Also are important features of our Careful inputs for the Micro centrifuge.

PRIME MOVER
Alternative Current 220 volts Single phase 50Hz 10Ampheres.