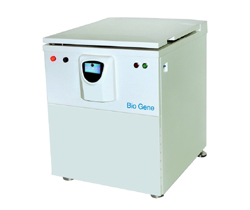 When Nano Scale particles and Molecules of different masses are to be separated from immiscible liquids. Bio Gene Centrifuge are the solution. Bio Gene centrifuges produce Acceleration and Centripetal high gravitational force to bring in the Bind Wash Elute results very precisely.
Applications
Features
Control
Construction
Specification
Bio Gene High Speed centrifuge are used in application of Petroleum Products, Hematology, Microbiology Chemical Engineer Nano Physics etc. at Industries, Research Centers University.
Bio Gene Centrifuge Imported variable frequency drive High Torque, automatic control system, reliable operation.

Tecumshe's compressor

High Precision Temperature controls

Multiple Protections

Overheat

Speed

Electronic locking and imbalance.

TFT

True color LCD Microprocessor Based widescreen touch screen.

16 Programs control Parameters of the Reselection of Rotors between programs.

Flexibility to change programs, 10 levels of speed up speed down (0-10 levels) time for the user to choose freely.
Direct Drive

Brushless DC Motor

TFT Touch screen

Electronic Lock

Vibration Absorption

Self balance function

PWM Controller speed control system

High control accuracy

Fast Acceleration and Deceleration Function

20 set of parameter

Rotor Identification & Number Display

Deceleration steps 10

Acceleration steps 10
Bio Gene Centrifuges are manufactured after a careful Expertise of 20 Years taking the utility of max use by the customer.
CENTRIFUGE BOWL : The Centrifuge Bowl is made of thick Stainless Steel with joint less construction of Deep drawn Technology.
AUTOMATIC BALANCED MOTOR Bio Gene Centrifuge has a unique feature of imbalance detection thereby the Intelligence of microprocessor positions the motor for the Uneven imbalance safety.
LID :Bio Gene Research Team has carefully designed the lid with a paramount feature of Users Safety by providing the Lid with 300% extra Impact load test.
The lid is aerosol Tight to ensure the same.
DIGITAL SPEED INDICATOR :Bio Gene designs enables to have the Operator friendly Feature of Microprocessor based Digital Speed Indication with Pre Set Values programmable.
Digital Relative Centrifugal Force Indicator :
Our Centrifuge is capable to have the RCF displayed on the operation of the desired Speed automatically.
ROTORS : Bio Gene Micro Centrifuge is designed to undertake different rotor capacities from 1.5 ml to 7.50 ml .at Angle Head Centrifugation of desired samples.
Model BTI
RC-25M-FL-HV
RC-21M-FL-HV
RC-20M-FL-HV
Max Capacity

4 x 1000ml

6 x 500

6 x 500

Maximum speed

25000

21000

20000

Maximum RCF(xg)

64983

48330

43840

Standard rotor

24×1.5/2.0ml

Speed Accuracy

±30r/min

±50r/min

Refrigeration system

Import fluoride-free compressor and control valve(R404a)

Temperature

-20℃~+40℃

Temp. Accuracy

±1℃

Number of Programme modes

16

Timer range

0-99h 59min

Control and driven system

Frequency motor, micro control, direct driver

Noise

≤68dB

Rotor Identification

Automatic

Power

220 V Ac 50Hz

Dimension(LxWxH)

840 x 730 x 960 mm

Total Power

6.0 kw

5.0 kw

4.0 kw
Model
Capacity
Speed(r/min)
RCF(×g)
BTI-RC-25M-FL-HV
Angle rotor

24×1.5/2.0ml

25000

64983

18×10ml

23000

60460

8×50ml

21000

52356

4×250ml

15000

33800

6×250ml

14000

30070

6×500ml

10000

17700

4×1000ml

8000

12040

BTI-RC-21M-FL-HV
Angle rotor

16x 10ml

21000

48330

6×50ml

18000

37580

8×50ml

16000

29365

6×70ml

15000

25700

8×100ml

12000

19830

6×300ml

10000

18550

6×500ml

8000

11800

BTI-RC-20M-FL-HV
Angle rotor

6×250ml beekman bottle

10000

17700

1000ml continuous flow

8000

12040
OPTIONAL FITTINGS