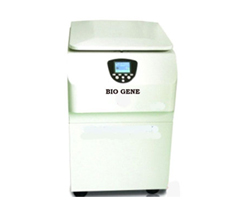 Bio Gene PC-6 Floor Type petroleum centrifuge are specially designed for determination of water content in petroleum and petroleum derivations. This is in line with GB/T6533-86 standards.

It can be used for measuring water and analysis of deposit of the crude oil by separation method of centrifuge. An ideal solution for water determination in oil exportation Research units.

Bio Gene assures Even and fast heating with high precision control in our Petroleum centrifuge.
Applications
Features
Control
Construction
Specification
Bio Gene Floor Type petroleum centrifuge are used in application of Petroleum Products, Hematology, Microbiology Chemical Engineer Nano Physics etc. at Industries, Research Centers University.
A Large TFT True color Touch screen controls with simultaneous indication of both the

Set Values and Present Values.

Motor gate lock mute mechanical and electrical integration for safety and security.

Large Program cycle storages:

Able to store more than 20 user-friendly and easy to use operating modes.

10 levels

of speed up and speed down control.

Special PWM controlled speed control system for high controlled accuracy.

Multiple layers of shock absorbers

with the function of automatic balancing to achieve smooth operation.

Direct drive brushless motor with high torque that is maintenance and dust free for quite and smooth operation.

PWM Variable frequency Fairchild Special driver.

Multiple protection measures are taken while designing. Hence overheat and imbalance detection and display alarm gets activated to ensure personnel and equipment safety.

Imported flouride-free refrigeration compressor unit (CFC free) to achieve refrigeration, high efficiency, excellent temperature, control.

Fine programming:

program pause function for Last minute change possible before centrifugation.

Dedicated PLC controller brushless Motor (DC).

Variable frequency Drive, High torque, Uniform speed , Reduced motor noise, Less maintenance.

Steel structure with protections of hypervelocity, imbalance to ensure the users safety.

Dual display LED Display as speed temperature, duration can be freely set.

Program change in process possible.
Direct Drive

Brushless DC Motor

TFT Touch screen

Electronic Lock

Vibration Absorption

Self balance function

PWM Controller speed control system

High control accuracy

Fast Acceleration and Deceleration Function

20 set of parameter

Rotor Identification & Number Display

Deceleration steps 10

Acceleration steps 10
Bio Gene Table Top Petroleum Centrifuge High Volume are manufactured after a careful Expertise of 20 Years taking the utility of max use by the customer.

CENTRIFUGE BOWL : The Table Top Petroleum Centrifuge High Volume Bowl is made of thick Stainless Steel with joint less construction of Deep drawn Technology.

AUTOMATIC BALANCED MOTOR Bio Gene Table Top Petroleum Centrifuge High Volume has a unique feature of imbalance detection thereby the Intelligence of microprocessor positions the motor for the Uneven imbalance safety.

LID:Bio Gene Research Team has carefully designed the lid with a paramount feature of Users Safety by providing the Lid with 300% extra Impact load test.
The lid is aerosol Tight to ensure the same.
The lid is providing with Electronic and Mechanical Lock for ensured operator security as well.

OUTER BODY: Bio Gene Table Top Petroleum Centrifuge High Volume has outer body made of Thick CRC Steel duly Powder Coated for a long lasting life and better exterior. Inner chambers vessel (bowl) is made of reliable steel structure of 316 stainless steel grade.

DIGITAL TIMER: Lab application demands to have the centrifugation for determined time at the Relative Centrifugation force on the samples.
Bio Gene Centrifuge has Digital Timer to enable the User Scientist to Preset the Time from 0 to 99 Hrs 59 minutes.

DIGITAL SPEED INDICATOR: Bio Gene designs enables to have the Operator friendly Feature of Microprocessor based Digital Speed Indication with Pre Set Values programmable.

Digital Relative Centrifugal Force Indicator :
Our Centrifuge is capable to have the RCF displayed on the operation of the desired Speed automatically.

COMPACT DESIGN LESS WEIGHT: Also are important features of our Careful inputs for the Centrifuge.

Prime Mover : Alternative Current 220 volts Single phase 50Hz 10Ampheres.

NOISE LEVEL: Bio Gene machine have a very low noise level of 65 decibels.
| | |
| --- | --- |
| Model | BTI-PC-6 |
| Max Capacity | 4 x 8 x 250ml |
| Maximum speed | 5000 |
| Maximum RCF (xg) | 4200 xg |
| Speed Accuracy | ±50r/min |
| Temperature | +10℃ ~ -80℃ |
| Temp. Control precision | ±2℃ |
| Motor | AC Motor |
| Timer range | 0-99h 59min |
| Noise | ≤65dB |
| Power | Ac 220V 50Hz |
| Dimension(LxWxH) | 600 x 490 x 760mm |
| Weight | 70 kg |