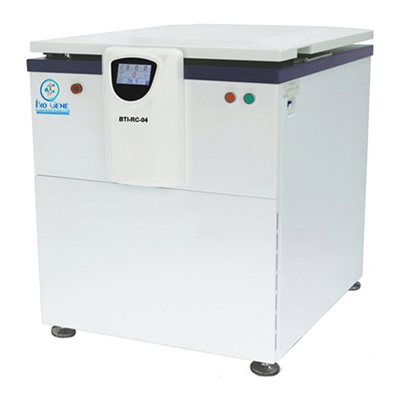 Bio Gene equipment finds wide application for conducting various quality Control, Production, researches and experiments worldwide.
Bio Gene follow stringent quality management system in all our business activities, through qualified team of proficient quality analysts.
They make sure to follow quality measures at every production stage right from procurement of raw material to final dispatch of the range. Further, the product assortment is quality inspected at all stages of production under the able guidance of our quality team.
Presently, apart from the domestic markets, Bio Gene serves the demands of clients based in USA.
Applications
Features
Control
Construction
Specification
Separation

of Blood components RBC,

Erythrocytes,

WBC,

Monocytes,

Basophils Plasma Protein,

Hormones.

Blood Separation

Microbiological Test and Analysis

Cultured Cell Separation

Blood cell Extraction

Plasma, Serum Washing

Centrifuge has the ability to automatically adjust the total Centrifugal Force accumulated on the

samples during a run irrespective of whether the rotor is run at full capacity or partial capacity,

such that results and yields are reproducible during each run.

Isolation of Lymphocytes etc.
Ergonomics Refrigeration System

Temperature controls

CRC Steel finish with powder coating or stove painting.

Speed

Electronic locking and imbalance.

The centrifuge has memory to store over 100 programs including Time, RPM, g-force and

Temperature.

Bio Gene Refrigerated centrifuge has provision for storage of run data & data management

software for transferring of data to PC.

Bio Gene Refrigerated centrifuge is provided automatically neutralize loading imbalance 100g and

able to detect and auto shut off the centrifuge in case of excess imbalance.

Bio Gene Refrigerated Centrifuge is provided a quick-start manual, Help screens and easy on-board tutorial

videos to facilitate easy operation, standardization and maintenance.

Pulse Function for Small Centrifugation.

Variable frequency Brushless (without carbons)

Multiple shock absorbers, Automatic balancing

Electronic lid locking with automatic lid opening at end of run

Bio Gene Centrifuge is Supplied with balancing plates to compensate big weight difference, one set of 2 plates

each of 35g and 65 g.

Centrifuge has provision to run from 0 min- 99 min with 1 second increment along with HOLD function.

The Centrifuge able to automatically detect the installed Rotor and adjust the settings according to its design limits so that accidental over speeding and damage is completed prevented. The machine has the provision of a Rotor Cycle counter with alarm to flag end of operating life, such that machine is not subject to accidental

fatigue failure in the long run.
Direct Drive

Electronic Lock

Vibration Absorption

Self balance function

High control accuracy

Fast Acceleration and Deceleration Function

The Centrifuge has 10 Acceleration rates and 10 Deceleration rates.

Rotor Identification & Number Display

The Centrifuge has an operating temperature range of -20degC to +40degC, adjustable to 1°C.

Bio Gene Centrifuge has function to open and close centrifuge door automatically using button.

Touch screen operating controls that will be used with a gloved hand, and which displays both

set and actual run conditions simultaneously. User access control and security with optional

password protection.

Bio Gene centrifuge has in built facility for User ID tracking, Run logs, protocol tracking

Bio Gene Centrifuge is provided the facility for runs with user log-in and password protection

The Centrifuge has flexible Timer Modes: At start, at speed, time start.

Bio Gene Centrifuge has facility for step runs of speed, time triplets with minimum15profiles.

Bio Gene Centrifuge is provided power saving and environment friendly operation such that

refrigeration is auto shut off when door opens.
CONSTRUCTION-Double walled with PUF Insulation to avoid loss of Cooling
Inner Chamber:- Stainless Steel Moulded.
The Bio Gene Refrigerated centrifuge has a Stainless-steel chamber that is easy to clean and corrosion resistant with provision of both drain and condensed water collection container
CENTRIFUGE BOWL : The Centrifuge Bowl is made of thick Stainless Steel with joint less construction of Deep drawn Technology.
LID :Bio Gene Research Team has carefully designed the lid with a paramount feature of Users Safety by providing The lid is aerosol Tight to ensure the same.
OUTER BODY: Bio Gene Centrifuge has outer body made of CRC Steel duly Powder Coated for a long lasting life and better exterior. Body material of Centrifuge C.R.C Steel Finish with Powder Coating Front Panel of centrifuge CRC Steel finish with powder coating
DIGITAL SPEED INDICATOR :Bio Gene designs enables to have the Operator friendly Feature of Microprocessor based Digital Speed Indication with Pre Set Values programmable.
Digital Relative Centrifugal Force Indicator : Our Centrifuge is capable to have the RCF displayed on the operation of the desired Speed automatically.
NOISE LEVEL :Bio Gene machine have a very low noise level of 68 decibels.
Rotor:
Bio Gene Centrifuge Rotor is able to accommodate a maximum of 6 X 2000ml bottles and bucket or 12 Quintuple blood bag systems of 450 ml with filters, with SAGM bag and empty satellite bags.

Bio Gene Centrifuge has Wind Shielded Swinging bucket blood bank rotor with Oval metal buckets with middle partition to hold 2 blood bags each.

Bio Gene Centrifuge is able to run the 12 x 450 ml Blood Bags or 6 x 2000 ml bottles at over 4000 RPM/6000 xg. The machine is not experience additional vibration or noise at highest

Speed at 4°C such that sample integrity is not compromised and life of machine components are not reduced in the long run.

Removable plastic inserts set of 2, 4 sets, to spin quadruple blood bag system 450 ml with soft filters and with provision to hold balancing weights at the sides of the insert so it will not come in contact with blood bags, supplied with one set of balancing weights

Removable plastic inserts with built in hook adapter to spin quintuple blood bag system of 450m1 with filters and to spin buffy coat or small volume of blood, set of 2, 4 sets

Removable plastic inserts to spin double blood bags with provision to hold balancing weights at the sides of the insert so it will not come in contact with blood bags, supplied with one set of balancing weights, set of 2, 4 sets.
| | |
| --- | --- |
| Model No. | BTI-RC-04 |
| Maximum RPM with no load | 500 to 4500 |
| Main input | 230V, Single Phase, 50Hz, 32 Amps Supply. |
| Rotor | Swing bucket |
| Operating Temperature Range | 20degC to +40degC, adjustable to 1°C |
| Size | (L) 860 x (W) 960 x (H) 1200 mm |
| Weight | 40 Kg. Net |
| Motor | Brushless(without carbons) |
| Noise Level | 68 dB |
| Accessories | Servo stabilizer 1OKVA of reputed brand along with centrifuge. |