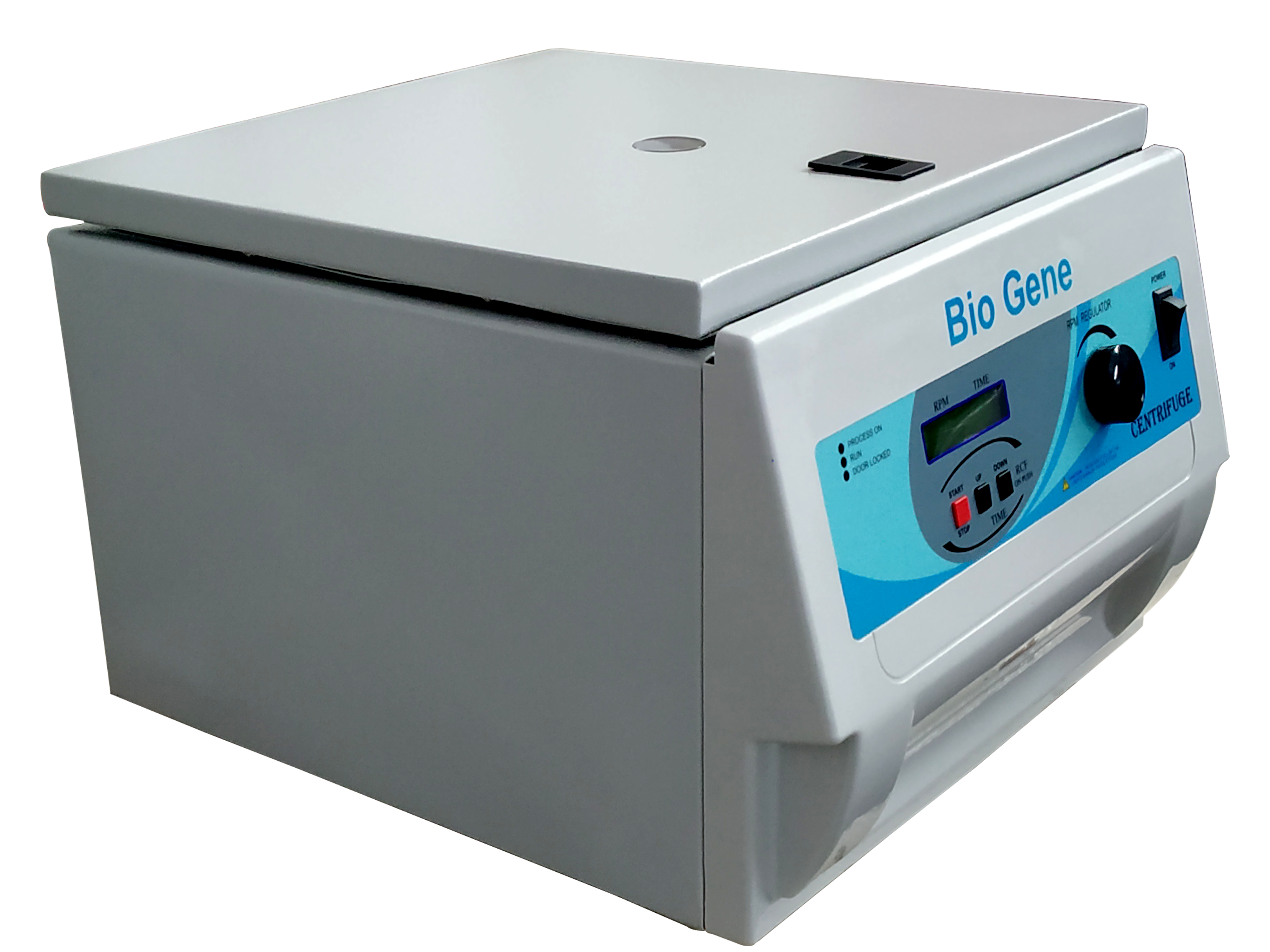 BioGene brings easy solution to bring density based separation technique for liquid, fluids biomass etc uniform rise of centrifugal force on the vertical access by attaining programmable speed and time the Bind, Wash and Elute is established in BioGene Mini Centrifuge.
Applications
Features
Control
Construction
Specification
Microprocessor based A high speed centrifuge for medium capacity it needs to allows for Biological Fluids pathology, molecular, heamotology applications in tube and well as deepwell plate capacity for increased versatility

Microprocessor based programmable centrifuge with heavy duty motor and frequency drive.

Very Stable

Low in noise

No vibrations

CE available.
Bench top digital speed meter

Digital timer of range 0-60 minutes

Heavy duty ABS Plastic molded with high gloss exterior body.

Microprocessor based (LCD display)

Fitted with well balanced universal motor

General purpose laboratory centrifuge machine.

Variable speed regulator

Max. Speed 5200 r.p.m

Digital Speed Indicator

Programmable speed

Lid lock for safe drive.
BioGene Mini Centrifuge microprocessor controller & programmable for pre set RPM and pre defined time.

Multi line LCD Display.

Digital RPM control: 5200

Time: 0-60 min

LID Lock

Stepless speed control
BioGene
Mini Centrifuge
are manufactured after a careful Expertise of 20 Years taking the utility of max use by the customer.

CENTRIFUGE BOWL :
The Centrifuge Bowl is made of thick Stainless Steel with joint less construction of Deep drawn Technology.

LID
Bio Gene Research Team has carefully designed the lid with a paramount feature of Users Safety by providing the Lid with 300% extra Impact load test .
The lid is aerosol Tight to ensure the same.

LID LOCK
The lid is providing with Lock for ensured operator security as well.

IMBALANCE
Rotor : BioGene rotors are fabricated of Pressure Die casted Aluminium which can be recycled and reprocessed.

DIGITAL TIMER
Bio Gene Centrifuge has Digital Timer to enable the User Scientist to Preset the Time from 0 to 60minutes.

Preset & Process time Remaining Indication.

DIGITAL SPEED INDICATOR
Bio Gene designs enables to have the Operator friendly Feature of Microprocessor based Digital Speed Indication with Pre Set Values programmable up to a MAX of
RPM 5200. Of 35 program stage.

Our Centrifuge is capable to have the RCF displayed on the operation of the desired Speed automatically.

OUTER BODY
Bio Gene Centrifuge has outer body made of Thick ABS Plastic for a long lasting life and better exterior.

NOISE LEVEL :
Bio Gene machine have a very low noise level of 65 decibels

COMPACT DESIGN LESS WEIGHT
Also are important features of our Careful inputs for the Micro centrifuge.

PRIME MOVER
Alternative Current 230 volts Single phase 50Hz 10Ampheres.
Dust cover

Instruction manual

Spare fuses

Spare carbon set

Cord & Plug to work on 220 volts 50 Hz A.C
| | |
| --- | --- |
| Max Speed | 5200rpm |
| Main input | 220v , 50Hz / 110v , 60Hz |
| Max Speed | As per Selected Rotor |
| Timer | Digital Timer(Upto 0 to 60 minutes) |
| Size | (W) 355 x (D) 410 x (H) 280 mm |
| Weight | 14 Kg. Net |
| Motor | Universal (AC/DC Carbon Brush Type) |
| RPM Indicator | Digital Up to 5 Digits : LCD Display |
| Speed Regulator | Step less Electronic |
| | | | | | |
| --- | --- | --- | --- | --- | --- |
| BTI-04 | 8 TUBE x 15 ML | ANGULAR | 5200 | 3300 | |