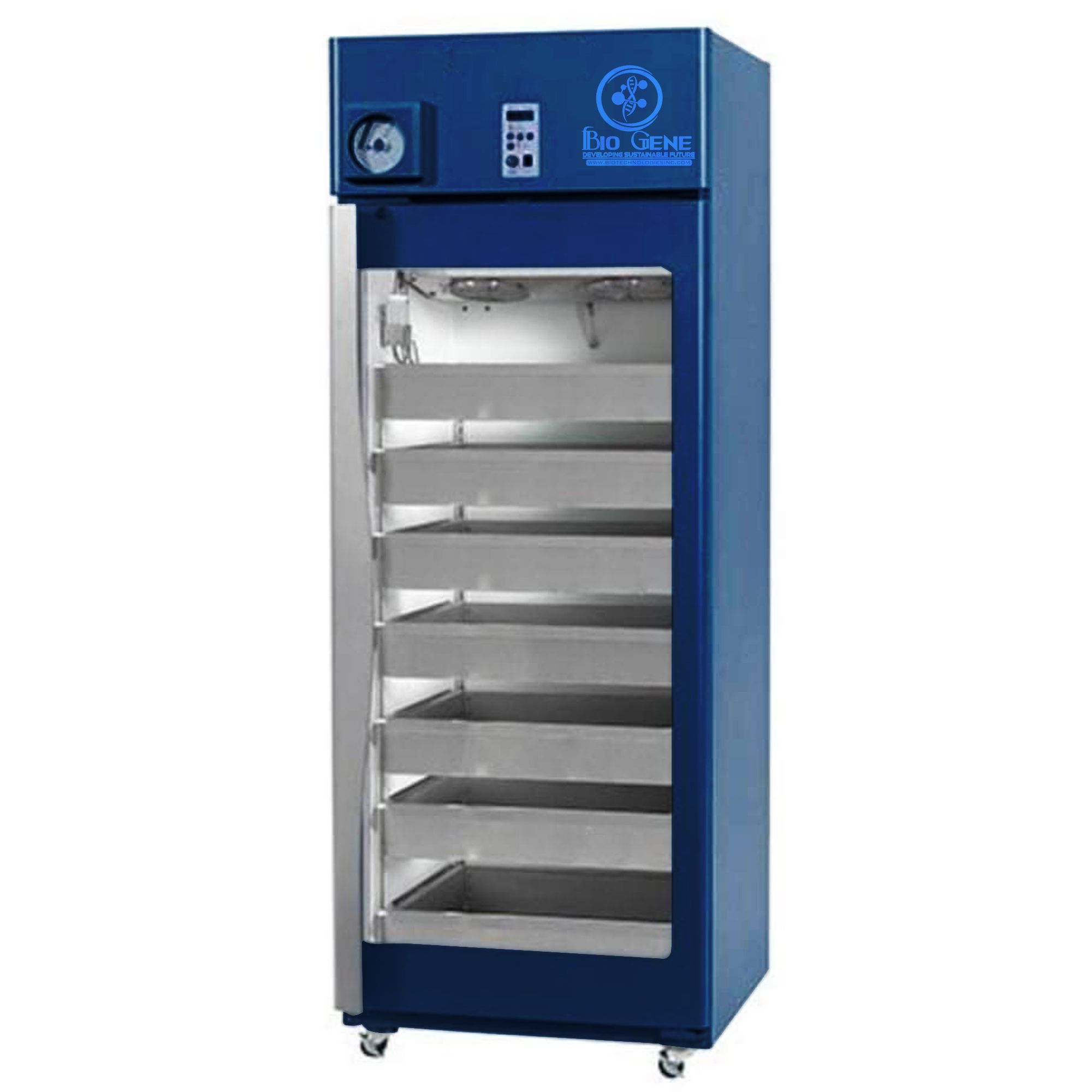 Blood Bank Refrigerator
Bio Gene Blood Bank Refrigerators are most versatile unit for Blood Bank specially designed for this purpose. It is available various capacities for storing the blood bags/bottles of capacity up to 450 ml, in an automatically controlled temperature of 2°C to 8°C. Forced air circulation ensures uniform temperature. These refrigerators are designed for the precise requirements of Blood banking & processing applications. These Blood Bank refrigerators meet the stringent standards required in Blood Bank applications. For consistent, reliable protection, storage & preservation of valuable blood products at a safe 4°C, you can depend on our blood bank refrigerators.Construction: External body of the blood storage refrigerator is made pre coated galvanized steel 18G CRCA sheet duly powder coated for long lasting finish. Caster wheels provided for easily mobility. The inner chamber is made of high quality stainless steel 304 grae highly polished S.S. trays are provided, for accommodating blood bottles or Blood bags. The door is hinged and easy to open. The door has a glass window for viewing inside the chamber without disturbing the thermal conditions. The door is duly insulated for proper sealing from external environment and is lockable.The stainless steel chamber is insulated with help of high density CFC free PUF (polyurethane) insulation to prevent the loss of temperature.Design: Our blood bank refrigerators are ergonomically designed and feature long service life with almost no maintenance required. The internal chamber is easy to clean; the bottom surface is so designed that water runs into hole easily and drains out from the pipe at rear side.
Applications
Features
Control
Construction
Specification
Control Panel: All controls such as digital temperature controller-cum indicator, mains switches, indicating lights, Audio visual alarm, are easily accessible.
Fully automatic microprocessor control: A fully automatic dedicated microprocessor helps in monitoring all the functions of the blood bank refrigerator.
The advanced microprocessor monitors the chamber temperature in real time to prevent the spoilage of blood and to maintain the set value of temperature. The temperature is selectable between 2° C to 8° C with a resolution of 0.1° C. The front soft touch keypads permits control settings and access to default settings. An inbuilt feature for setting the compressor rest time is also provided. The microprocessor also monitors the incoming voltage. If the incoming voltage lies in a particular range, the LED will show OK and the refrigeration unit will function. If the incoming voltage is either Low or High, the LED will show Low or High and the refrigeration unit will be switched off for safety reasons. The bright LEDs display the Set and the Read Values of temperature. Both audio and visual alarms alert if there is any deviation of temperature, voltage, door open, power failure, battery low etc.
An inbuilt automatic defrost enhances hassle free operation. The complete temperature control panel is mounted on front for easy readability and operation.
Shelves: Shelves are removable and made of stainless steel thick round wires and designed in such a way that bags are kept in vertical /horizontal position and labels are clearly visible. Number of shelves depends upon volume of blood refrigerator Power supply: The instrument is designed to operate on 220 -240V 50hz triple Phase AC Supply
Capacity: Storage capacity: 350 blood bags at least 450 ml
illumination: For illumination under chamber 2x fluorescent light .Light is controlled through door open close or user can directly switch On/Off through front control panel.
Uniform

temperature

recovery

Eye-level

display

of

cabinet

temperature

allows

for

easy

temperature

monitoring

even

from

a

distance

Air

circulation

for

constant

temperature

distribution

is

mainted

at

the

rear

side

of

the

machine

Independent

safety

thermostat

to

avoid

negative

temperature

Forced

Air

circulation

system

CFC

&

noise

free

compressor

Highly

precise

microprocessor

control

PUF

insulated

triple

pane

glass

door

Cabinet

made

of

18SWG

pre

coated

galvanized

steel.

Inner

chamber

made

of

22SWG

stainless

steel

SS304

grade

100mm

thick

polyurethane

insulation

to

ensure

better

hold

over

time

R134a

Eco

friendly

refrigerant

Flexible

shelving

for

easy

storage.

Automatic

door

closing.

High

temperature

/door

Alarm

Frost

fee

cold

lab

chamber.

Automatic

door

closing

and

Lock.

Reversible

door.

Compact

refrigerator

for

storing

blood

at

+2

0

C

with

insulating

door.

Microprocessor

based

PID

temperature

controller

with

integrated

audio

visual

temperature

and

power

alarm function with

digital

monitoring

display
Bio

gene

controller

has

setting

set

point

high alarm

point low

alarm

point

buzzer

off

time

C/F

Temperature

Choice

Precise

temperature.

Castors

for

easy

Mobility

of

Equipment.

Internal

Fan

positioned

at

90º

for

uniform

temperature

maintenance

all

along

the inside

of

the

cabinet.

Automatic

switch-

off

of

the

internal

fan

prevents

the

loss

of

cold

air

when

the

cabinet

door

is

open

Bio

gene

controller

has

setting

set

point

high

alarm

point

low

alarm

point

buzzer

off

time

C/F

Temperature

Choice.

Controlled

fan

cooling

system

for

constant

internal

uniform

temperature

distribution

at

ambient

temperature

of

43

Ö¯C

Air

cooled

compressor

with

CFC

Free

refrigerant

system.

Inbuilt

automatic

line

voltage

correctors

automatic voltage

stabilizers

External

ambient

temperature

-10 Ö¯C

to

43

Ö¯C.

Heavy

duty industrial

grade

hermitically

sealed

compressor.
Model No.

BTI -LR-650

Design

Vertical

Temperature range

2°C to 6°C

Temperature accuracy

±0.1°C

Capacity

350blood bags 450 ml (650Liter)

Dimensions (internal) (WxDxH) in mm*

710 x 770 x 1200

Temperature sensor

PT-100

Temperature controller

Microprocessor based PID controller

Trays/Shelves

5

External construction

18G CRCA sheet powder coated

Internal construction

22 SWG 304 grades stainless steel

Door

Toughened glass door with magnetic gasket, handle, lock & key

Insulation

Polyurethane (100mm thick)

Battery backup

4 hours for display temperature and alarms

Refrigeration system

CFC free hermetic compressor

Safety features

Audio-visual alarm system for high and low temperatures ,door open, power ,display and sensor

failure,etc

Hold over time in case of power failure

1.5-2 hour

Storage capacity per tray

72 nos of blood bags of 450ml/tray 102 nos of blood bags of 350ml/tray

Power consumption

700W(Max)

Air circulation inside the chamber

Continuously operated forced air circulation using the evaporator fan

Refrigerant

R134a(CFC Free)

Display

4x7 segment LED

Duration of the chart

7 days

Wheels

Caster wheels with front lockable

Chart recorder

Seven days graphic chart recorder for temperature (-10 Ö¯C to +20 Ö¯ C )

Resolution of the recorder

1ºC

Method of recording

Digital

Standards & Approval

EUCE ,USFDA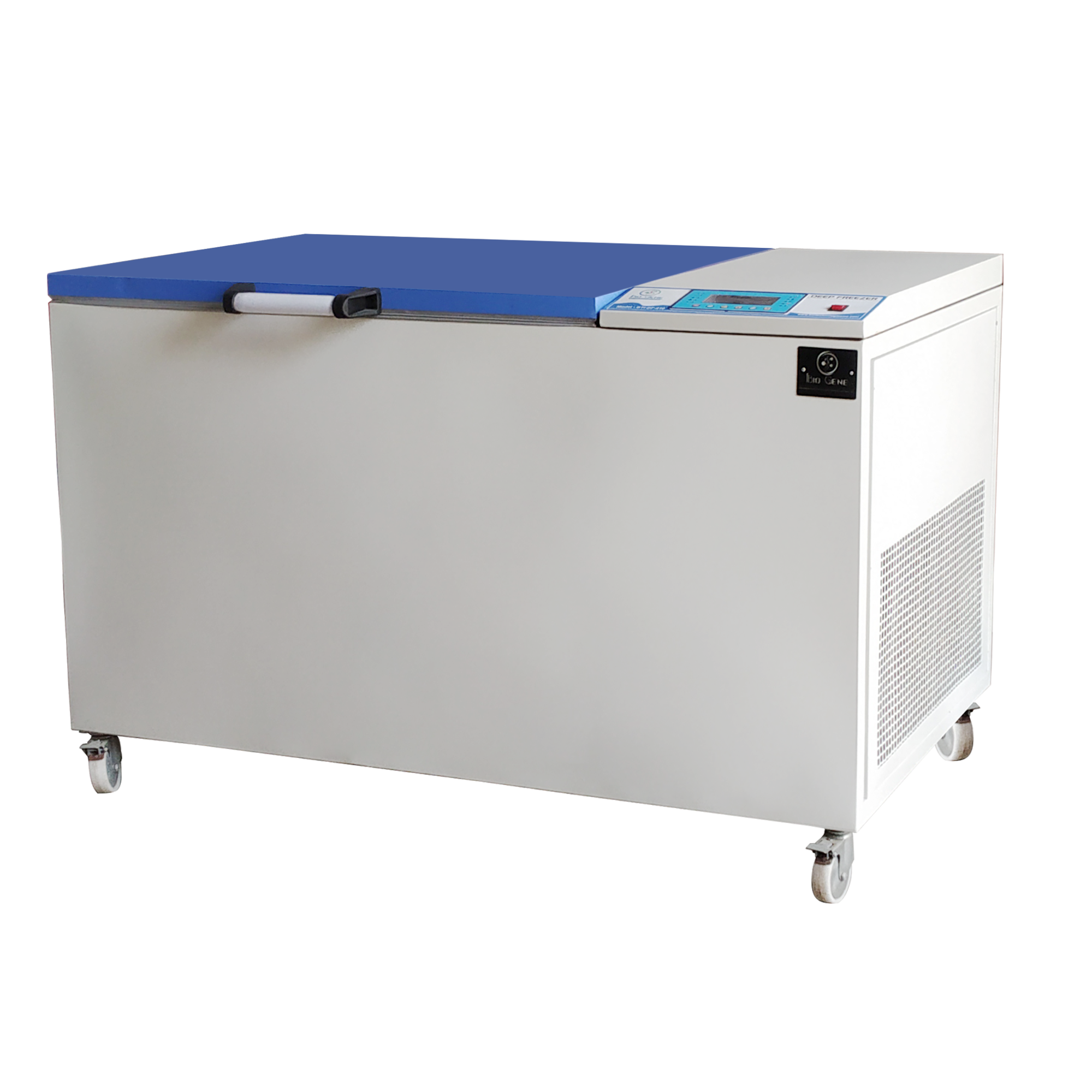 The blood bank refrigerator is an essential piece of equipment in the immunohematology department and provides safe and convenient storage of whole blood, blood components (e.g., blood cells, plasma), and reagents. Blood bank refrigerators ensure freshness and integrity of blood and blood components.
Applications
Features
Control
Construction
Specification
Blood Bank Refrigerator are widely used in
Hospitals and Medical Facilities & Lab

PRP Gravimetric analysis

Laboratories

Research Centers Universities

Qualitative Blood Component analysis

Blood Bank & plasma Bank
TFT touch screen display.

Digital Temperature Display

7 Days chart recorder, with a battery backup for 2 hours (OPTIONAL AT EXTRA COST)

No ice formation in the area around the wells and in the retention gaskets.

Electronic recorder and bar code reader, also possible to set a work schedule for single batch freezing

Internal temperature during the

loading phase of the plasma bags.

Safety system to avoid negative temperature

Provision for visibility of item stored

§

CFC and HCFC Free

§

External Voltage Stabilizer

Triple gasket (Absolute retention guarantee against air entry) in silicon rubber with welded joints.

The refrigerant system should be completely sealed: it uses a cascade circuit

2 hermetic compressors.

Provision of reading and recording upto a maximum of 8PT 100 channels.

Enabled with a clean digital input for synchronizing the start of recording with the start of the unit abatement

Historization cycles /Codes on SD card-export of cycles/codes via USB port

The geometry of the wells is conical, to simplify extraction and formation of the solid bag.

Quality of frozen plasma, the recovery of 96% fibrinogen and 81% of concentration of factor VIII.
MICROPROCESSOR BASED PID CONTROLLER
Human Machine Interface with TFT touch screen display.

The adapted principal of thermal exchange, in this case, does not use a cold bath at -40 ° C, but -80° C surfaces, with which the bags are in direct contact.

Freezing time :< 45 minutes for 24 bags (450ml).


CONSTRUCTION
BioGene Blood Bank Refrigerator for 24 bags is a Horizontal Freezer, where the plasma bags are placed in Horizontal/vertical position.

Under counter solid, self-closing door maintains optimal storage conditions and is field-reversible

Material: Inner corrosion free, stainless steel

Outer:

The Outer body of Bio Gene Blood Bank Refrigerator is made of Heavy Duty galvanized steel body with duly tough powder coated.

Recessed floor contains spills for easy clean up and maintain integrity of other stored productssss

Key lock, settings security and optional access control

The surface of the wells to be smooth and made of glazed Inbox AISI 304 steel, without edges, and therefore permits the safe storage against accidental breaks or bumps of the bags.

Internal case made of 6 wells
| | |
| --- | --- |
| Brand | Bio Gene |
| Model No. | BTI-LR-150 |
| Nominal Storage Capacity, Blood Bags* | 24 pcs |
| Inter Case | 6 wells |
| Control System | Microprocessor Based PID controller |
| Freezing Time | < 45 minutes for 24 bags (450 ml) |
| Safety System | Lockable On-Off Key |
| Temperature Display | TFT LCD Display Human Machine Interface with TFT touch screen display. (Not affected by power cut) |
| Temperature Reading and Setting Sensitivity | 1°C |
| Temperature Sensor | 8 PT -100 |
| Temperature Range | -80°C |
| Power Failure Alarm | Audible and Visual |
| Door Alarm | Audible and Visual |
| Drawer Structure | 65 dB |
| Isolation (CFC free) | High Density Injected Polyurethane |
| Gasket | Triple layer rubber gasket fitted exterior door |
| Circular Temperature Recorder | Yes |
| Historization cycles | codes via USB port |
| Inner Surface Structure | Stainless Steelsss |
| External Surface Structure And Quality | Powder Coated |
| Caster Wheel | 4 Nos (2 Caster Lockable) |
| Number of Compressor | 2 |
| Power Supply | 230 V - 50 Hz |
| ACCESSORIES | External Voltage Stabilizer |