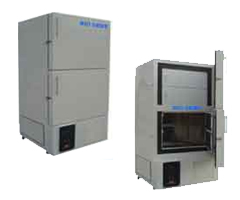 Bio Gene Combo Chiller Freezers are a true solution for, Storage of different Material. The Twin Chambers are Independently controlled through dedicated controller, so the Chiller Freezer combo unit are coming the most essential equipment in the Laboratories, Bio Gene Chiller Freezer are Available from + 8˚C to – 25˚C / - 40˚C. Chart Recorder, Alarms, Mobile ELERT etc. are some of the basic features.
Applications
Features
Control
Construction
Specification
Bio Gene® COMBO CHILLER FREEZER are widely used in
Electronic Industry for Delicate Parts

Hospitals and Medical Facilities

Dental Office & Laboratories

Industrial Manufacturing

Engineering Industries

Research Centers

Universities

Gravimetric analysis

Sintering

Quantitative analysis
Double walled units have thick PUF insulation between inner and outer wall.

Double compartment (freezer & chiller)

Temperature range: +8°C to -25°C

Freezer Temperature : 16°C to -25°C

Chiller Temperature : 2°C to -8°C


MICROPROCESSOR BASED DIGITAL TEMPERATURE INDICATOR – CUM – CONTROLLER.
CONTROL SYSTEM:
Microprocessor control system with enhanced electronic technology

LCD/LED Display.



ALARM SYSTEM:
 Alarm system for high and low temperature visual warnings for over temp, under temp. & power failure, with visual status reports on critical functions.
TEMPERATURE CONTROLLER:
Low Noise Level around 68dBA.

Multiple Dual Layered insulated

Inner Doors for easy Accessibility to Crucial samples.
OUTER MADE

CRCA Steel DULY Powder coated

Insulation:

PUF with cyclopentane, 4 inches.

High Efficient Special Evaporator Defrost System.

Castor For Easy Movement.
Biotech Application with operating temperature of -16ºC ˜ -25ºC and 2ºC – 8ºC

DOOR:
Door outer one solid steel with keyed door lock handle

Inner Doors:- Transparent

Audio visual alarm at eye level.

Hermetically sealed compressor with CFC free refrigerant.

Cooling coils is distributed all around the chamber and lies in the air circulation path.

Sensor failure alarm.

Alarm for high/low set parameters.

Electrical circuit breaker.

Time delay for compressor switch on.

Overload cut of relay for compressor.

PUF Insulation
MAKE
CD-150
CD-200
CD-300
CD-450
CD-550
CD-650
DESCRIPTION

Deep Freezer

TOP CHAMBER TEMPERATURE RANGE

+2

º

C ˜-8

º

C

BOTTOM CHAMBER TEMPERATURE RANGE

-16

º

C ˜-25

º

C

TEMPERATURE ACCURACY

±1

º

C

DIGITAL DISPLAY

Microprocessor Based Controller

LOCK

Yes

No Of SHELVES

2+ 5 Drawers

WHEELS

2 (Rear)

NO OF DOORS

1 Solid TYPE

PASSWORD LOCK

Yes

DISPLAY

LCD/LED

POWER SUPPLY

Single phase, 230+/-10 volts 50Hz

CAPACITY LITERS

150

200

300

450

550

650