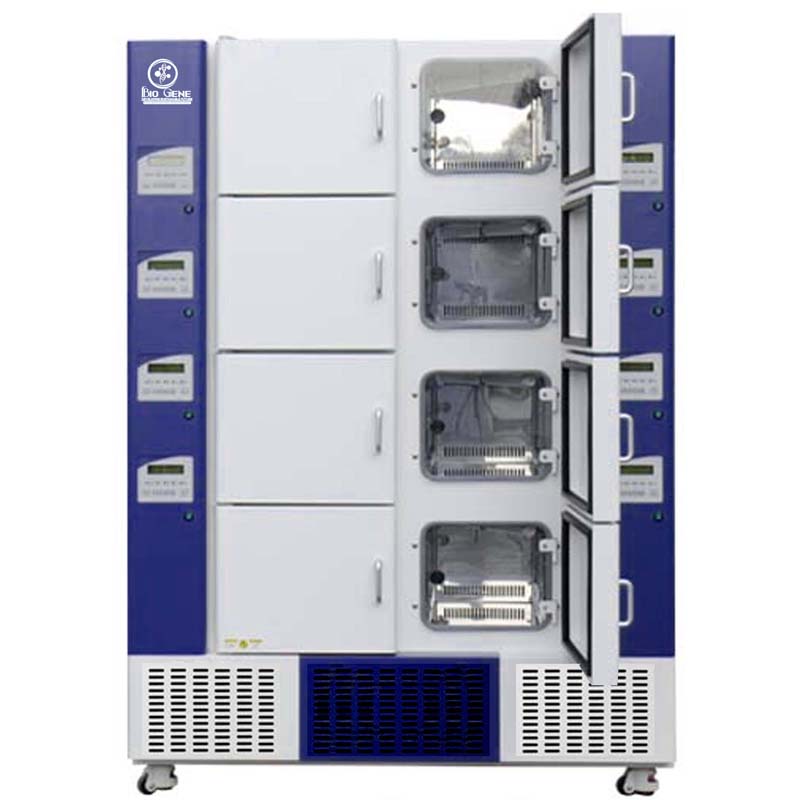 Bio Gene® Lab Freezer -20ËšC ~ -25ËšC are one Machine with Efficient Application of the Cryogenerater and the displacement of the compressor, Accumulator. Bio Gene is Bench mark of high speed cooling.
The chamber design with smooth flow of circulated air helps uniform temperature all around the freezer.
Applications
Features
Control
Construction
Specification
Lab Freezer -20ËšC widely used in Universities, microbiology, genetic, biotech, restaurant, bakeries, catering, chemical, pharmaceutical Process, concrete cooling, fish, poultry processing, fruit& vegetable cooling, hospitals, laboratories, physiotherapy, super markets, canned food industries, frozen meat processing.
FEATURES
Digital

Micro Processor Programmable

Temperature.

CFC-free

, HCFC-free non flammable refrigerants

High/Low

Temperature Set Parameters

.

A full view inner

Acrylic transparent

door

of each cabinet enables

inspection and

monitoring of inner chamber specimens without disturbing the process temperature.

Electrical Circuit Breaker.

Time Delay For Compressor Switch On.

Overload Cut Of Relay For Compressor.

Filter-less Technology To Eliminate Cleaning Of Filter & Maintaining Filter

Cleaning.

A

Highly Efficient Exclusive Compressor Has Been Specially Developed And Incorporated

In Bio Gene Freezer.

Bio Gene Deep Freezer Is Installed With A Standard Reputed Brand Industrial Grade

Hermetically Sealed

Cascade

Refrigeration

System With Hermetically

Sealed Compressor For Maintaining Desire

Temperature And Compressor Is Designed To Be A Powerful.

Low-noise System.

Dual Compressors Energy efficient and low noise

compressors.

Validation protocol with IQ, OQ, PQ Documentation

udio

and visual alarm facility for (high / low temperature low battery and door

open filter block & power failure.)

Multi alarm feature always aware of any operation error

.

Inbuilt voltage stabilizer system.

Bio Gene Deep Freezer Automatic voltage compensator to balance high and low

voltages

.

Facility to examine event log & facility to download

.

Alarm: - high and low temperature visual warnings: - over temperature. Under

temp.

Bio

Gene deep Freezer an adjustable extreme ambient alarm to protect

Against unsafe ambient operating conditions.

Ambient alarm, visual and audible notification active.

Clean filter with visual status reports on critical functions.

Bio Gene Deep freezer Front to back airflow with Removable, cleanable air filter.

Alert notification for repair & Maintenance.

Bio Gene Deep freezer is insulated of high density of Polyurethane Foamed 100

mm / 128 mm thick along with vacuum panel

Insulation to reduce power consumption and to maintain temperature set point
Alarm

on equipment / output for remote

alarm.

Pc communication through RS- 485 with data acquisition

software.

Bio-gene data soft data acquisition software.

Multiple level alpha numerical

password.

Secured

audit trail

report.

Alarm report with mention of alarm

condition.

calculated

for any days & alarm deviation

report.

Reports in graphical and tabular

form.

Data stored in PC server with LAN connectivity and can be monitored on PC with password

authentication.

Multi chamber data acquisition on single

software.

Communication through RS -485 /

USB.

4/7 inch big color touch

screen.

PLC ( programmable logic

controller).

Memory

of 10000 records

.
CONSTRUCTION
Inner Chamber
The Inner chamber of Bio Gene vertical deep freezer is made of aluminium plate
Outer Body
The Outer body of Bio Gene vertical deep freezer is made of Heavy gauge, cold-rolled steel exterior with powder coated paint finish/painted steel.
Insulation
The gap between outer body and inner chamber is filled with PUF/VIP insulation.
Door
Seven solid door inner door transparent .
Gasket
Triple layer rubber gasket fitted exterior door
Lock
Ergonomically designed door handle for easy handling, with a lock for access control.
Casters
Bio Gene Ultra low deep freezer is provide with 4 casters wheel front 2nos casters wheel lockable with brake.
| | |
| --- | --- |
| Model No. | BTI –DF-20-350 |
| Equipment | Vertical Deep Freezer -20°C |
| Type Of Cabinet | Vertical |
| Temperature range | -10C to -25C |
| Temperature Accuracy | ±1ºC |
| Controller | Microprocessor based PID controller with Digital LCD display |
| LOCK | Ergonomically designed door handle for easy handling, with a lock for access control. |
| Cabinet | 7 |
| Cabinet capacity | 50 liter per cabinet |
| Overall cabinet capacity | 350 |
| Inner door | 7 transparent door |
| Inner cabinet material | Aluminum plate |
| Outer body material | Painted steel |
| Caster wheels | 4 Nos (2 front Caster wheel Lockable with brakes) |
| Noise level | 60dba |
| Energy consumption | 8.0 KWh/day |
| Refrigerant | CFC and HCFC free nonflammable |
| Insulation | High density of Polyurethane Foamed 100 mm thick along with vacuum panel insulation |
| Refrigeration system | Each Cabinet control by seven microprocessor based PID controller independently with independent refrigeration system. |
| Battery backup | Battery backup for temperature display and alarms |
| Safety Alarm | Alarm (visual & audible) for high & low cabin temperature, high room temperature, sensor failures, incorrect voltage settings and power failures |
| Pull down time | Less than 2 hrs. |
| Power supply | 220-240 Volts, 50Hz single phase |