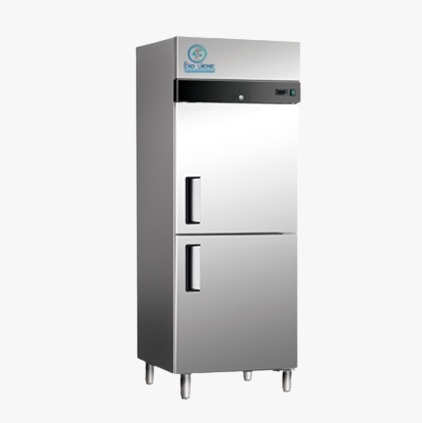 Bio Gene® Lab Freezer -20ËšC ~ -25ËšC are one Machine with Efficient Application of the Cryogenerater and the displacement of the compressor, Accumulator. Bio Gene is Bench mark of high speed cooling.

The chamber design with smooth flow of circulated air helps uniform temperature all around the freezer.
Applications
Features
Control
Construction
Specification
Lab Freezer -20ËšC widely used in Universities, microbiology, genetic, biotech, restaurant, bakeries, catering, chemical, pharmaceutical Process, concrete cooling, fish, poultry processing, fruit& vegetable cooling, hospitals, laboratories, physiotherapy, super markets, canned food industries, frozen meat processing.
Pullout Drawers for easy Storage

Automatic Door Closing

Reversible Door

Quick Freezing Function

High Temperature Warning Light

Digital Micro Processor

Controller with Display

Bio Gene Us Technology CKD Machine.

The Foundation of the Deep Freezer is superior design and construction

The exterior shell and interior walls are constructed of heavy-gauge cold-rolled steel, which conducts temperature more efficiently than stainless steel.

This creates less stress on compressor making them run cooler and last longer than competitive cabinets.

A highly efficient exclusive compressor has been specially developed and incorporated in freezer.

Each compressor is designed to be a powerful low-noise system that will deliver dependable, stable cooling.

Temperature range : -5 ËšC ˜ -20 ËšC/-25ËšC

CFC FREE ECO FRIENDLY COMPRESSOR

To work on 220/230 volts A.C. Supply

Vertical type with twin door and adjustable shelves.

Double walled units have thick PUF insulation between inner and outer wall.
⇒ Microprocessor control system with enhanced electronic technology.
⇒ Microprocessor control, digital display

DISPLAY:
Bio Gene System has digital display with Controlling.

ALARM SYSTEM:
Alarm system for high and low temperature visual warnings for over temp, under temp. & power failure, with visual status reports on critical functions.

DOOR:
⇒ Audio visual alarm at eye level.
⇒ Sensor failure alarm.
⇒ Alarm for high/low set parameters.
⇒ Electrical circuit breaker.
⇒ Time delay for compressor switch on.
⇒ Overload cut of relay for compressor.
⇒ Key Board lockable
⇒ Digital Micro processor
⇒ Actual temperature LED display for better visibility.
⇒ Voltage stabilizer
⇒ OUTER MADE CRCA Steel DULY Powder coated
⇒ Insulation: PUF with cyclopentane, 4 inches.
⇒ High Efficient Special Evaporator Defrost System.
⇒ Fitted With Castor For Easy Movement.
⇒ Complete with Electric fuse, Safety fuse, Shock protected.
⇒ Heated door scales for preventing Ice Formation on the doors.
⇒ Biotech Application with operating temperature of -5 ËšC ˜ -20 ËšC /-25 ËšC
⇒ External casing is stainless steel. Powder coated
⇒ Pullout selves for easy storage

REFRIGERATION SYSTEM:
⇒ CFC free Eco Friendly Refrigerant Gas.
⇒ Efficient relays and starting capacity.
⇒ Fin and tube type air – cooled condense.

POWER SUPPLY
⇒ Single phase, 230+/-10 volts 50Hz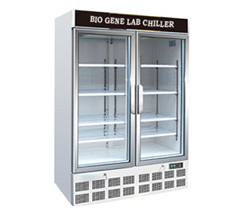 Bio Gene® LAB CHILLER from Bio Gene are designed to meet the stringent Temperature Stability designed in the Storage of fine Chemical, Enzymes, Media food Industries for storage of Canned Beverages, Ready to Eat Food etc.

Bio Gene follow strict quality control measures confirming CE, EN, EMD Directives to meet the WHO Norms.
Applications
Features
Control
Construction
Specification
Bio Gene® LAB CHILLER are widely used in
Electronic Industry for Delicate Parts

Hospitals and Medical Facilities

Dental Office & Laboratories

Industrial Manufacturing

Engineering Industries

Research Centers

Universities

Gravimetric analysis

Sintering

Quantitative analysis
Flexible shelving for easy storage.

Automatic door closing.

Stainless steel inside / outside.

High temperature / door Alarm

Frost fee cold lab chamber.

Automatic door closing.

Reversible door.

Digital temperature display.

Adjustable shelves (Chiller) Freezing shelves.

Digital micro processor controller with display (Optional )

100% Space utilization.

Digital micro processor controller with display.

Flexi shelving for better space utilization.

Precise temperature.

Look for Ensuring security of Medicines /Samples.

Castors for easy Mobility of Equipment.

Internal MATERIAL Cold rolled steel coated with Anti- Bacteria a powder.

External material cold rolled steel coated with Anti- Bacteria powder.

Refrigeration Type: Forced air Refrigeration system

Anybody design and Mono-Assembly foaming.
Bio Gene LAB CHILLER have microprocessor controller for temperature and alarms.
Temperature range :- 0°C/2

°C to 8°C

Low Noise Level around 50dBA.

Multiple Dual Layered insulated.
Front panel instruction
Micro processor based

Temperature controller

Single/Dual compressor controller

Range

0°C/2

°C to 8°C

Sensor PT 100

Audio visual alarm

Door open Detection

SSR Output

Data logger with computer interface

PC software for Data Recorder.
TEST STANDARD
GB/T5170.2, GB/T5170.5,IEC60601-1/IEC60068-3-6
Inner Chamber made of Stainless Steel, 304/316 Grade, and duly Polished.

Polyurethane Foam Insulation (PUF) thickness 75mm.

Double walled units are made of thick stainless steel 304/316 grade.

Outer walled scratch free molded or of mild steel sheet duly powder coated.

Body is mounted on a sturdy angle iron frame and is mounted on castor wheels.

Heavy Duty Castor wheels for easy movement.

Inner liner of door material is of stainless steel.

Coated with antimicrobial coating eliminates 99.9% surface bacteria within 24 hrs.

100% HCFC/CFC free refrigerant.

Magnetic door lock, latch able inner door with magnetic lock. Handle, lock and magnetic gasket for door.

Wheel locks and manual defrost.

Temp. Maintain 0°C/2

°C to 8°C

Compressor with Cascade System.

Bio Gene deep freezer has cascade refrigerator for minimizing cool air loss.

Double fan circulation system will be provided.

Single hand operation with an easy to use, padlock compatible, ergonomic door handles with integrated key lock.

Power Supply: Single phase. 220-240 Volts, Frequency 50 Hz.

Power Consumption ≤550 W

Electric Requirement: 25 amp.

Insulation Type: 75mm thick polyurethane foam.
MODEL BTI

LC-350

LC-750

LC-1000

LC-1200

LC-1500

CONTROL SYSTEM

Microprocessor control & Large

TEMPERATURE RANGE

0°C/2

°C to 8°C

TEMPERATURE ACCURACY

0.1°C

DIGITAL DISPLAY

YES

LOCK

YES

NO OF SHELVES

3,4,6,8 SHELVES

WHEELS

YES

NO OF DOORS

2 /Solid

Refrigerant

R13 a, CFC Free

Power supply

AC 220 V ±10%, 50/60HZ

Defrost

Auto defrost

Condenser and Evaporator

High Efficiency air cooled condenser, made of copper

CAPACITY Liter

350 Liter

750 Liter

1000 Liter

1200 Liter

1500 Liters