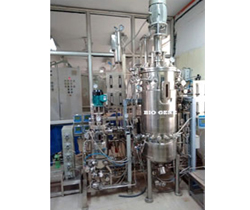 Applications
Features
Control
Construction
Specification
Vessel Head Plate
Grow almost any cell type − With a wide range of vessels and impellers, including Customized options, fermentation and bioreactor systems have the Capacity to grow virtually any cell type: whether it's anaerobic or aerobic microbes, yeast, Insect, plant. The fourth major phase of microbial growth in a batch Bio Reaction process Microbial cells have sturdy cell walls, and tend to clump together. They withstand rigorous treatment, require large amounts of air, and need shearing impellers to break apart the clumps. Mammalian cells have no cell walls and are fragile and sensitive. Vessels for these cells come equipped with impellers that gently mix the media and minimize shearing.
Temperature Control System

Microprocessor Based HMI + SCADA

Automatic Agitation system

Automatic Exhaust System

The exhaust port on the Bio Gene fermenter is connected to atmosphere through Single Round 0.2 μ Sterilizable grade air filter and SS316L Housing.

Cooling Condenser is provided to condense escaping moisture.

Automatic ASME Compliance Bio Gene design in accordance with ASME Code. Filter area is designed as per the optimal pressure drop requirements.

Automatic Aeration System

Bio Gene Bio ferm air inlet port(s) of the Fermenter is connected to the air line through a sterilizable grade 0.2 μ air filters.

Automatic pH / ORP Control System

Automatic Redox Monitoring and Control

Automatic Sampling System

Automatic Harvesting System

Automatic Nutrient Feed

Foam Control System

Touch Screen Automation and Control

State of Art Control Cabinet
Bio Gene uses state of Art Latest technology

Bio Gene BioDA SCADA Software

Batch Recipe system, Batch creation & Initialization.

Display of all parameters of all reactors in the same page with pop-up set point window

Display of minute wise updates of all configured parameters, pH, DO, Flow, Pressure, Temp., RPM Error display and control page.

Bio Gene BioFerm SCADA Software

Bio Gene controller with variable 8 process microprocessor based advance controller

Alarms & Signals

Culture medium temperature control (Range: 5 – 70oC; Precision  0.01oC)

Culture medium pH control

agitation rate control

Foam level control

Air Flow control

High/Low temperature audiovisual signal

High/Low pH audiovisual signal

High/Low-agitation rate audiovisual signal

High/Low-PO2 audiovisual signal

High/Low-Air flow rate audiovisual signal

High - Foam Audiovisual signal
Microprocessor Based Vertical Sterilization unit is Double walled units.

INNER CHAMBER.: Microprocessor Based Vertical Sterilization unit is Double walled units. The inner chamber is made of stainless steel sheet of SS-304 grade.

OUTER CHAMBER.: The Outer body of our Vertical Sterilization unit is constructed out of stainless steel sheet of SS-304 grade. Microprocessor based Vertical Sterilization unit are insulated from inside with Thick Glass Wool insulation.

THE LID
The strong lid constructed out of thick steel plate which is lined from inside with Stainless steel sheet of Stainless Steel -304 grade.

LOCKING DEVICE
The Lid has a Double safety radial locking arrangement at 450C intervals with Steel rectangular Arms, which ensures an easy and smooth opening and closing operation.

MICROPROCESSOR CONTROLLED PID CONTROLLER
Controller comes with a capability of Time controls dual display.

The Timer comes with 0 – 99 minutes or more up to 999 minutes for the Sterilization time.

Timer for the programmed and Present Value display PV and SV is a standard feature.

External vertical panel's stainless steel sheet of SS-304 grade.

Microprocessor based Vertical Sterilization unit are ideally suited for hospitals and research labs where safety is the first priority of the users, since it is equipped with a Double safety steam release valve. At the same time we test all our autoclaves for up to 2.5 times the standard working pressure to ensure maximum safety and protection from any unfortunate incident.
All our Vertical Sterilization unit are supplied complete with :
A, Pressure Gauge,
B, Pressure Release Valve
C, Stainless Steel Basket.
D, Pedal Lifted Device
E, Water Indicator.
F, Steam Release Cock.
G, Spring loaded safety valve.
H, Heating element.
I, Power Cord.
As a standard feature.
HEATING
Microprocessor based Vertical Sterilization unit heating process in our Vertical Sterilization unit is done through specially designed Stainless Steel Tubular water heaters of ISI Grade with suitable wattage to ensure optimum sterilization time in every sterilization cycle.

BOILER
The Boiler of Bio Gene Vertical Sterilization unit Double walled Vertical Sterilization unit the made of 304 Grade 12 Gauge.

VALVE
Bio Gene Vertical autoclave has Inlet & Out less water device controlled by good quality brass valve.



WORKING TEMPERATURE
Microprocessor based Vertical Sterilization unit as per the international standards and guidelines our vertical autoclaves have a working temperature of 1210c - 1340c.
Bio Gene Vertical Sterilization unit has Digital Temperature controller with inbuilt timer that will cut off the heaters automatically after lapse of pre set time at the pre set temperature.

WORKING PRESSURE
Microprocessor based Vertical Sterilization unit Working pressure for our standard model
Vertical Sterilization unit is 5 - 22 PSI; however this can be upgraded to be used for higher pressures of up to 30 psi… at an additional cost.

PRESSURE RANGE
Microprocessor based Vertical Sterilization unit Normal pressure range of our autoclave is 5 psi to 22 psi.

PRESSURE CONTROL
Microprocessor based Vertical Sterilization unit

The pressure inside our Vertical Sterilization unit is controlled through a semi automatic

electro mechanical device called pheziostat , which controls the pressure inside the chamber and cuts of the current from the heater whenever the pressure exceeds the set pressure value of the autoclave, thus making it very safe and energy efficient. The pressure valve is mounted on the outer surface of the Autoclave lid.

PRESSURE CONTROL SWITCH
Bio Gene Autoclave comes with automatic pressure switch to give efficient sterilization for desired material

The operation are operator friendly there by reducing fatigue.
PRESSURE SAFETY DEVICE
It is a the most important safety feature which gets activated in case of malfunctioning of the pressure system

Safety valve is mounted the lid which gets ejected in case of pressure failure.
TIMER WITH ALARM SYSTEM
This semi automatic device can be incorporated with the standard models of our Vertical Sterilization unit which helps the user to set the sterilization time of the system and do other tasks without bothering to monitor the sterilization cycle. This device cut off the current from the main system when the set value for a given sterilization cycle is attained and gives a loud audio alarm.
BINS/ Basket
Stainless steel 304 grade Stainless steel bins/ basket are provided along with the Bio Gene Autoclave as a standard accessory
TEMPERATURE CONTROLS
Microprocessor Based PID controls for the SV Set Value and the PV Present Value is a standard feature in our machines.
TECHNICAL SPECIFICATION OF MICROPROCESSOR BASED VERTICAL STERILIZATION UNIT
Vertical Sterilization unit used for sterilization under saturated steam pressure at any selected point between 15 to 20 psi
(adjustable).
These units have inner chamber (Boiler) made of stainless steel (SS – 304 grade).
Outer wall is covered with Mild Steel.
Thick steel lid is tightened by radial locking system and can be lifted through a pedal lifted device for user comfort.
Easy lift and closing of the lid by manual assisted support.
Castors for ease of movement.
Flexible sensor enables in-situ control and monitoring of cycles.
Microprocessor controller which provides high control accuracy along with user level.
Flexibility for sterilizing various types of loads efficiently.
Low water indication.
Spring loaded safety valve for over pressure.
Pressure interlock on door.
Audio & Visual alarms for sensor open and low water level.
Independent over temperature safety cut out.
Fitted with joint less Silicon gasket which ensure efficient sterilization without the loss of pressure and reduces the running cost of the equipment.
Unique single lever lock for lid with single hand operation.
Systems are hydraulically tested up to 40 psi, as a safety measure.
Every chamber is hydrostatically tested as per standards.
Vertical Sterilization unit are fitted with standard accessories such as water indicator, pressure gauge, steam release cock, spring loaded safety valve, pedal lifting device and heating element.
Water level indicator with automatic low water level cut off device is provided as a standard accessory.
Internal Chamber and lid along with all parts fabricated from Stainless Steel.
Single lever closure system with Silicone or neoprene Gasket.
Water inlet and drain valves.
Space between boiler and outer shell works as Insulator.
Supplied complete with Stainless Steel basket, cord and plug.

ENVIRONMENTAL FACTORS
BIOGENE Vertical Sterilization unit is capable of being stored continuously in ambient temperature of 0-500C and relative humidity of 15-90%.

BIOGENE Vertical Sterilization unit is capable of operating in ambient temperature of 20-50 0C and relative humidity of less than 70%
Gross Volume | Working Vol
10L | 25L | 40L | 60L | 100L | 200L
Type

Autoclavable

Aspect Ratio
1:2
Design Guidance
Vessel

Design Code

ASME Section VIII Div. BPE 2009

Working pressure

Full vacuum to 3 Kg/cm2

Design Pressure

Full Vacuum to 3.5 Kg/cm2

Hydraulic Test Pressure

Full Vacuum to 5.0 Kg/cm2

Working Temperature

10 to 140 deg. C

Design Temperature

0 to 150 deg. C

Material of Construction

All Wetted Parts

SS-316L / BOROSILICATE GLASS

Gaskets/ O-rings

Silicon & EPDM

Finishing

Inner & External Surface

220 grit Finished & double mirror polished Ra0.5m

Agitation

Drive

Top Driven Magnetic Drive

Impellers

6 Blade Ruston Turbine-2 Nos,

Baffles

4 Nos. Removable

RPM

0-1500 RPM

Motor type

Standard DC motor

Ports

In Head Plate for

Feeding (Acid, base, antifoam and nutrients)

Inoculation-Septum port

Air exhaust

Foam Sensor

pH Sensor

OD Sensor

DO Sensor

Sampling valve

Temperature sensor

Aeration

Designed for

1.0 VVM

Sparger

Ring type sparger with bottom perforations|Microsparger

Air filters

0.2 micron filter| Exhaust-0.2 micron filter

Air Filters Operating Pressure

Upto 3 Barg

Air Volume Measurement

Variable Area Flow meter (Rotameter) (TWO SETS)

Air Exhaust

Reflux condenser that can efficiently handle a volume of out flowing air

Air Flow control

Automatic Control with Pneumatic control valve

Thermal Circuit

Temperature control

With heat exchanger and circulation pump, temperature gauge, and all required valves to be connected to water supply.

Temperature Control

Type

PID

Measurement Range

0-150 deg C

Control Range

05-80 deg C

Measurement precision

+ 0.1 °C

Control precision

+ 0.2 °C (up to 40° C)

Temp. sensor

Pt.-100, 25mm, SS-316 port

RPM Control

RPM range

0-1500 RPM

DC drive

Electronic Frequency Control, Fully Automatic

Accuracy

1 rpm

pH Control

pH Sensor

Gel filled autoclavable probe

Measure Precision

± 0.01 pH

Control Precision

± 0.1 pH

Type

Fully Automatic with Alarm Function

Range

0-14 pH

Timer

Acid and Base Timer

Peristaltic Pump

2