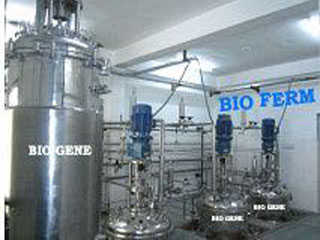 BioGene Office large automatic industrial fermenter capable for batch production in the industries specially manufactured as per CGM be compliant with world best products and feedback Mechanisms,filters actuators cooling coils steam generation, motors valves to name a few from the world leaders.

Large Automatic Fermenter from BioGene are a true solution when productivity of cell lines is the target. Harvest different cells by BioGene enabled dedicated SCADa which are in use when target commercial products are Enzymes Lipase , invertase alchols acids etc are to be produced using G.M. microbes.

BioGene uses 316L grade stainless steel with 220 Grit finish from inside and 180 GRIT finish on the outer surface.

BioGene service team enables proper response to the users worldwide through online warranty and at site warranty as well.

This is one of the reason why automatic fermenters from BioGene are been successfully used all over the world in large industries and research centres. BioGene cares.
Applications
Features
Control
Construction
Specification