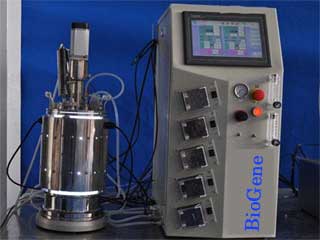 Capacity:- 200ml to 1000ml

BioGene offers a real alternative to our competitors with a truly modular system capable of each module being totally independent. Using its own power supply PLC microprocessor large TFT display colour graphics are some additional features of BioGene mini Fermentor.

All the individual modules can be stacked together to create an extremely neat and combined unit with interlinking cables.

The controllers are easy to understand and simple to use, ideal for projects where any clip and feminisation time is limited. Because the modules are totally independent and also easily be used to upgrade.

BioGene Bioreactors are preprogrammed with fermentation operation modes allowing a system to adapt as per your needs the Fermenter provides an all-purpose bioprocess system designed to maximum Yields in both cell culture and cell harvesting.
Applications
Features
Control
Construction
Specification