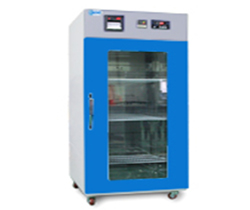 The competitive edge due to the High Technology systems used and the experiences to produce state of Art solutions in field of Constant Temperature Chamber for Medical, Food, Textile, Pharma, Life Sciences have led us as a reputed manufacturer. Bio Gene Constant chambers produce fast and accurate results, due to the fast Thermal coefficient of heat distributed at great evenness all over the chamber. Constant Temperature Chambers thermal insulation is also perfected to minimize the heat losses coupled with the advanced touch screen microprocessor controller.
Applications
Features
Control
Construction
Specification
BioGene Low Temperature Constant Temperature Chamber is globally accepted for its high performance and easy operation.

BioGene Constant temperature is widely used in the testing of Variation test, cold resistance test, Steady State Test, Biological Storage , Incubation, Tissue storage, Media and culture conditioning application in short it' facilitate where temperature cycling is required under Guidelines under EN 50581 ROHS, IEC 60068-2-1 etc.
BioGene Constant Temperature Chamber are equipped with silent fan motor.

BioGene Constant Temperature Chamber has Microprocessor/PID/Digital Control details at the bottom

Precise temperature control ranging from + 5°C to 60°C and auto on/off function.

Precise Digital Display

Features of Bio Gene Low Temperature Constant Temperature Chamber.

Single Door

Reliable and Accurate Temperature Control.

Back Light displays current value and set value simultaneously

Inner Transparent Glass Door with double packing.

Easy sample view without door opening.
Standards : ISO,EN, CE, Electro magnetic

MDD :- 93/42/EEC

EN 61000-6-1 : 2001

EN 61000-6-3 : 2001

Electromagnetic Compatibility Directive (89)/336/EEC)

EN: 60101, ISO, CE

EN 50581 ROHS, IEC 60068-2-1
BioGene Double Walled Constant Temperature Chamber with digital display.

These are sturdy Double Walled units outer chamber made of Mild Steel sheet duly enamel painted.

Inner made up of Mild Steel or Stainless Steel Sheet (as ordered).

Inner chamber is provided with ribs for adjusting perforating shelves to convenient height.

Temperature is controlled by Microprocessor Based PID

Digital Temperature cum-Controller.

Air ventilators are also provided on the sides of the unit.

To work on 220 / 230 Volts A.C. supply.

DOOR: - Double walled construction with MINERAL WOOL insulation & Door permits easy viewing & monitoring this door is also built of Stainless steel 304.

ILLUMINATION
Our units are provided with door operated illumination system comprising of fluorescent lights.

FRONT PANEL:
Front panel of our units comprises of on/off switches heating, and mains indicator lamps, Cooling Indicator temperature controllers.

Microprocessor Based Digital Temperature Indicator-cum-controller.

Controls the temperature from +5°C to 60°C

Synthetic door gasket made of neoprene rubber.

View observation Acrylic door with gasket.

Lock & Key

Castor Wheel

Insulation: High-grade MINERAL WOOL

Air Circulating Fan : BLOWER Fan Installed to achieve uniform temperature in the Chamber at the Back wall for uniform distribution of the Cool Air to maintain the temperature.

Adjustable Rack
DESCRIPTION

BTI-CTC-170

BTI- CTC -275

BTI- CTC -400

BTI- CTC -550

BTI- CTC -850

Temperature Range

+5°C to 60°C

Temperature Sensitivity

+0.5 deg.

Temperature Stability

≤±1˚C

Temperature uniformity

+1 deg.

Temperature Accuracy

± 1°C

Readability

0.5°C

Temperature Controller

Digital Controller/HMI/ Microprocessor based PID

Display

LED/LCD

Temperature sensor

3 wire RTD

Interior construction

Stainless steel 304

Exterior Construction

CRCA Powder coated.

Trays

Stainless Steel 304 perforated

Electrical

220 to 240 volts AC 50 Hz single phase

Alarm

Audio and visual

Dimensions

500 x 415 x 830

565 x 550 x 875

700 x 625 x 900

700 x 700 x 1100

830 x 820 x 1200

Capacity

170 ltrs

275 ltrs

400 ltrs

550 ltrs

850 ltrs

Shelves

2

3

4

4

4/6